A decisive third single that spanned to a time duration of over two hours saw Isuru Peiris of St. Peter's College retaining the Under 15 Tennis title for another successive year as the 15-year-old went on to defeat Thehan Wijemanne of Royal College.
The Under 15 contest that started last week saw the heavyweights Royal College, St. Peter's College, Ananda College and S. Thomas' College earning the final four spots for the semi-finals in the Boy's category. The Royalists got their ticket to the finals when they defeated arch-rivals S. Thomas' College last Thursday and the defending champions took the other spot winning the tie against Ananda College.
The highly anticipated finals that were scheduled to be worked off on Friday was postponed to Monday the 13th of June due to bad weather conditions. Coming into the game, the 1st Single was an easy wipe out by Nenuka Jayathilake of St. Peter's who outsmarted Janith Munasinghe of Royal 6-1 & 6-0. The Royalists fought back in the 1st doubles to make it even but St. Peter's extended the competition by winning the 2nd Single. The Peterites gave the Royalists a walkover on the 2nd Single to make the 3rd and final single the decisive encounter for the championship.
Coming into play, Peterite Isuru Peiris staged a strong fight against Thehan Wijemanne of Royal College in search of the title victory. Royal took the 1st set honours as Peiris registered a 6-3 win. The Peterites fought back to make it 6-2 in the second set and fighting back in the third set was the young Royalist Thehan Wijemanne. Trailing by four points, Wijemanne fought back to make it 6-4 at one stage of the game but could not win it as the Peterite had a two-point lead. The Peterites emerged victorious as Isuru Peiris won the third set 7-5 allowing his team to retain the title after two hours of intense play. Credit should go for the Thejan Wijemanne for his efforts in countering his opponent and engaging in competitive play.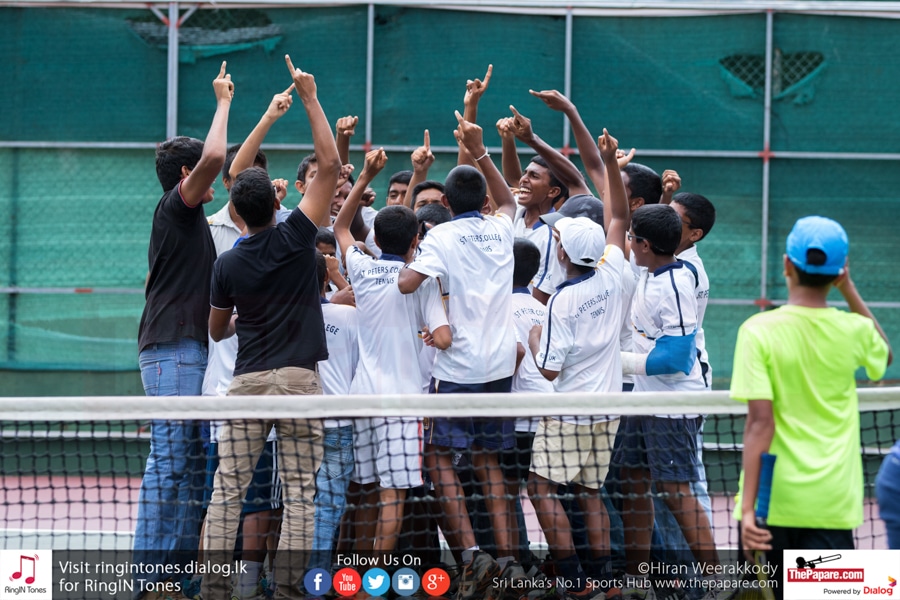 "He (Isuru Peiris) is a fighter. I sent him for the 3rd single because I know he will fight his way through and it happened." added the St. Peter's College coach Dinith Pathiraja after his team's win.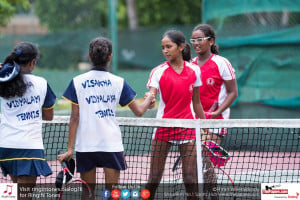 It was an easy sweep for Ladies who were tied up with Visakha Vidyalaya. The Ladies team registered a 3-1 win with an encounter remaining. Senuri Alexander of Visakha took the first single defeating Saheli Hapudeniya 6-2, 6-4. Bouncing back, Ladies took the 1st Double, 2nd Single and the 2nd Double to win the Under 15 title.
Coming in third in the Boys' category was Ananda College who defeated S. Thomas' College in the third-place playoff while St. Bridget's Convent defeated Musaeus College to take the third place in the Girls' category.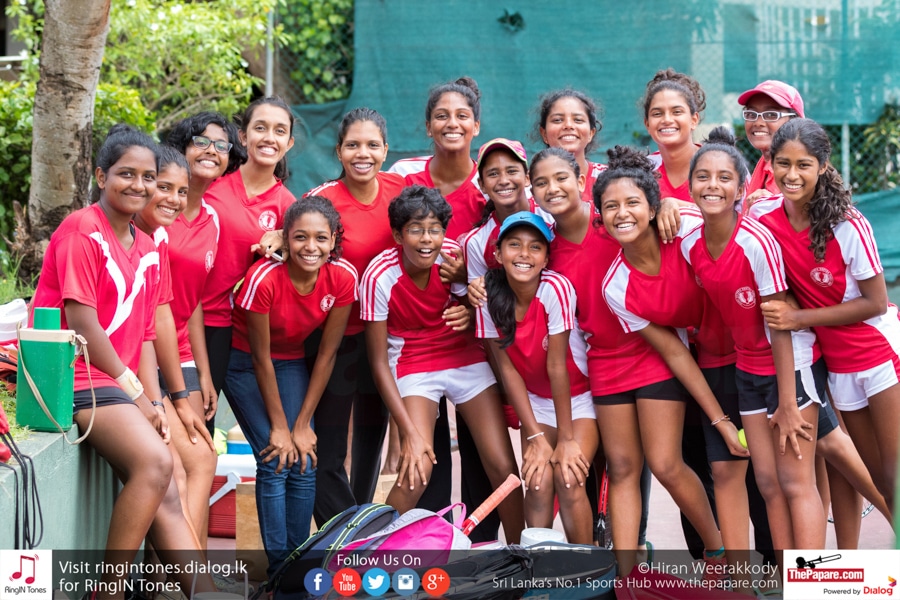 Finals Results:
Boys' Final: St. Peter's College vs Royal College
1st Single – Nenuka Jayathilake (SPC) defeated Janith Munasinghe (RC) 6-1, 6-0
1st Doubles – Avika Kelagama and Kavisha Ratnayaka (RC) defeated Pesanjith Kannangara and Shehan Perera (SPC) 6-4, 6-1
2nd Single – Ashen Silva (SPC) defeated Dhilvan Herath (RC) 6-1, 6-1
2nd Double – Yanishka Cooray and Manish De Silva (RC) defeated Kenull Herath and Heshan Pillai (SPC) W/O
3rd Single – Isuru Peiris (SPC) defeated Thehan Wijemanne (RC)
Girls' Final : Ladies College vs Visakha Vidyalaya
1st Single – Senuri Alexander (VV) defeated Saheli Hapudeniya 6-2, 6-4
1st Double – Savisha Gunasekara and Shenaya Fernando (LC) defeated Lithara Perera and Amasha Pathberiya (VV) 6-3, 6-1
2nd Single – Alanna Seneviratne (LC) defeated Sarisha Senanayake 3-0 (ret)
2nd Double – Rivinka De Silva and Aindri Varavanathan (LC) defeated Tharuka Kalpani and Hansali Perera 6-3, 6-0