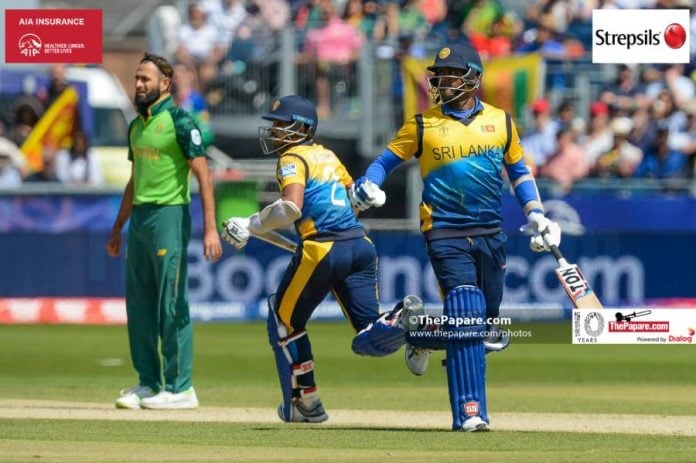 From losing captain Dimuth Karunaratne on the very first ball of the match to the last run being scored by South Africa in their easy chase, it was all downhill in every possible way for Sri Lanka, as they had a forgettable Cricket World Cup fixture against the Proteas. 
Winning matches consistently by defending below-par totals in the current day and age of limited-overs cricket, is nearly impossible. The bowlers bailed Sri Lanka out against Afghanistan and England, defending 187 and 233 respectively. However, the batsmen, as per usual, dug themselves into a deep hole once again in Durham today. They haven't crossed the 250-run mark once in the tournament, which was the case again.
Read More : Middle order struggles as SL labor to 203
Sri Lanka's upset win over England, remained an upset. The Sri Lankan batsmen looked completely out-of-touch and this time around, cannot pin the blame on the pitch for their slow pace. Sri Lanka's batting needed to click as one unit, but didn't, for the umpteenth time over the past couple of years. 
"This win is just a temporary plaster. It'll make you feel good, but come tomorrow, they (SL batting unit) need to get back into those nets and talk about how they can get to those totals that are acceptable in a World Cup. They need to be realistic about their own performance and be very honest with themselves" Former Sri Lanka Captain Kumar Sangakkara said on the ICC – Review show after the win against England last week. 
Read Also : Sri Lankan batsmen hope to emulate Williamson and Root
Lack of application in the middle overs and the inability to convert starts into match-winning knocks by the batsmen have let Sri Lanka down big time in the competition. In 50-over cricket, to win games, you cannot be playing out 183 dot balls in one innings – that is just what Sri Lanka did today. 
From being 67 for 2 at the end of the first powerplay, Sri Lanka crawled their way to 203. From the 11th to the 40th over in the 2nd powerplay, they had 125 dot balls out of 180 deliveries. 
It's considerably easier to score runs off the new, hard ball on English pitches, rather than the old, softer ball. That's why Sri Lanka has been successful throughout this World Cup in the first powerplay. They're the quickest to get off the blocks, scoring at 6.64 per over. 
However, they have always messed up good starts in the second powerplay. The middle order has either vanished within a couple of overs or killed the momentum with lethargic a batting approach, hence they have the worst run-rate in the second powerplay (11-40 overs). 
Read More : Future of Sri Lankan Cricket is in safe hands

Run rates in overs 1-10 in CWC 2019: As of 28th June 2019
6.64 Sri Lanka

5.48 Bangladesh

5.34 England

5.10 Australia

5.07 Pakistan

5.02 New Zealand

4.77 West Indies

4.57 Afghanistan

4.32 India

4.21 South Africa
Run rates in overs 11-40 in CWC 2019: As of 28th June 2019
6.12 Australia

6.04 England

5.94 Bangladesh

5.76 West Indies

5.53 Pakistan

5.33 India

5.18 South Africa 

5.01 New Zealand

4.37 Afghanistan

4.22 Sri Lanka
South Africa, with a foot on the plane back home, stuck to their game plan of strangling the Sri Lankans with a smart field setup and disciplined bowling. And Sri Lanka played right into their hands with some abysmal shot selection. 
The Islanders were decimated 5-0 by the Proteas earlier in the year. Since of late, they have always struggled against the leg-spin of Imran Tahir, but he went wicketless for the first time against Sri Lanka in 15 matches. 
Dwaine Pretorius, bowling gentle medium pace, who offered no real threat with the ball, yet returned figures of 3 for 25 from his 10 overs; catastrophic from Sri Lanka's point of view, a coach-killer, especially if your batting coach has a long history at the venue. 
Let alone a century or a useful 80 or 90, none of the Sri Lankan batsmen went past the 30s. Only two players reached the 30-run mark, the rest failed to even get to 30. 
All successful ODI teams, rely on rotating the strike through the middle period and building partnerships. They may start slow but world-class players finish off with a flourish and make up for their slow starts towards the end of their innings. Yet, Sri Lanka's engine room in the batting department suffered a slow death as Kusal Mendis (45.10), Angelo Mathews (37.93), Dhananjaya De Silva (58.54) and Jeevan Mendis (39.10) recorded, possibly the worst batting strike-rates by a middle order in the entire competition. 
On a flat pitch, a team vying for a semi-final spot should have scored at least 3 to 4 singles in an over and pinched twos and threes regularly. But, Sri Lanka managed only 77 singles, 12 doubles and 4 triples that too on one of the biggest grounds in England – Riverside Grounds, Durham.
>>ICC Cricket World Cup 2019<< 
With another off-day thanks to their batsmen, Sri Lanka's chances of qualifying for the semi-finals look slim but technically, they do have an outside chance of making it through. But, for that to happen, plenty of results should go their way in the remaining 10 league matches. However, if they keep dishing out these kinds of sub-standard, 'Chernobyl' like disastrous, limited-overs batting displays, it isn't unfair to say that Sri Lanka do not deserve a spot in the semi-finals of Cricket's showpiece event. 
Sri Lanka's semi-final qualification scenario
Scenario 
Points (As at 28th June)
Next Opponents
Points (After League Stage) 

England lose 2 matches

8

India & New Zealand

8

Pakistan lose 1 match

7

Afghanistan & Bangladesh

9

Bangladesh lose 1 match

7

India & Pakistan

9

Sri Lanka win 2 matches

6

West Indies & India

10