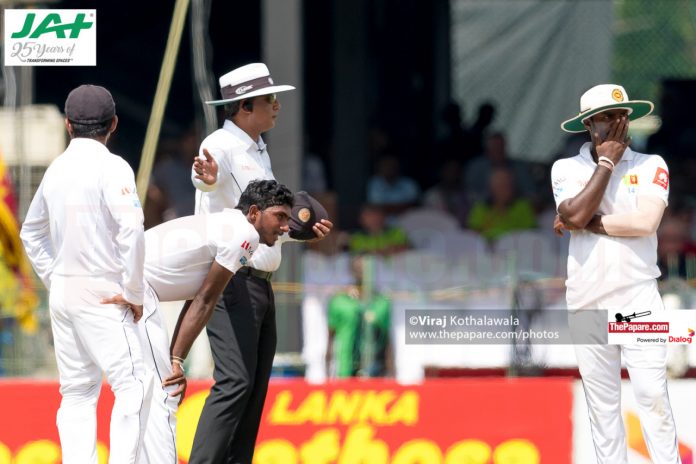 Another brilliant day for England with both bat and ball as they closed in on a historical series whitewash, needing just 6 wickets to get with 273 runs in the bag at stumps on Day 3 of 3rd and final Test at the SSC.

ThePapare.com | Viraj Kothalawala | 25/11/2018 Editing and re-using images without permission of ThePapare.com…
From overstepping to defensive captaincy to questionable stroke play. It couldn't get any worse for the hosts after they started the day on a high. When Dilruwan Perera took the wicket of Keaton Jennings with the very first ball of the day, the Sri Lankans would have thought they could turn the match around. It looked like that for a good hour or so when Dilruwan dismissed both Rory Burns and Jonny Bairstow while Pushpakumara took the wicket of skipper Root.
England were all sorts at 39 for 4 when Ben Stokes and Jos Buttler got together. Buttler, who was most impressive in this innings showed how he could adapt to any conditions. He put the sweep shot to good use in the last match but this time he understood the bounce of the wicket and decided to use his feet to somehow negate the bounce and spin which was on offer.
Stokes was caught in the covers off Lakshan Sandakan off a no-ball. Matters went from bad to worse for the bowler when it happened all over again in the last over before lunch. Stokes edged one straight to first slip only to be called back to the crease thanks to another no ball by Sandakan.
Day 2 Report: England take control as Sri Lanka implode
The 2nd session also belonged to the visitors as they piled up 100 runs for the loss of just 3 wickets. Stokes was dismissed early in the session but, Butler went on to make 64 runs. Once again, the lower order did well for England, with Moeen Ali, Adil Rashid and Ben Foakes scoring valuable cameos which pushed the lead past 300 runs.
During this phase Sri Lankan's let the game drift away by giving away easy singles which helped England slowly progress ahead. Ultimately, they were bowled out for 230 runs with Jack Leach becoming the 100th victim of Dilruwan Perera on home soil. He also became the quickest Sri Lanka to reach this feat (in his 20th test), surpassing Muralitharan who did in 21 tests.
The hosts came out to bat with little over 20 overs left in the day. Ideally, they would have loved to not lose any wickets going into the 4th day but they ended up losing 4 before stumps. Danushka Gunathilaka was the first to perish, pushing at a delivery outside the off stump and only managing to edge to Stokes off Ali. Dhanajaya failed to trouble the scorers when he missed a straight one in Jack Leach's 1st over. Karunaratne, who has been the stronghold of the Sri Lankan batting right through the season, left a gap between bat and pad for Ali to sneak through. Last but not least the most experienced batsman in the side, Angelo Mathews fell for the short ball trap set by Stokes as he top edged a pull to the man at midwicket.
Full Scorecard
336/10 & 230/10
(69.5 overs)
240/10 & 284/10
(86.4 overs)
England 's 1st Innings
Batting
R
B
Rory Burns
b D Perera
14
34
Keaton Jennings
c R Silva b M Pushpakumara
13
24
Jonny Bairstow
b L Sandakan
110
186
Joe Root
c D Gunathilaka b L Sandakan
46
79
Ben Stokes
c D De Silva b L Sandakan
57
88
Jos Butler
c & b L Sandakan
16
26
Moeen Ali
c A Mathews b D Perera
33
55
Ben Foakes
c N Dickwella b M Pushpakumara
13
26
Adil Rashid
not out
21
31
Stuart Broad
b L Sandakan
0
2
Jack Leach
c A Mathews b D Perera
2
7
Extras
11 (b 7, lb 3, nb 1)
Total
336/10 (92.5 overs)
Fall of Wickets:
1-22 (R Burns, 7.5 ov), 2-36 (K Jennings, 10.5 ov), 3-136 (J Root, 38.1 ov), 4-235 (B Stokes, 64.5 ov), 5-254 (J Bairstow, 70.4 ov), 6-265 (J Butler, 74.4 ov), 7-294 (B Foakes, 83.1 ov), 8-328 (M Ali, 90.5 ov), 9-329 (S Broad, 91.2 ov), 10-336 (J Leach, 92.5 ov)
| Bowling | O | M | R | W | E |
| --- | --- | --- | --- | --- | --- |
| Suranga Lakmal | 11 | 2 | 33 | 0 | 3.00 |
| Dilruwan Perera | 32.5 | 1 | 113 | 3 | 3.48 |
| Malinda Pushpakumara | 20 | 3 | 64 | 2 | 3.20 |
| Lakshan Sandakan | 22 | 0 | 95 | 5 | 4.32 |
| Dhananjaya de Silva | 5 | 0 | 16 | 0 | 3.20 |
| Danushka Gunathilaka | 2 | 0 | 5 | 0 | 2.50 |
Sri Lanka's 1st Innings
Batting
R
B
Danushka Gunathilaka
c K Jennings b J Leach
18
41
Dimuth Karunarathne
c K Jennings b A Rashid
83
125
Dhananjaya de Silva
c K Jennings b A Rashid
73
129
Kusal Mendis
c B Stokes b A Rashid
27
36
Angelo Mathews
c B Foakes b B Stokes
5
7
Roshen Silva
c K Jennings b A Rashid
3
9
Niroshan Dickwella
c B Foakes b B Stokes
5
16
Dilruwan Perera
c B Foakes b B Stokes
0
5
Suranga Lakmal
not out
3
9
Lakshan Sandakan
(runout)
2
4
Malinda Pushpakumara
lbw by A Rashid
13
14
Total
240/10 (65.5 overs)
Fall of Wickets:
1-31 (D Gunathilaka, 11.4 ov), 2-173 (De Silva, 47.3 ov), 3-187 (D Karunarathne, 51.6 ov), 4-200 (A Mathews, 54.1 ov), 5-205 (R Silva, 55.6 ov), 6-222 (N Dickwella, 60.2 ov), 7-222 (K Mendis, 61.1 ov), 8-222 (D Perera, 62.1 ov), 9-224 (L Sandakan, 62.5 ov), 10-240 (M Pushpakumara, 65.5 ov)
| Bowling | O | M | R | W | E |
| --- | --- | --- | --- | --- | --- |
| Stuart Broad | 9 | 2 | 36 | 0 | 4.00 |
| Jack Leach | 18 | 2 | 59 | 1 | 3.28 |
| Moeen Ali | 13 | 2 | 55 | 0 | 4.23 |
| Adil Rashid | 13.5 | 2 | 49 | 5 | 3.63 |
| Joe Root | 2 | 0 | 4 | 0 | 2.00 |
| Ben Stokes | 10 | 1 | 30 | 3 | 3.00 |
England 's 2nd Innings
Batting
R
B
Rory Burns
lbw by D Perera
7
27
Keaton Jennings
lbw by D Perera
1
12
Jonny Bairstow
c K Silva b D Perera
15
31
Joe Root
c & b M Pushpakumara
7
9
Ben Stokes
c M Pushpakumara b D Perera
42
63
Jos Butler
st. N Dickwella b L Sandakan
64
79
Moeen Ali
c D De Silva b L Sandakan
22
53
Ben Foakes
not out
36
82
Adil Rashid
c N Dickwella b M Pushpakumara
24
48
Stuart Broad
c K Mendis b M Pushpakumara
1
5
Jack Leach
c N Dickwella b D Perera
0
13
Extras
11 (b 3, lb 4, w 1, nb 3)
Total
230/10 (69.5 overs)
Fall of Wickets:
1-3 (K Jennings, 4.1 ov), 2-20 (R Burns, 10.1 ov), 3-35 (J Bairstow, 12.3 ov), 4-39 (J Root, 13.6 ov), 5-128 (B Stokes, 31.5 ov), 6-168 (J Butler, 44.1 ov), 7-171 (M Ali, 46.2 ov), 8-215 (A Rashid, 60.6 ov), 9-217 (S Broad, 62.4 ov), 10-230 (J Leach, 69.5 ov)
| Bowling | O | M | R | W | E |
| --- | --- | --- | --- | --- | --- |
| Dilruwan Perera | 29.5 | 3 | 88 | 5 | 2.98 |
| Malinda Pushpakumara | 12 | 2 | 28 | 3 | 2.33 |
| Dhananjaya de Silva | 9 | 1 | 24 | 0 | 2.67 |
| Suranga Lakmal | 3 | 1 | 7 | 0 | 2.33 |
| Lakshan Sandakan | 16 | 1 | 76 | 2 | 4.75 |
Sri Lanka's 2nd Innings
Batting
R
B
Danushka Gunathilaka
c B Stokes b M Ali
6
20
Dimuth Karunarathne
b M Ali
23
36
Dhananjaya de Silva
lbw by J Leach
0
7
Kusal Mendis
(runout) J Leach
86
129
Angelo Mathews
c S Broad b B Stokes
5
9
Lakshan Sandakan
c B Stokes b J Leach
7
41
Roshen Silva
lbw by M Ali
65
161
Niroshan Dickwella
c K Jennings b J Leach
19
19
Dilruwan Perera
c K Jennings b M Ali
5
22
Suranga Lakmal
lbw by J Leach
11
38
Malinda Pushpakumara
not out
42
40
Extras
15 (b 8, w 5, nb 2)
Total
284/10 (86.4 overs)
Fall of Wickets:
1-15 (D Gunathilaka, 5.5 ov), 2-24 (De Silva, 8.3 ov), 3-34 (D Karunarathne, 11.6 ov), 4-52 (A Mathews, 16.1 ov), 5-82 (L Sandakan, 26.6 ov), 6-184 (K Mendis, 57.4 ov), 7-214 (N Dickwella, 65.2 ov), 8-225 (D Perera, 72.3 ov), 9-226 (R Silva, 74.1 ov), 10-284 (S Lakmal, 86.4 ov)
| Bowling | O | M | R | W | E |
| --- | --- | --- | --- | --- | --- |
| Stuart Broad | 5 | 0 | 14 | 0 | 2.80 |
| Moeen Ali | 26 | 3 | 92 | 4 | 3.54 |
| Jack Leach | 28.4 | 4 | 72 | 4 | 2.54 |
| Ben Stokes | 8 | 1 | 25 | 1 | 3.13 |
| Adil Rashid | 19 | 1 | 73 | 0 | 3.84 |