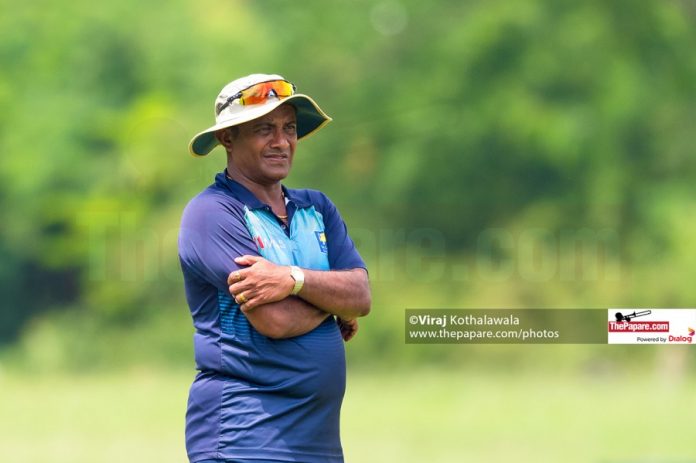 Sri Lanka U19s got away with a no result in their 4th Youth ODI against Bangladesh to set up a thrilling final in the 5th ODI with the series locked at 1-1. 
With plenty of rain around ahead of the 3rd Youth ODI against..
The hosts who won the toss and elected to field first at the Marians Cricket grounds in Katunayake, were taken to the cleaners early on before eventually restricting the Bangladeshis to 155/6 in a game reduced to 22 overs.
Tawhid Hridoy had a game to remember making a stunning half century with the bat before later having a massive say with the ball. He remained unbeaten on 59* while Tanzid Hasan also chipped in with 25.
Left arm tweaked Rohan Sanjaya's dream run continued as he captured three wickets again while Raveen de Silva picked up 2/14.
Photo Album – Bangladesh U19 Teams Tour to Sri Lanka 2018 – 4th ODI Day Game
The Sri Lanka run chase was in tatters when the heavens opened up, as half of their side were back in the pavilion with nobody registering double figures. The hosts scorecard read as 34/5 in 8.5 overs with Hridoy capturing 3/08 following up from his impressive half century.
Shamim Hossain also captured 2/19 as the rain played a massive part in the series once again with Sri Lanka stumbling.
Bangladesh U19 155/6 (22) Tawhid Hridoy 59*, Tanzid Hasan 25, Pritom Kumar 24, Rohan Sanjaya 3/29, Raveen de Silva 2/14 

Sri Lanka U19 34/5 (8.5) Tawhid Hridoy 3/08, Shamim Hossain 2/19
Ban U19's Innings
Batting
R
B
Shamim Hossain
c Mishara b Sanjaya
25
24
Pritom Kumar
st Mishara b Sanjaya
24
26
Towhid Hridoy
not out
59
38
Sajid Hossain
c Wijesinghe b Dananjaya
4
7
Akbar Ali
c Sanjaya b De Silva
3
5
Mrittunjoy Chowdhury
c Paranavithana b Sanjaya
11
14
Rakibul Hasan
not out
11
6
Extras
13 (b 7, lb 2, w 4)
Fall of Wickets:
1-52 (Pritom Kumar, 6.5 ov), 2-61 (Shamim Hossain, 8.4 ov), 3-66 (Sajid Hossain, 9.6 ov), 4-72 (Akbar Ali, 11.3 ov), 5-96 (Akbar Ali, 11.3 ov), 6-111 (Mrittunjoy Chowdhury, 18.2 ov)
| Bowling | O | M | R | W | E |
| --- | --- | --- | --- | --- | --- |
| Chamindu Wijesinghe | 4 | 0 | 37 | 0 | 9.25 |
| Ashan Daniel | 5 | 0 | 26 | 0 | 5.20 |
| Lakshan Gamage | 1 | 0 | 14 | 0 | 14.00 |
| Rohan Sanjaya | 5 | 0 | 29 | 3 | 5.80 |
| Nipun Dananjaya | 2 | 0 | 13 | 1 | 6.50 |
| Raveen de Silva | 3 | 0 | 14 | 2 | 4.67 |
| Navod Paranavithana | 2 | 0 | 13 | 0 | 6.50 |
Sri Lanka U19's Innings
Batting
R
B
Navod Paranavithana
c Hasan b T Hridoy
5
5
Kamil Mishara
c & b S Hossain
2
9
Ravindu Rasantha
c R Hasan b T Hridoy
0
2
Nipun Dananjaya
c S Hossain b T Hridoy
7
8
Sonal Dinusha
c A Ali b S Hossain
9
13
Avishka Tharindu
not out
5
11
Chamindu Wijesinghe
not out
5
5
Fall of Wickets:
1-5 (ND Paranavithana, 1.1 ov), 2-6 (R Rasantha, 1.5 ov), 3-15 (ND Perera, 3.2 ov), 4-17 (K Mishara, 4.2 ov), 5-27 (GS Dinusha, 6.6 ov)
| Bowling | O | M | R | W | E |
| --- | --- | --- | --- | --- | --- |
| Shamim Hossain | 4 | 0 | 19 | 2 | 4.75 |
| Towhid Hridoy | 3 | 0 | 8 | 3 | 2.67 |
| Rakibul Hasan | 1 | 0 | 4 | 0 | 4.00 |
| Mittunjoy Chowdhury | 0.5 | 0 | 3 | 0 | 6.00 |