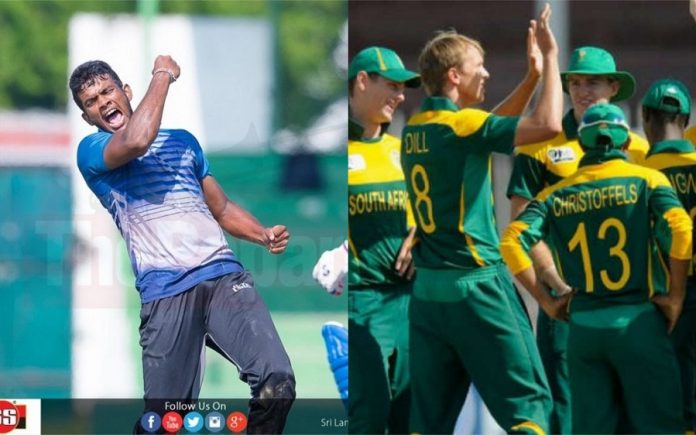 Sri Lanka Emerging team lost their 2nd consecutive 50-over match against University Sports South Africa XI by 2 wickets, after putting a 1st innings score of 237. The encounter was worked off at the Groenkloof Oval in South Africa.
Sri Lanka Emerging team were put to bat first for the second time in the tournament after skipper Charith Asalanka lost the toss. Sri Lanka made 3 changes after their defeat to the South Africa Emerging in their previous match.
In: Dilshan Madushanka, Asitha Fernando, Kamindu Mendis
Out: Kalana Perera, Minod Bhanuka, Chamika Karunaratne
Read: Sri Lanka Emerging team face first defeat in South Africa
Sri Lanka's top order couldn't cope with the pace of 21-year old seamer, Beyers Swanepoel and soon, the scorecard read as 5 for 70 after the 15th over. Swanepoel was responsible for the fall of all 5 wickets and because of the sudden collapse, opener Sandun Weerakkody and all-rounder Ramesh Mendis had to follow a more defensive mode to rebuild the innings.
Wicket keeper batsman Weerakkody departed as the 6th wicket for a well-made 46 when SL-E were on 87 and fast bowling all-rounder Lahiru Madushaka joined with Mendis to resurrect the innings. The pair did a brilliant job, towing Sri Lanka past 150, but when the acceleration started at the latter part of the innings, Madushanka was trapped in front of the wicket by USSA XI skipper Neil Brand for 32. 
Mendis architected one of the best innings in the tournament so far, laboring to take Sri Lanka to 237 with a brilliant 97 not out, which included 8 fours and 3 sixes. In the final 4 overs, Sri Lanka blasted 57 runs thanks to Mendis' exceptional hitting.
USSA XI openers got off to a great start before the spin was introduced as Amila Aponsu produced the first scalp in the 16th over. Despite a 55-ball 49 from Kabelo Sekhukhune, there wasn't much of an impactful contribution from the middle order.
The hero for SL-E in the 1st innings, Ramesh Mendis and ambidextrous spinner Kamindu Mendis shared two wickets each from USSA XI as they were stuttering on 6-138 in 30 overs. From then on, wicket keeper batsman Rubin Hermann launched a blistering innings with 4 sixes and 5 fours to rack up 70 from 65 balls to push USSA XI to the target of 238 inside 47 overs. 
This is Sri Lanka's 2nd loss of the series after 3 straight wins and their last group match will be held tomorrow (10th July) against South Africa Emerging team before the finals on the 14th.
University Sports South Africa XI
238/8 (47)


Batsmen
R
B
4s
6s
SR
Pathum Nissanka
lbw b Beyers Swanepoel
8
11
1
0
72.73
Sandun Weerakkody
c S Mallie b Delano Potgieter
46
53
9
0
86.79
Kamindu Mendis
c & b Beyers Swanepoel
8
8
1
0
100.00
Charith Asalanka
lbw b Beyers Swanepoel
9
14
2
0
64.29
Sammu Ashan
c Rubin Hermann b Beyers Swanepoel
10
17
1
0
58.82
Ashen Bandara
c Neil Brand b Beyers Swanepoel
1
4
0
0
25.00
Ramesh Mendis
not out
97
111
8
3
87.39
Lahiru Madushanka
lbw b Neil Brand
32
57
1
0
56.14
Amila Aponso
c Isma-eel Gafieldien b Ruan de Swardt
9
14
0
0
64.29
Asitha Fernando
not out
10
11
1
0
90.91
| | |
| --- | --- |
| Extras | 7 (b 0 , lb 3 , nb 0, w 4, pen 0) |
| Total | 237/8 (50 Overs, RR: 4.74) |
| Fall of Wickets | 1-16 (2.3) Pathum Nissanka, 2-24 (4.1) Kamindu Mendis, 3-46 (8.2) Charith Asalanka, 4-64 (12.6) Sammu Ashan, 5-70 (14.3) Ashen Bandara, 6-87 (20.4) Sandun Weerakkody, 7-152 (37.6) Lahiru Madushanka, 8-177 (44.4) Amila Aponso, |
| Bowling | O | M | R | W | Econ |
| --- | --- | --- | --- | --- | --- |
| Beyers Swanepoel | 10 | 1 | 36 | 5 | 3.60 |
| Gideon Peters | 10 | 0 | 78 | 0 | 7.80 |
| Ruan de Swardt | 10 | 2 | 51 | 1 | 5.10 |
| Delano Potgieter | 7 | 0 | 29 | 1 | 4.14 |
| Siya Simetu | 9 | 2 | 29 | 0 | 3.22 |
| Neil Brand | 4 | 0 | 11 | 1 | 2.75 |


Batsmen
R
B
4s
6s
SR
Lesego Senokwane
lbw b Amila Aponso
20
50
2
0
40.00
Kabelo Sekhukhune
c Charith Asalanka b Ramesh Mendis
49
55
9
0
89.09
Neil Brand
c Sammu Ashan b Kamindu Mendis
17
18
2
0
94.44
Isma-eel Gafieldien
c Sandun Weerakkody b Kamindu Mendis
11
22
1
0
50.00
Delano Potgieter
run out (Sandun Weerakkody)
24
18
4
1
133.33
Ruan de Swardt
lbw b Ramesh Mendis
12
15
2
0
80.00
Rubin Hermann
b Asitha Fernando
70
65
5
4
107.69
Beyers Swanepoel
b Asitha Fernando
20
35
3
0
57.14
K Leokaoke
not out
5
6
0
0
83.33
Siya Simetu
not out
0
0
0
0
0.00
| | |
| --- | --- |
| Extras | 10 (b 0 , lb 4 , nb 2, w 4, pen 0) |
| Total | 238/8 (47 Overs, RR: 5.06) |
| Fall of Wickets | 1-70 (15.6) Lesego Senokwane, 2-78 (18.1) Kabelo Sekhukhune, 3-100 (23.1) Neil Brand, 4-107 (25.1) Isma-eel Gafieldien, 5-124 (28.3) Ruan de Swardt, 6-138 (30.3) Delano Potgieter, 7-197 (42.6) Beyers Swanepoel, 8-237 (46.6) Rubin Hermann, |
| Bowling | O | M | R | W | Econ |
| --- | --- | --- | --- | --- | --- |
| Asitha Fernando | 9 | 1 | 37 | 2 | 4.11 |
| Dilshan Madushanka | 3 | 0 | 34 | 0 | 11.33 |
| Amila Aponso | 9 | 0 | 40 | 1 | 4.44 |
| Ramesh Mendis | 10 | 3 | 31 | 2 | 3.10 |
| Kamindu Mendis | 8 | 0 | 65 | 2 | 8.12 |
| Charith Asalanka | 5 | 0 | 14 | 0 | 2.80 |
| Sammu Ashan | 3 | 0 | 13 | 0 | 4.33 |