Sarinda Unamboowe CEO/ Managing Director of MAS Kreeda who was part of the 1981, 82 and 83 Royal College cricket teams reflects on his time at the big match and his life surrounded with sports.
Sarinda was a true blue 2nd generation Royalist. He grew up in a sporting environment where his father also a Royalist having represented the school in Cricket, Rugby and Athletics. Sarinda followed becoming a triple coloursman excelling in Cricket, Rugby and Athletics himself. Speaking to ThePapare.com, he reverberated how that influenced him a great deal in taking up Cricket and Rugby at Royal. He went onto say "it's every child's dream at Royal to play the Royal-Thomian and the Bradby. I started playing Cricket when I was 11 and to play my first Royal Thomian at the age of 16 was a dream come true."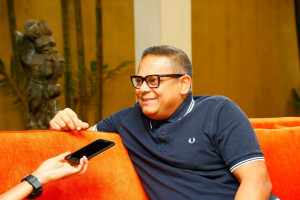 Royal had good run in the early 80's and Sarinda was part of those teams. "I played in three strong teams, one was absolutely dominating and we destroyed S. Thomas' and that was a 'high'. The whole build up for the match with the bands playing and 20,000 people watching the game was a great feeling. I don't hear the bands playing, I feel the bands playing.  In the dressing room there is bit of tension but I love playing in front of a big crowd rather than a small crowd. I feel comfortable being in a crowded environment rather than an empty stadium. I love the atmosphere it's amazing walking onto the field."
Sarinda was coached Mahesh Rodrigo whom he calls "a man of very few words" who only wanted you to just go there and concentrate doing your job. He was then coached by Mr. Vijay Malalasekara whom he considers as his only mentor. Mr. Malalasekara he says gave him the mantra for him to be successful in all aspects " go and have fun."
"I remember when I went into bat in my 3rd Royal Thomian in 1983, we were in deep trouble. We were 112/5 or something like that, we were expected to dominate S. Thomas' but we were getting hammered. I looked at him (Mr. Malalasekara) before going into bat he just smiled at me and said go and do your thing."
Sarinda claims this helped him a lot in his life. "My advice to anyone playing a Roy-Tho or anything that they are doing which they think its nerve- wrecking look at it from the context of this is a lifetime opportunity. It's something that you will look back on for the rest of your life. There is no point being nervous and shivering on what you're going to do. Go and have fun. Enjoy it. you will do far better than being nervous and worried of what's going to happen."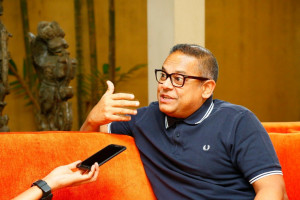 Moving back in time, Sarinda says that the big match involved a lot of traditions, these things add to this spectacular event. The cycle parade the day before the match is something that he remembers very well.  The team getting together at the hostel and having a good dinner and preparing for the game with team meetings. "It was a nice build up" Sarinda said reminiscing with a smile."If I look back at my career, I really thought about it when you said that you are going to this interview because I don't normally think about my past. I'm a person who prefers to look forward than backwards. I think that I have always done throughout my career, only time I have scored my runs is when the team was under pressure otherwise I wouldn't score I would just go and throw my wicket, hammer around. I was not a top batsman I was always a middle order or tail ender. That's something I think I like to do now as well, I perform well under pressure. When there is no pressure on me and when there is no demand on me in a situation, I don't perform well. I have fun and lose focus but when I know I need to deliver I do well." articulated Sarinda emphasizing that performing under pressure is something he thrives on.
Talking about one of the best innings he has played under pressure, holding up one end when wickets were tumbling and the best he has seen at a Royal-Thomian, Sarinda stated that Rochana Jayawardena's 148 not out in a 96- run partnership with him was the best. That year (1983) Royal won after 14 years of draws.
"In my last Royal Thomian when I went into bat we were in trouble and Rochana Jayawardena had just started getting runs he was on 40 and I had the best seat in the house because that was one of the best hundred a Royal- Thomian saw. He tore the thomian attack apart, when I got out he was on 115 and we had put on 90 odd runs for the sixth wicket and I think of which I scored 24 and at that time I held up my end, watched him score and we eventually won the match. "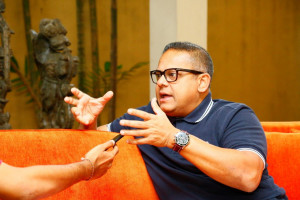 Sarinda then started his career as a management trainee at American Express, he now sees the funny part of how he decided on his first job. "I have to admit my career goals were shallow when I was young. I wanted to join a management trainee programme and the advice I would give to a young person now is to look which will develop your career, but all I cared was which management trainee job would pay me the most. So I joined American Express bank in 1988. I was doing an analyst job which gave so much exposure." 
 He then joined John Keells which he states took him to another level in his career. "I took a salary cut to join John Keells, for me John Keells was my masters. That was where I got exposed and educated.  We were given lot of responsibility at a very young age."
His current employer MAS Holdings which Sarinda says a dream come true. "Coming to MAS and to start Linea Aqua was a dream. To start a company bottom up and to take that company from zero to arguably the best swimwear manufacturer in the world has been an awesome journey."
Sarinda also spoke of what he gained by playing sports and his theory in accepting defeat "When you play sport a lot develops in you. You learn to be part of a team, you learn to deal with other people at different levels. You learn to handle defeat and victory, you don't have to accept defeat and I won't accept defeat and I never will.   I will never go into something that I am going to lose even a game of cards.  It's ridiculous I will only play if I have a fighting chance of winning. That's what I am. Sports taught me to push myself beyond limits."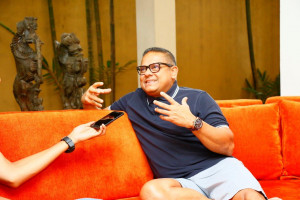 We touched on his most successful humanitarian effort- Trail, the 670 km along walk that took place over 28 days. He says that it is actually surreal to think about that it."It is such a different thing, that when you look back at it. It feels like it happened in some other lifetime or it happened to somebody else. It was such an amazing experience for me it showed me the goodness of people. It brought out best in lot of people in the way everyone supported us. For me walking with people like Mahela was an amazing experience he is a legend and you see him at very human level. Sanga, Bathiya and Santhush and so many people who are known as legends were there for each other as humans. From a personal point of view it was an amazing experience. "
His parting words to his boys at Royal "Enjoy! it it's a life time experience, for many it might be the last time, for some it may be the only time they are out on the field. This is an experience you will never get in your life time again . You can play for Sri Lanka or any other team but you won't experience a Royal -Thomian. To me the feeling at a Royal Thomian is 100 times more emotional and greater than any national event. This is to me one of the most emotionally charged sporting events that there is in Sri Lanka. Boys Enjoy it."