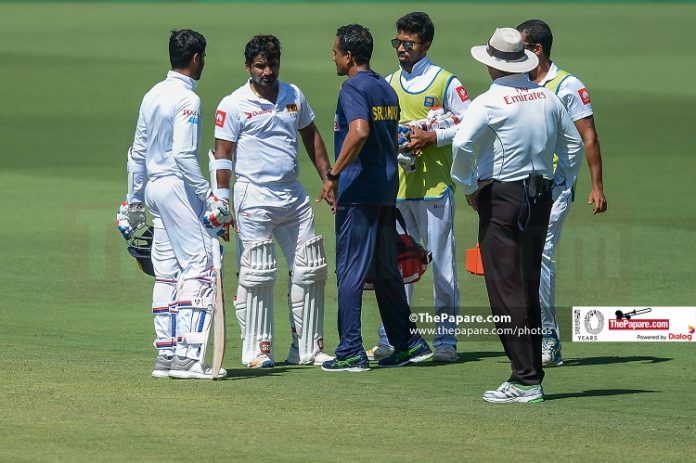 Kusal Perera, Sri Lanka's No. 5 batsman, was hit on the side of the head by a bouncer from Australian quick Jhye Richardson on the 3rd day of the 2nd Test between the two sides.
Perera, who had put on 37 for the 4th wicket alongside Dhananjaya De Silva, ducked under a bouncer by Richardson, but similar to what happened to Dimuth Karunaratne yesterday, the ball didn't rise as much as the batsman expected and cannoned into the side of his helmet. The extra protective guard and part of the plastic holding the grill to the helmet flew off but Perera remained standing and seemed to be okay.
Perera was immediately checked on by the Sri Lankan physio and was given the okay to keep batting. He faced four more deliveries from Richardson in the same over and then was checked on by the physio between overs as well. However, three balls into the next over, he looked to be struggling and seemed not to be too steady on his feet. Substitute fielder Roshen Silva helped him off the field alongside the physio.
A Sri Lanka Cricket spokesperson confirmed to Cricket Australia that Perera will undergo a mandatory concussion test as a precaution.
The latest news from the Sri Lankan camp is that he is feeling better and is resting in the dressing room.
Perera did not bat again in the first innings and has not taken the field for Australia's 2nd innings – it is likely that he will sit out the day's play.
Perera was on 29 when he was hit – it is unclear if he will bat in the 2nd innings. Perera is the 2nd Sri Lankan batsman who was forced to retire hurt in this game after being struck in the head – Karunaratne was rushed to hospital yesterday, after ducking into a bouncer from Pat Cummins but was given the all-clear to bat again today.
Watch this space for more information on this.