A unique competition organized by the Colombo Motor Sports Club (CMSC) & the Sri Lanka Association of Racing Drivers & Riders (SLARDAR), Pannala auto drome came alive over the weekend with the novel aspect of night racing.
Tarmac racing is a vastly different form of racing to that of gravel racing which happens to be the most popular from of racing in the country. Sri Lanka has two sets tarmac tracks in Pannala and Katukurunda. CMSC along with SLARDAR presented the crowds that gathered at Pannala with a unique experience of witnessing races that spanned late into the night under lights.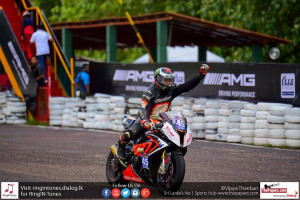 The motorcycle races were the first to be worked out as they needed to be completed before dark. In the Group M-std/Mod Super sports Motorcycles Open over 250cc (4T) event considered as the fastest motorcycle event on the track. Shiran Samuel was the race leader of the event having taken a good lead in the opening laps but was closely followed by Pramuka Sesath who was giving him a good fight. However half way into the race Samuel was seen struggling in the corners and Sesath managed to take the lead. Pramuka Sesath was placed first in his BMW SRR 1000cc and Samuel was overtaken by Lathika Shamal who finished second while Chaminda de Silva was placed third denying Samuel of a podium finish.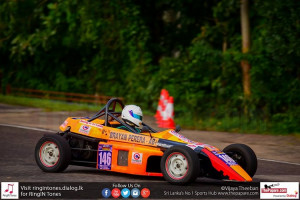 In the Group SL Formula Mclarens 4 EFI 1300cc event which was a Bryan Perera was placed first with Chandima Gunaratne placed second while Andrew Choksy was placed third in the race. It was a special occasion for team Hellibees as all three drives with the podium finishes belonging to team Hellibees. Andrew Chocksy  was crowned as the 2017 F1 champion dethroning his team mate Chaminda Gunarathne who was the champion of 2016.
The event that arguably attracted the largest spectator attention, SL GT Cars up to 3500cc which is also considered as the fastest event on the track, was keenly fought between the current Sri Lankan race leader in both gravel and tarmac Ashan Silva and the Indian rally cross driver Gaurav Gill. Gaurav Gill is an Indian race car driver that competes in the Asia- Pacific Rally championship and became the first Indian driver to win the FIA Asia Pacific Rally Championship in 2013.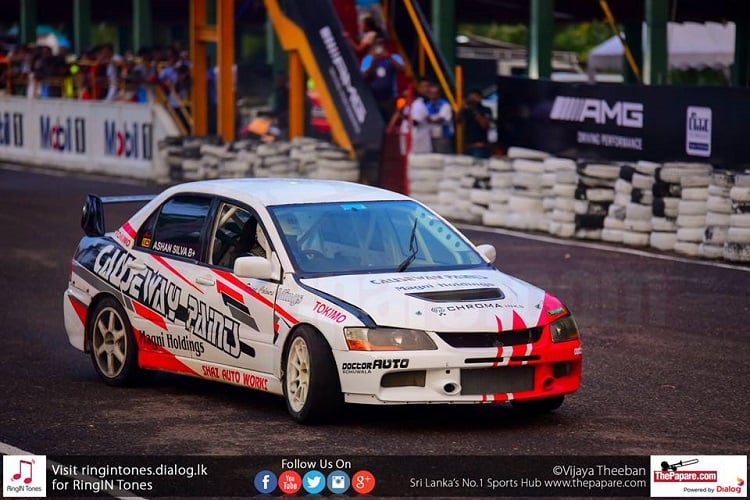 There was a keen contest amongst the two drivers from the onset of the race. With the two drivers driving neck to neck Ashan Silva managed to get in front of the Indian at the start of the second lap. Janaka Dias was involved in a nasty crash close to the start line at the very beginning of the race and had to retire from the competition. Silva showcased his brilliance stamping his authority as the race went by and built a commanding lead to get to the checkered flag ahead of the experienced Indian while Manish Goonethilake was placed third in the race.
Despite the overcast conditions and the occasional downpour that threatened to disrupt the prceedings the organizers of the event need to be commended on an event
Group SL F Formula McLarens Carburator 1300 CC
 – Finished
| | | | | |
| --- | --- | --- | --- | --- |
| Pos | Driver | Mode | Engine | Points |
| 1 | Kushan Peiris | Formula McLarens Carb. | 1300 | 10 |
| 2 | Randika Niroshan | Formula McLarens Carb. | 1300 | 8 |
| 3 | Tharindu Dharmarathna | Formula McLarens Carb. | 1300 | 6 |
| 4 | Kawindra Senevirathne | Formula McLarens Carb. | 1300 | 0 |
| 5 | Duminda Jayasinghe | Formula McLarens Carb. | 1300 | 0 |
| 6 | Prasanna De Alwis | Formula McLarens Carb. | 1300 | 0 |
| 7 | Mahesh Kodagoda | Formula McLarens Carb. | 1300 | 0 |
| 8 | Romesh Gunawardena | Formula McLarens Carb. | 1300 | 0 |
| 9 | Manura Wanniatchi | Formula McLarens Carb. | 1300 | 0 |
| 10 | Shenal Gunawardana | Formula McLarens Carb. | 1300 | 0 |
GroupA Cars upto 1050 cc
 – Finished
| | | | | |
| --- | --- | --- | --- | --- |
| Pos | Driver | Model | Engine | Points |
| 1 | Michael Wijesuriya | Toyota Vitz | 1050 | 10 |
| 2 | Sithara Peiris | Volkswagon Polo | 1050 | 8 |
| 3 | S Mannapperuma | Toyota Vitz | 1050 | 6 |
| 4 | S A Duminda | Nissan March | 1050 | 0 |
| 5 | Satyan Kochhar | Toyota Vitz | 1050 | 0 |
| 6 | Sapna Weerasekara | Nissan March | 1050 | 0 |
| 7 | Ajith Keerthi | Auto Bacs Mini | 1050 | 0 |
GroupM Std Mod Motorcycles Over 175 CC Up to 250 CC 4T
 – Finished
| | | | | |
| --- | --- | --- | --- | --- |
| Pos | Driver | Model | Engine | Points |
| 1 | Lathika Shamal | Honda CBR | 250 | 10 |
| 2 | Sheron Fernando | Honda CBR | 250 | 8 |
| 3 | Heshan Pasindu | Honda CBR | 250 | 6 |
| 4 | Mohamed Shazan | Honda CBR | 250 | 0 |
| 5 | Mangala Pathirage | Honda CBR | 250 | 0 |
| 6 | Jagath Fernando | Honda CBR | 250 | 0 |
| 7 | Bernard David Ellis | Honda CBR | 250 | 0 |
GroupM Std Mod Super Sports Motorcycles Open Over 250cc 4T Race 1
 – Finished
| | | | | |
| --- | --- | --- | --- | --- |
| Pos | Driver | Model | Engine | Points |
| 1 | Pramuka Sesath | BMW SRR | 1000 | 10 |
| 2 | Lathika Shamal | Honda CBR | 600 | 8 |
| 3 | Chaminda de Silva | Honda CBR | 600 | 6 |
| 4 | Shriyantha Anuradha | Yamaha R6 | 600 | 0 |
| 5 | Lahiru Randeep | Suzuki GSXR | 600 | 0 |
| 6 | Shiran Samuel | Honda CBR | 600 | 0 |
GroupM STD MOD upto 125cc 2T
 – Finished
| | | | | |
| --- | --- | --- | --- | --- |
| Pos | Driver | Model | Engine | Points |
| 1 | Udana Perera | Yamaha TZR | 125 | 10 |
| 2 | Mohamed Shazan | Yamaha Belgarda | 125 | 8 |
| 3 | Ganeshan Vijayakumar | Yamaha TZR | 125 | 6 |
| 4 | Chathura Madushanka | Yamaha TZR | 125 | 0 |
| 5 | H Hasitha Peiris | Yamaha TZR | 125 | 0 |
| 6 | Dammika Senarathna | Yamaha TZR | 125 | 0 |
| 7 | Thuwan Princy | Cagiva Mito | 125 | 0 |
GroupO Standard Motorcycles upto 125 CC 4T Mono Cylinder
 – Finished
| | | | | |
| --- | --- | --- | --- | --- |
| Pos | Driver | Model | Engine | Points |
| 1 | Hansika Abeysinghe | Honda CBR | 125 | 10 |
| 2 | Shiran Samuel | Honda JX | 125 | 8 |
| 3 | W A D Chandimal | Honda JX | 125 | 6 |
| 4 | Idunil Weerasinghe | Honda JX | 125 | 0 |
| 5 | Prasanna Niroshan | Bajaj Discovery | 125 | 0 |
| 6 | Dilum Disanayake | Honda JX | 125 | 0 |
| 7 | M C S Perera | Honda JX | 125 | 0 |
| 8 | H P D K Tharanga | Honda JX | 125 | 0 |
| 9 | W H Dilan Ratnayake | Honda JX | 125 | 0 |
| 10 | Nimudu Lakmal | Honda JX | 125 | 0 |
| 11 | Dammika Senarathna | Honda JX | 125 | 0 |
| 12 | R M N K Ranathunga | Honda JX | 125 | 0 |
GroupO Std Motorcycles Over 125 CC Upto 160 CC 4T Mono Cylinder
 – Finished
| | | | | |
| --- | --- | --- | --- | --- |
| Pos | Driver | Model | Engine | Points |
| 1 | Hansika Abeysinghe | Honda CBR | 150 | 10 |
| 2 | Vinula Pathirage | Honda CBR | 150 | 8 |
| 3 | Mohamed Shazan | Honda CBR | 150 | 6 |
| 4 | Shushmi Solanki | Honda CBR | 150 | 0 |
| 5 | Nikila Pathirage | Honda CBR | 150 | 0 |
| 6 | Idunil Weerasinghe | Honda CBR | 150 | 0 |
| 7 | P Samarawickrama | Honda CBR | 150 | 0 |
| 8 | Ashen Wickramarathne | Honda CBR | 150 | 0 |
| 9 | Shiran Samuel | Honda CBR | 125 | 0 |
| 10 | A G Isuru Madushan | Yamaha R | 150 | 0 |
GroupS Cars Upto 1500 cc
 – Finished
| | | | | |
| --- | --- | --- | --- | --- |
| Pos | Driver | Model | Engine | Points |
| 1 | Zaakir Wahab | Honda Civic | 1500 | 10 |
| 2 | Gihan Dheerasekara | Honda Civic | 1500 | 8 |
| 3 | Rangana Budawatta | Honda EK | 1500 | 6 |
| 4 | Shehara Jayawardana | Honda Civic EG3 | 1500 | 0 |
| 5 | Dilan Sabar | Honda E G 6 | 1500 | 0 |
| 6 | Kamil Hussain | Honda CRX | 1500 | 0 |
| 7 | Faham Nauman | Honda Civic | 1500 | 0 |
| 8 | Sajaad Zuhair | Honda Civic | 1500 | 0 |
| 9 | Madushan Mannapperuma | Honda Civic | 1500 | 0 |
| 10 | Prabath Senanayake | Honda City | 1500 | 0 |
| 11 | Thiwanka Wijesekara | Honda Civic | 1500 | 0 |
| 12 | Subramaniam M | Honda CRX | 1500 | 0 |
GroupSL A Mini7
 – Finished
| | | | | |
| --- | --- | --- | --- | --- |
| Pos | Driver | Model | Engine | Points |
| 1 | Ajith Keerthi | Autobacs Mini | 1000 | 10 |
| 2 | Namal Silva | Austin Mini | 1000 | 8 |
| 3 | Suresh Kumar | Austin Mini 7 | 1000 | 6 |
| 4 | K Parameswaran | Austin Mini | 1000 | 0 |
| 5 | W N S Thissera | Austin Mini | 1000 | 0 |
| 6 | Neel Weerasinghe | Autobacs Mini | 1000 | 0 |
GroupSL E cars NISSAN MARCH 1000CC
 – Finished
| | | | | |
| --- | --- | --- | --- | --- |
| Pos | Driver | Model | Engine | Points |
| 1 | Sapna Weerasekara | Nissan March | 1000 | 10 |
| 2 | W A L L Narada | Nissan March | 1000 | 8 |
| 3 | Binara Panduwawela | Nissan March | 1000 | 6 |
| 4 | Manjula Wijesinghe | Nissan March | 1000 | 0 |
| 5 | Mihan Peiris | Nissan March | 1000 | 0 |
| 6 | Chanaka Beligolla | Nissan March | 1000 | 0 |
| 7 | S A Lakshika | Nissan March | 1000 | 0 |
GroupSL F Formula McLarens 4 EFI 1300 CC Race 1
 – Finished
| | | | | |
| --- | --- | --- | --- | --- |
| Pos | Driver | Model | Engine | Points |
| 1 | Bryan Perera | Formula McLarens EFI | 1300 | 10 |
| 2 | Chandima Goonaratne | Formula McLarens EFI | 1300 | 8 |
| 3 | Clement Senaratne | Formula McLarens EFI | 1300 | 6 |