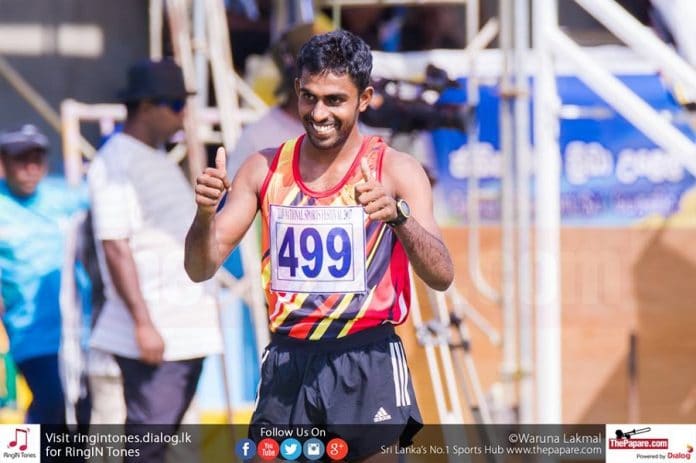 Sri Lanka's prime medal hope at the Asian Games 2018, middle distance runner Indunil Herath, claimed the National record in the 800m event clocking 1:47.13 secs in Kenya.
Indunil wiped out the 25 year old previous record of 1:47.56 secs which was held by Ranjith Subasinghe since 1993.Currently training in Kenya, Indunil was placed second in the Men's 800m at the Kenyan President's Cup, where he clocked the record time.
Indunil, who is the National champion in the men's 800m, was an exceptional performer in the event throughout last year, which prompted the authorities to send the runner for specialized training in Kenya. His previous  personal best performance in the Men's 800m was 1:48.69 clocked back in 2014 in Colombo. With his form improving vastly and with the improvement he has shown at the latter part of last season, Herath is in medal contention at the Asian Games.
Indunil flew to Kenya in December last year, on a fully sponsored training programme by the Department of Sports Development and is attending the 7 month training together with some of the world's best athletes until July before returning to the country to join the squad who will take flight to Indonesia for the Asian Games.