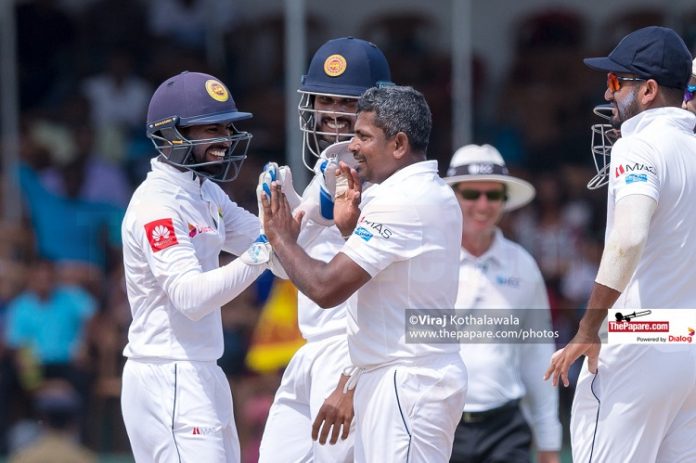 It is not uncommon for a spinner to go beyond 40. John Traicos was 45 when he played in Zimbabwe's inaugural Test match in 1992. Our own D.S. de Silva played one day cricket at the age of 42. In this day and age when cricketers spend hours in the gym, Rangana Herath could have extended his career to achieve that rare milestone of 100 Test matches. He had previously hinted at giving it a go. But last week he decided that he will play just one more Test match and finish on 93 Tests, on par with two other iconic Sri Lankans – Arjuna Ranatunga and Aravinda de Silva.
He had decided by August that the England series was going to be his swansong. But he had left the ball on SLC's court. If they wanted him to play more than one Test he was willing to give it a go. Initially the selectors were looking at Herath playing two Tests with the curtains set to come down at SSC. In the end sanity prevailed and they gave the choice to Herath. Kudos to the selectors for handling it the right way for they will not find a more loyal servant in the game than Herath.
There's little doubt that Herath at present is the country's best spinner – by a country mile. Skipper Dinesh Chandimal during a media briefing the other day said that he wanted him to play for five more years. In other words, he meant play as long as I am captain. Herath could have struck a deal with SLC and extended his career by picking and choosing which series he would play.
But instead he has decided to go now. His departure will help the team management to map the future working with the likes of Lakshan Sandakan, Akila Dananjaya and Jeffrey Vandersay. Herath completing a Level II Coaching Certificate conducted by SLC last week is perhaps an indication what he intends to do post retirement.
Herath has played under nine Test captains. Captains differ in opinions and once they are settled in the job want to try out different things. The loyalties of captains in our part of the world differ for a variety of reasons as well. Ever since he became the team's premier spinner in 2010, all captains have treated Herath with dignity that he richly deserves. The only time they tried to be over smart was against Pakistan in 2015 when they picked four seamers for the Pallekele Test and paid a heavy price as Pakistan chased down a target of 377 with seven wickets to spare.
Herath has been the go to man whenever a captain is injured or unwell. When Angelo Mathews had to pull out of the Zimbabwe tour, the selectors requested Herath to take up the responsibility. When the captain was ruled out of the Bangladesh series he was asked to step in again without ever being appointed on a full time basis.
When Mathews stepped down as captain in July last year, the selectors decided to hand the Test captaincy to Dinesh Chandimal and the ODI reins to Upul Tharanga. Herath who was at their beck and call was not considered. But fate would have a funny twist as Chandimal was unwell for the first Test of his stint against India last year and the selectors had to again turn to Herath. A request he fulfilled without any hesitation.
For a small man, Herath is also one of the gutsiest to wear the blue cap. He rarely says anything to the batsmen even when they are being aggressive against him. He lets his craft do the talking. But when he has the bat in hand, he gives as much as he gets.
The mid-pitch confrontations involving Herath and the likes of Ishant Sharma, Mitchell Starc and James Anderson have been a treat to watch. They are all six foot plus. Herath is only a small man, but with a big heart.
Too many young players when they don't get the big break in the senior team quit and ply their trade elsewhere either playing grade cricket in Australia or league cricket in England. While financially these breaks are a godsend, the negative aspect is that it forces them to skip domestic cricket which makes them ineligible for selection into the senior side or 'A' team cricket. The brain drain has been quite high in the last decade or so.
They all can learn from Herath. The emergence of Ajantha Mendis and the belief that  Suraj Randiv was  ready to take on the challenges of ODI cricket from Muttiah Muralitharan had pushed Herath to the point of no return. But he did not give in. He continued to be involved in domestic cricket and kept the selectors on the loop about his whereabouts when he went to England to play league cricket. This was at a time when he had no contract with SLC mind you.
Thankfully there are people who take note of the little good things. These will one day stand in good stead for you.
What a fairytale story this has been. The little man from Narammala will be missed.