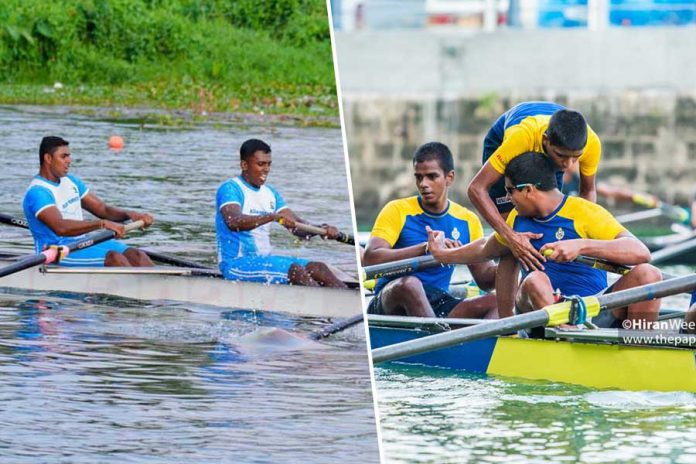 Initially planned to be carried out last August, the National Junior and Intermediate Rowing Championship is finally set to crash the waters of the Diyawanna Rowing Centre (DRC), from the 13th to the 16th of February 2019.
Read More : Inter-School and Novice Regattas set to hit the waters
The National Junior races will feature three different age categories – U14, U16 and U18. The U14 rowers will compete in two categories, 'Single Sculls' and 'Double Sculls' whilst the U16 races will include 'Single Sculls', 'Double Sculls' and the 'Coxed Fours'. Although the young oarsmen and women in the U14 and U16 categories won't be fighting for a spot in the national pool, the U18 rowers will have a shot. With a comprehensive lineup of events scheduled, the U18 rowers will partake in the 'Single Sculls', 'Double Sculls', 'Pairs', 'Coxed Sculls' and the 'Coxed Quadruple Sculls' races.
Read More : Know know know Your Boat!
Sharing his thoughts with regard to merging both regattas, the Administrator of the DRC and Vice President of the Amateur Rowing Association of Sri Lanka (ARASL), Sithira Wickramasekara, stated;
"The reason to merge the Junior with the Intermediate Rowing Championship is to mainly boost up the potential of our athletes for the future. We have been looking at improving our standards in rowing and the best platform to begin that is with the schools and Novices. We tried to hold the Inter-Schools and Intermediate events together last year, but couldn't fulfill our ambitions. This time around, it's all well planned to finish off in style."
The Intermediate Championship will comprise of 5 different categories for Men and Women. All rowers over the age of 18 will be eligible to take part in the events whilst having an opportunity to make it to the National Pool.
Races: 'Single Sculls', 'Pairs', 'Double Sculls', 'Coxed Fours', and 'Coxless Quadruple'
Raising the bar of Rowing to international standards, this year as well the ARASL will implement the standard 2000 meters lane for both the U18 and Intermediate races. The U14 races will be stretched out with a 500m lane while the U16 races will follow a 1000m lane.