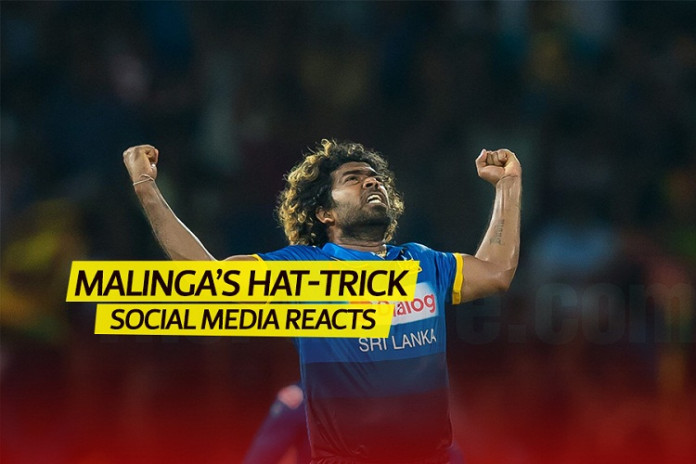 Undoubtedly the best T20 bowler in the circuit, Lasith Malinga lived up to the mark as he wrecked the Bangladesh batting taking his first T20 hat-trick in the 19th over in the 2nd T20 international at R. Premadasa.
The 33-year-old slinger took Mushfiqur Rahim, Mashrafe Mortaza and Mehedi Hasan for his fourth hat-trick in international cricket amidst a filled stadium at Premadasa.
Social media went a buzz as soon as Malinga dismissed Mehedi Hasan and here are what ThePapare.com got from social media:
#SLvBAN | HAT-TRICK FOR LASITH MALINGA!
Rahim – Bowled (18.3)
Mortaza – Bowled (18.4)
Mehedi Hasan – LBW (18.5)

What a Champion!!! pic.twitter.com/8I2fTKZdFc

— ThePapare.com (@ThePapareSports) April 6, 2017
.

Death bowling at its best. What an amazing bowling display specially by the deadly duo. #Malinga and #Kule #SLvBAN #KatinCricket

— Logan ⚓ (@KawdaBoy) April 6, 2017
Exactly three years, Sri Lanka restricted India to a low scorer thanks to some good death bowling from Kulasekara and Malinga. Fast forward three-years, the duo are still up and running.
The two death bowlers who were the key 3 years ago today, were also the two who saved it at the end today💪🏼🇱🇰#Malinga #Kule #SLvBAN — Shenali Fernando (@shenalifernando) April 6, 2017
Best thing about #Malinga hat-trick is that all 3 balls were slower ones. #yokerking #Slinga — Alwin Santhos (@AlwinSanthosh94) April 6, 2017

In any point you can't say Malinga done with this game. Even with one foot he can prove his value to the world. Take a bow. #Malinga #SLvBAN

— Inthiqab Omer (@Inthiqab93) April 6, 2017
And of course his team mates didn't forget to applaud the slinger's efforts.
Once again amazing lasith Malinga. Another hat trick. What a star. — Kumar Sangakkara (@KumarSanga2) April 6, 2017
With this hat-trick, he becomes the second bowler to take four hat-tricks in international cricket
Hat-trick for Lasith Malinga. This time in T20Is. He becomes second bowler after Wasim Akram to have 4 hat-tricks in international cricket.

— Mazher Arshad (@MazherArshad) April 6, 2017
While the Sri Lankan fans were celebrating his win, the Indian fans have already got themselves excited knowing that they will see him soon in Mumbai for the IPL
#Malinga and #Kulasekara chocked yet another team at death on a yet another "6th of April"….. 😁 #SLvBAN — Cham J (@Uppercut07) April 6, 2017
.The views expressed here are not entirely the view of ThePapare.