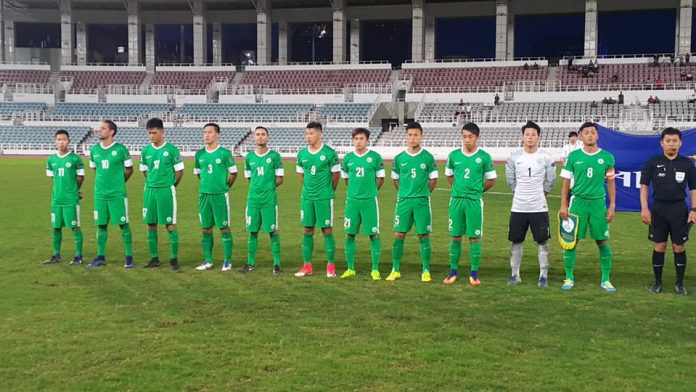 Macau National Team players have made themselves unavailable to represent their country until MFA (Macau Football Association) & the Government find a solution to play the 2nd leg of the 2022 World Cup Qualifier against Sri Lanka.

Macau, who won the 1st leg 1-0 at home, were scheduled to play Sri Lanka in the 2nd leg on 11th June but the MFA in a post on their Facebook Official Page yesterday (8th June) stated that the team will not travel to Sri Lanka due to security reasons & had requested a neutral venue.
The Football Federation of Sri Lanka (FFSL) in a media release responded that the FIFA & AFC have accepted the security plans for the Macau Team and that the 2nd leg will go as planned in Sri Lanka.
Related Coverage;
In a surprising move the Macau National Team players expressed their willingness to travel to Sri Lanka and have showed their displeasure at the decision taken by the MFA by making themselves unavailable for selection. The list includes 24 National Team players, 11 U23 players & 13 U18 players.
Ka Him Lei, who plays as a defender for Macau, on his Facebook profile wrote;
"We feel that Macau Football has not been respected in previous years and finally now we have the chance to give our Macau citizens, fans, family and friends a reason to be proud of Macau National team. We are closer then [sic] ever to reach our main goal and we fought for too long to just let it slip between our hands.

It's not guaranteed that we will go through to the next stage, but we want to go and fight the 90 minutes left to try and achieve our goal. For Macau for us and for the future generations this could be an important step ahead.

The list of players below wants to go to Sri Lanka and play the 2nd leg and demand that MFA and RAEM government authorities accepts and works on a solution to make it happen. If they do not accept and approve our request, the players below are as of now no longer available to represent Macau National Team."
National Team Players

Kong Cheng Hou – Nicholas Torrao – Lam Ngai Tong – Chan Pak Chun – Ho Man Fai – Lei Keng Pan – Lei Ka Him – Kam Chi Hou – U Wai Chon – Fong Chi Hang – Soares – Lam Ka Pou – Chan Man – Ng Wa Keng – Ng Wa Seng – Ho Man Hou – Wong Vernon – Pang Chi Hang – Ho Ka Seng – Lam Ka Seng – Cheong Hoi San – Leong Ka Hang – Filipe Duarte – Lei Chi Kin

U23 players

Sou Chit – Cheng Ka Chon – Wong Tek Ka – Lei Hou In – Jorge Marcelo Vitorino – Lei Chan Tou – Wan Tin Lao – Tai Lok In – Si Tou Seng Hang – Heilong Wong – Ip Leong

U18 players

Lok Weng Hang – Chan Hang Kit – Wong Pou Chon – Cheang Ka Lok – Kong U Chon – Sio Rong Rui – Ng Chi Hou – Man Chak Nam – Lou Chon Hei – Chan Chak Meng – Ku Koi Fai – Wong Weng Hei – Leong Lek Hang
>>for more Football News Click Here<<