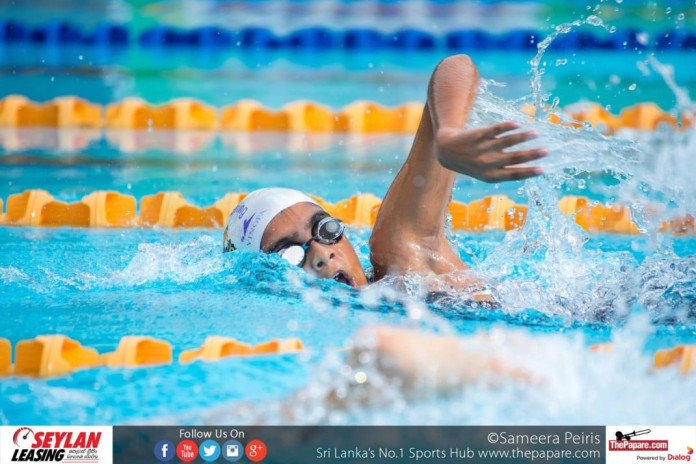 The day one of the Inter International Schools  Swimming Championships concluded today at the Sugathadasa swimming complex today with Lyceum International School,Wattala having a handsome lead at the top of the score board.
Lyceum International School Wattala, who are the reigning champions dominated proceedings on day 1 as they ended the day on a staggering 619 points. Lyceum Nugegoda follow them in 2nd spot with 421 points with Gateway College,Colombo rounding up the top 3 with 387 points. 18 schools managed to record points on the scoreboard at the conclusion of the day.
A total of 13 records were smashed in various age categories during the day. Sri Lankan swimming ace Kyle Abeysinghe representing Wycherley International School, bagged two records in the over 16 boys 100 meter backstroke (1.03.97) and the over 16 boys 50 meter breaststroke (26.26) respectively.
Damuri Wickramatunga from Lyceum International School, Wattala dominated the boys under 9 age category winning the 200 meters individual medley, 50 meter breaststroke and 100 meter freestyle respectively gathering 45 points in the process.
An exciting 2nd and final day of swimming is lined up tomorrow with Lyceum International Wattala in the driving seat to retain their title from last year's championships.