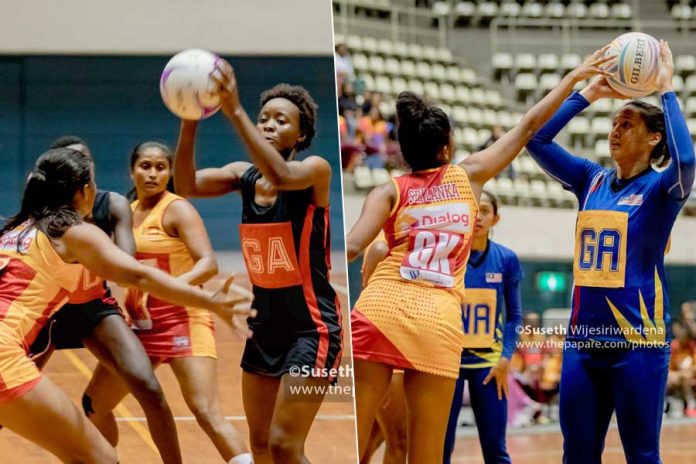 Sri Lanka National Team and the Sri Lanka Youth Team suffered defeats on the 1st day of the Quadrangular Netball Tournament 2019 played at the Sugathadasa Indoor Stadium.
A 20-player strong squad was selected by the Netball Federation of Sri Lanka……..
Playing in the opening match Kenya was too good for Sri Lanka as they won 54-35. Sri Lanka was playing without two of their key players. Star shooter Tharjini Sivalingam, who isp in Australia playing club netball, and Goal Keeper Gayani Dissanayake out with an injury.  
The opening quarter finished 14-11 with Kenya taking a three-point lead. The 2nd quarter was much of the same (14-10) as the visitors went into half time leading 28-21.
Read More: Thilaka Jinadasa requests for delay in Elections as World Cup draws near
Sri Lanka was not able to close the gap in the last two quarters as the East African Nation, with the height and size advantage throughout the court, won the 3rd & 4th quarters 12-7 (40-28) and 14-7 (54-35).
Sri Lanka Youth v Malaysia
Sri Lanka Youth were no match for the experienced Malaysians as they lost 78-16. The Sri Lanka Youth squad of 20 was only finalized last week and had limited time to train with the new Head Coach Malindu Kumari Gamage.
Malaysia had a mixture of experience as well as a few players from their Youth squad. The Malaysians raced to 22-05 lead in the first quarter, but Sri Lanka Youth managed to stem the flow of scoring in the 2nd quarter which was 12-04 (34-09).
Read More: Sri Lanka Netball soars to top 20 in World Rankings
However, after half time Malaysia were ruthless once again scoring 23-04 (57-13) in the 3rd and 21-03 (78-16) in the 4th to register a thumping win.
Tomorrow (9th April) Kenya will take on Malaysia at 3.00pm & Sri Lanka will take on Sri Lanka Youth at 5.00pm. All matches live on www.thepapare.com/live
>> For more Netball News Click Here <<