After winning the Asian Championships in 2018, Sri Lanka Netball are now on the road to the Netball World Cup, scheduled to be held in Liverpool later this year. 
With Netball's showpiece event just 4 and a half months away, Head Coach Thilaka Jinadasa spoke on the team's preparation, goals and expectations in the build-up to the 15th Netball World Cup. Here are the excerpts.
Q – Preparation for the World Cup?
A – We have been doing conditioning training since last October. What's coming up is the time to get on to the court. As I requested, the Netball Federation has organized an exposure series from the 8th – 12th of April. The Malaysian team has confirmed their participation.
We have our youth team and National team and we're hoping we will be able to get down another team as well. Whether we are able to get another team or not, we will be playing a series, a pre-competition series like the one we saw Singapore come here and play last year. Just to have a look at how the players are progressing, how they face competition and if they are able to put the strategies into practice in matches.
Read More: Thilaka Jinadasa new National Netball coach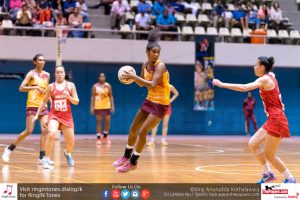 We want to test these things against a team that is at our level, not a superior one. We want to see how the players handle the pressure. That's what we will use the series in April for. In the 2nd or 3rd week of May we hope to go overseas and play another series. The objective there will be to see how the team adapts to foreign conditions.
There we want to play a team that's at our level or a little better. Like we went to Malawi last time, we want to go to an African country, because we face Zimbabwe first in the World Cup and then Northern Ireland. I believe that we can win those two matches. All this preparation is for those two matches – honestly, I have not looked at the World Cup. Winning those two games is my 1st objective – after that we strategize for the next step.
I have asked the Netball Federation to let us go to Liverpool early, to arrange for us to play a few clubs in England a week or so ahead of the World Cup, before going into the competition. That was my original plan and I've gotten the complete support of the Netball Federation. I think if we can do all this, we will be able to better than previous years at the World Cup.
Q – Will there be changes to the National Squad?
A – We had the 1st trial recently, we have picked 17 players instead of 15 because a couple of players are carrying slight injuries. Both of them were part of the Asian Championship squad, but we've included two substitutes, so we're training with 17 players.
We will have the next trial before the 1st exposure series in April, where we will bring the squad down to 15. Those 15 will train continuously and once we return from the 2nd exposure series, we will pick the 12 for the squad and 3 standby players.
Q – Who are the two injured and who have you brought in to replace them?
A – We have five new additions to the squad – those who didn't play the Asian Championship. They've been training continuously – I've said it before – there's no stand that we will be sending the same girls who went for Asian Championship for the World Cup as well. I want the best 12 players to represent Sri Lanka at the World Cup. This is why we opened the pool and had trials, that resulted in 5 new faces making it into the training group.
Read More: Poor administration not performance that hurt Sri Lanka – Jinadasa
The injuries, they aren't really major injuries, more to do with muscle soreness. So, I didn't really need them to appear at the 1st trial as they are both players who played the Asian Championship final. The doctor also advised us to give them 2 weeks of rest, the trial was during that time.
At the next trial, everyone has to play, that's the one before the 1st exposure series in April. If they do not appear there, they will not be considered for the squad. So there all 17 will play and we will pick 15, then we will know, roughly, who the final 12 will be and who the 3 standby players will be.
Q – How does the training take place?
A – We have 11 sessions of training a week, morning and evening. We do strength training 3 times a week, apart from that we do conditioning training and court work. The court work training is the one we are finding a little hard to carry out because it's a little difficult to find a court that fits the proper specifications in and around Colombo. The other option is to travel out station, board ourselves and train.
Q – Are you preparing for the weather/climate in Liverpool?
A – No, it's like this. We are going there in the Summer and anyway, Netball is played indoors so the temperature is between 16 and 21 degrees, so I don't think the climate has a huge impact. An area of concern for me is actually the food, because when you go to a European country, it's hard to get 'our' food. But I have faith that we can manage this because no matter where we go, there are Sri Lankans.
Q – What is your main goal?
A – My target is to finish within the top 10 teams at the championship. That's why I said that, those first two games are important – if we win, we can make it to the next round. I am concentrating on that – I haven't thought about the World Cup – those two games are my main focus.
Q – Where do you plan to go overseas for a tournament?
A – For now, we want to go to a country like Zimbabwe, we are in touch with their federation as well. Zimbabwe is ranked 11 in the world and we are in the 19th spot. But I have confidence because, they are in 11th place because they have played 30-odd games, we are in 19th after just 11 games. So, I believe our team can give them a fight.
We went to Malawi once and can go again, because a lot of Sri Lankans there keep telling us to come back but I thought that we need a new challenge and a change. We are trying to organize 3 matches there (Zimbabwe) – 6 actually – but 3 against the national team, that's what I've requested, we are yet to get confirmation.
The host country can write to IFNA (International Federation of Netball Associations) and request to play a Test series. But of course, that will cost us some money as we have to bare the expenses for one umpire. That can contribute to lifting us a little in the world ranking as well.
Read More: Sri Lanka Netball soars to top 20 in World Rankings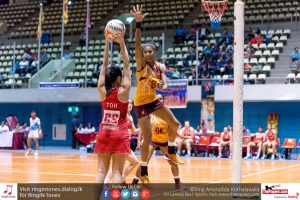 Usually, we just have the Asian Championships and the World Cup and that's all the games we have to work on our World Ranking – we don't play Test series. So now I think it is high time to play Tests, or else there is no point in us talking about the World Rankings.
The other countries play many tournaments, like in New Zealand, they played a Quad Series recently, that's how they are able to stay up in the rankings. The teams lower down in the rankings often can't move up because they don't play Test series as a result of the costs involved. We have to pay the umpire, take care of their tickets and accommodation, full board and lodging.
Q – How is the support from the Netball Federation? Especially with the elections coming up?
A – I have the full support of the Netball Federation, but I feel like at this time it (the board election) is not necessary, because it will distract from the cause. We had a vision that we'd win the Asian Championships – and we achieved that.
I know the President and Secretary spent their own money sometimes and made a lot of sacrifices. So, to maintain our dignity and as a mark of respect to the sacrifices made, we need to focus on the players and getting them the facilities they need.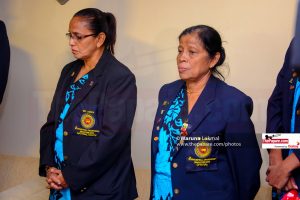 I am not saying that we should not have the elections, there's a law we need to follow too. But my stance is that we have the ability to adjust things here and there so that it doesn't get in the way of our vision. Because it will definitely distract the current administration from the job at hand, they will have to go here and there to submit letters etc.
What I ask is that, we have just 5 months to go for one of the biggest events, just 148 or 149 days more, in those 149 days, let's not focus on anything else but the task at hand – the World Cup.
A lot of people are saying that despite the state of Cricket, they still had the elections. But Cricket and Netball are two different things. In the cricket board, they have employees who draw a salary, organizing everything. Here, we basically have a group of volunteers, when you say we don't have grounds, they call people and somehow make things work.
It's a completely different system. So, please don't compare the two. There are lots of comparisons, but Cricket is far ahead of every other sport – they are very professional. This is a journey we are on, driven by our own passion, strength and commitment as well as the backing of the Sports Ministry.
>> For more Netball News Click Here <<