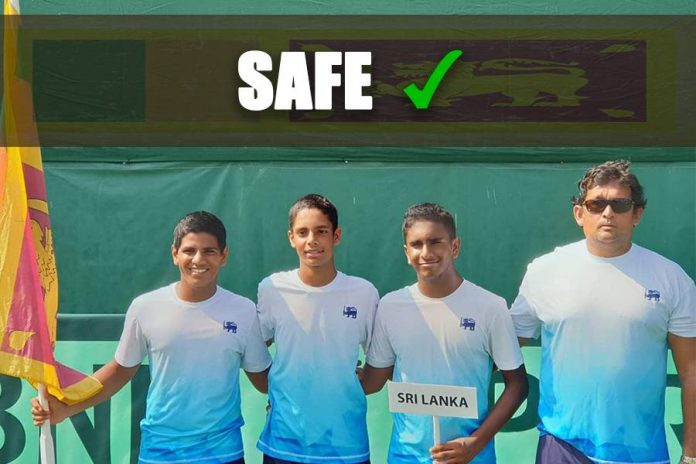 After a horrific start to the competition, Team Sri Lanka pulled one out of the hat to secure their place in the final qualifying round for the year 2020, at the Junior Davis Cup Asia/Oceania Tennis Championship.

Read More: Sri Lanka goes down fighting to Syria in final hurdle
The team had a fabulous week of tennis in the pre-qualifying rounds in Colombo and went in to the tournament as the 2nd and final qualifier for the Asia/Oceania continent. At the final qualifiers, Sri Lanka were pooled into the group with Korea, Hong Kong and Uzbekistan.
The team comprising of Chathurya Nilaweera, Thehan Wijemanne and Dhilvan Herath with able captaincy from Sudantha Soyza, found themselves in the bottom of their drawn group after three straight losses in the competition.
Re-directed to the 09th – 16th place play-offs, Sri Lanka went up against China in their first round of matches. China, 8th seeds in the tournament, dominated the opening singles and won the tie comfortably before awarding a walkover to Sri Lanka in the customary doubles.
Match
Team China
Team Sri Lanka
Score
MS2
Ziheng He
Thehan Wijemanne
6/4, 6/2
MS1
Guanglin Wen
Chathurya Nilaweera
6/2, 6/3
MD
Ziheng He

Guanglin Wen

Dhilvan Herath

Thehan Wijemanne

Walkover

Tie won by China 2-1
In real trouble, the cubs were desperate for a win against Philippines to avoid playing the bottom two play-off which would automatically relegate them from the tournament for 2020. In the brink of time, the lions pulled a cracker of a win to save themselves from an unfortunate future.
This is turn marked their 1st win at the competition. Thehan Wijemanne and Chathurya Nilaweera played a magnificent couple of matches in the morning to officially win them the tie.
Match
Team Philippines
Team Sri Lanka
Score
MS2
Axl Lajon Gonzaga
Thehan Wijemanne
1/6, 1/6
MS1
Angil Jay Balaoing
Chathurya Nilaweera
5/7, 2/6
MD
Axl Lajon Gonzaga

Edgardo Manuel Angara

Dhilvan Herath

Thehan Wijemanne

6/4, 2/5 Retired

Tie won Sri Lanka 2-1
Next in the draw for the 13th – 14th play-off, Sri Lanka will play their final match against Pakistan which is scheduled to take place today, (13th April).
Earlier in the tournament…
Sri Lanka vs Republic of Korea
Sri Lanka played the Republic of Korea on their opening day and the latter made sure to make it a short stay on court for the Lankans. Taking all three rubbers comprehensively, Korea made a strong start in the competition.
Match
Team Korea
Team Sri Lanka
Score
MS2
Hyeondeok Yoon
Thehan Wijemanne
6/2, 6/0
MS1
Yunseok Jang
Chathurya Nilaweera
6/0, 6/0
MD
Hyeondeok Yoon

Je Won Jeon

Dhilvan Herath

Thehan Wijemanne

6/1, 6/3

Tie won by Republic of Korea 3-0
Read More : Sri Lanka saves face with win over Syria
Sri Lanka vs Hong Kong
The second day was very similar to the first for Sri Lanka with Hong Kong handing them a whitewash to send them further down the group.
Match
Team Hong Kong
Team Sri Lanka
Score
MS2
Tim Thomas Gauntlett
Chathurya Nilaweera
6/3, 6/2
MS1
Chak Lam Wong
Dhilvan Herath
6/1, 6/1
MD
Chak Lam Wong

Tim Thomas Gauntlett

Chathurya Nilaweera Thehan Wijemanne
6/2, 6/1

Tie won by Hong Kong 3-0

Read More : Sri Lanka Girls fall to Philippines and New Zealand
Sri Lanka vs Uzbekistan
The final tie against Uzbekistan was no different from the rest and the Uzbeks handed Sri Lanka another 3-0 defeat.
Match
Team Uzbekistan
Team Sri Lanka
Score
MS2
Abdurakhmon Saidmukhamedov
Thehan Wijemanne
6/1, 6/1
MS1
Maksim Shin
Chathurya Nilaweera
6/4, 6/2
MD
Maksim Shin

Samandar Abdumalikov

Chathurya Nilaweera Dhilvan Herath
6/2, 6/1

Tie won by Uzbekistan 3-0
Stay logged on to ThePapare.com for results and updates from the tour!

>>Click here for more Tennis News<<