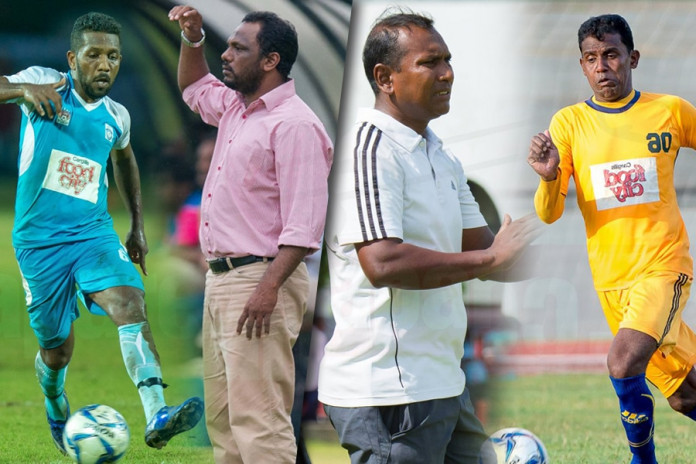 On the eve of the FA Cup final, Sri Lanka Army SC were boosted by the news of Mohamed Issadeen being fit to start the match against Renown SC.
"Our medical team worked tirelessly on him throughout the week to get him fit for the match. He is now good to start the match," Army SC coach Mohamed Fawmy told exclusively to ThePapare.com.
Issadeen injured his hamstring mid-way through the first half in the semi-final against Colombo FC, where a 19th minute goal from Sajith Kumara was enough for them to make it to the final.
The injury appeared to be serious, where he was stretchered off, that would keep the veteran striker, who is also the highest scorer in the tournament with 10, out of the final.
Familiar foes set to battle it out for FA Cup glory
"I said before the semi-final that if we can beat Colombo FC, which we did, then winning the FA Cup will be that much easier. I am not saying the final or Renown is easy but compared to Colombo FC, defeating Renown is easy," a confident Fawmy added.
While Army were boosted by Issadeen's return, Renown will be looking for their star-studded midfield led by the veteran Fazul Rahuman to dominate the game, which they didn't against Saunders SC in the semi-final, where they ultimately won on penalties.
"Due to the bad weather we were unable to practice. That is a reason why we didn't play well in the semi-final. But now everyone is in good condition and hope will perform to their maximum," Renown SC's maverick coach Mohamed Amanulla told ThePapare.com.
"We have analyzed what Army's strengths and weaknesses are, and have made plans to negate and take advantage of those in the final and will need a big team effort to overcome Army," Amanulla finally added.
Watch Live: Army SC v Renown SC – FA Cup Final