Galle Motocross returned to the racing calendar after a lapse of two years and was the first motocross race of 2017 season.
It concluded successfully at the Galle motocross track, Akmeemana on the 20th February 2017 with 12 motor cycle races being worked out providing the first hand look at some of the Islands  leading riders.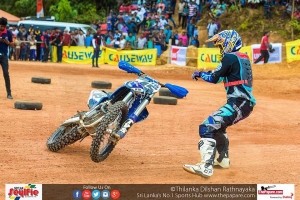 Ishan Dassanayke, the reigning national champion returned to competitive racing,  competing in the Group MX – Over 100cc up to 125cc 2T & 175cc up to 250cc 4T. Ishan reminded everyone present why he was the best at what he does clinching 1st place in Race 1 and Race 2.  Dassanayake did not start both his races well, with Evon Gurusinghe and Jin Liyanage taking good starts ahead of him but the champion showed immense experience and skill execution managing to get the lead at tight corners.  Gurusinghe fought till the end in the first race providing stiff competition but could not get past the champion while Liyannage came third in the race. Jin Liyanage returning to racing after a year-long injury lay off got onto a flyer of a start in the second race of the same category but was outsmarted by Dassanayake at the  first corner. Liyanage managed to hold onto the second place while Gursinghe was placed 3rd in the race.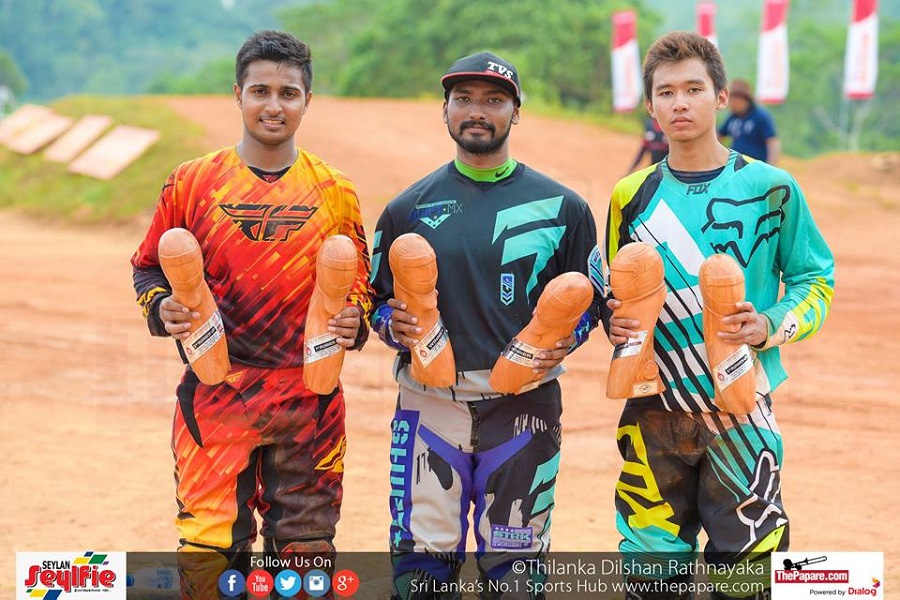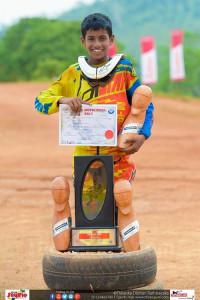 Under 13 & Under 16 National champion, 12 year old Dilitha Kalhara rode impressively and is blooming, to be a real challenger even in the big league in the coming years. The youngster clinched the first place in both races of the Group JMX – Over 79cc up to 85cc (2T) & 100cc up to 150cc 4T – Under 16. This ambitious young man did not stop there as he also competed in the Group MX – Over 100cc upto 125cc 2T Open event. Kalhara  made everyone turn their heads and take notice as he went onto clinch the 3rd place coming behind vastly experienced and much older Lahiru Jeewantha and Mithun Sigera.
Earlier in the day Sri Lanka Army rider Lahiru Jeewantha was the star of the show clinching pole position in three races – Group M – Standard/Modified Street Trail Motorcycles – Over 100cc up to 125cc 2T, Group MX – Over 100cc up to 125cc 2T (Armed Forces Event) and the Group MX – Over 100cc up to 125cc 2T Open event .Jeewantha displayed real grit and providing all gathered a great race. He did not have a good start in all three races having to chase Airmen Jayampathis Dissanayake in the first and fellow soldier Mithun Sigera in the next two races. However he was clinical in the chase and managed to overtake and maintain the lead in the final laps of the race.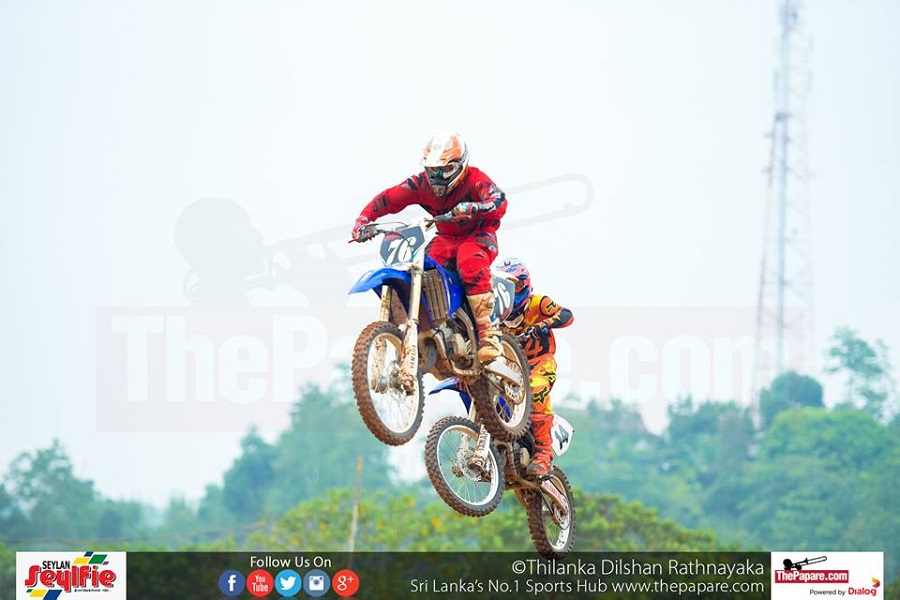 In the Group M Standard/Modified Street Trail Motorcycles– including 125cc up to 250cc 4T event Madhura Peiris won the first place with Sampath Attapattu , Sandaru Shanilka in second and third place respectively.
Gall Motor Cross Race results
• Group M – Standard/Modified Street Trail Motorcycles – Over 100cc up to 125cc 2T
1st Place – Lahiru Jeewantha
2nd Place – Jayampathi Dissanayake
3rd Place – Nilanka Mawvla
• JMX –Racing Motorcycles – 65cc up to 85cc (2T) & 100cc up to 150cc 4T – Under 13 Years
1st Place – Kesara Godage
2nd Place – Gagana Godage
3rd Place – Nisal Jayasundara
• Group MX – Over 100cc up to 125cc 2T (Armed Forces event)
1st Place – Lahiru Jeewantha
2nd Place – Mithun Sigera
3rd Place – Susantha Sandaruwan
• JMX –Racing Motorcycles – 50cc Over 5yrsand Under 10yrs (Race 01)
1st Place – Minuka Ratnayake
2nd Place – Esala Mandanayake
3rd Place – Hirusha Padukka
• Group MX – Over 100cc up to 125cc 2T (Open event)
1st Place – Lahiru Jeewantha
2nd Place – Mithun Sigera
3rd Place – Dilitha Kalhara
• Group M – Standard/Modified Street Trail Motorcycles – Including 125cc up to 250cc (4T) – Race01
1st Place – Madura Peiris
2nd Place – Sampath Athapathu
3rd Place – Sandaru Shanilka
• Group JMX – Over 79cc up to 85cc (2T) & 100cc up to 150cc (4T) Under 16 Years – Race 01
1st Place – Dilitha Kalhara
2nd Place – Kesara Godage
3rd Place – Stephan Fernando
• Group MX – Over 100cc up to 125cc 2T & 175cc up to 250cc 4T – Race 01
1st Place – Ishan Dassanayake
2nd Place – Evon Gurusinghe
3rd Place – Jin Liyanage
• JMX –Racing Motorcycles – 50cc Over 5yrsand Under 10yrs (Race 02)
1st Place – Rivinu Ratnayake
2nd Place – Minuka Ratnayake
3rd Place – Hirusha Padukka
• Group JMX – Over 79cc up to 85cc (2T) & 100cc up to 150cc (4T) Under 16 Years – Race 02
1st Place – Dilitha Kalhara
2nd Place – Kesara Godage
3rd Place – Stephan Fernando
• Group JMX – Over 79cc up to 85cc (2T) & 100cc up to 150cc (4T) Under 16 Years – Race 02
1st Place – Dilitha Kalhara
2nd Place – Kesara Godage
3rd Place – Stephan Fernando
• Group MX – Over 100cc up to 125cc 2T & 175cc up to 250cc 4T – Race 02
1st Place – Ishan Dassanayake
2nd Place – Evon Gurusinghe
3rd Place – Jin Liyanage