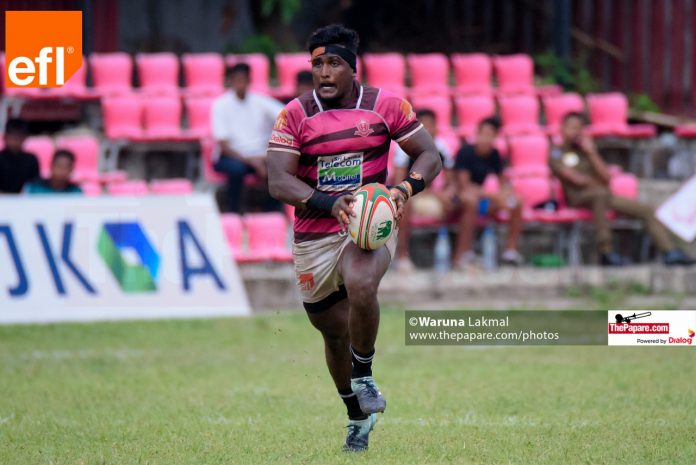 Havelock Sports Club cruised to the Dialog Clifford Cup 2019 final when they  got the better of Army Sports Club in the second semi final this evening at the Colombo Racecourse. Full time scores read Havelock SC 60- Army SC 29.
Havies will once again feature in a Clifford Cup final after last making the finals in 2017 against Kandy. 
It was a comprehensive performance from Havelock in the first half, as they were firing in all divisions while Army came into the game only in the second half.
The experienced trio, Rizah Mubarak, Mithun Hapugoda and Chamara Dabare ensured that they collected a 30+ aggregate in the first half. 
Hapugoda's nippy feet saw Lasindu Ishan drawing first blood from a 5-meter scrum. 
Later, a quick show of hands from Hapugoda and the Havies back-line saw Chamara Dabare scoring a double and later his colleague Rizah Mubarak followed it up with one more. 
Mubarak continued his 100% kicking success converting all 4 tries and later adding three more points off a penalty in the dying stages of the 1st half. 
For Army it was only Isuru Madagedara who contributed with 3 points in the 1st half of the game.
Half time: Havelock SC 31 lead Army SC 3
The second half saw Army getting their rhythm back.  With some quick hands, both Ashan Bandara and Kasun Maduranga went over for tries. 
Army's playing pattern in the second half was impressive but after the 30+ score in first half, a comeback seemed impossible.  
Rizah Mubarak opted for the 3 points in the 50th minute to extend the lead and later an end-to-end effort from Mithun Hapugoda saw Havelock winning back the rhythm. 
Dinuk Amerasinghe scored off Hapugoda's run and later Sandesh Jayawickrema found the overlap in the middle to score the next for the Havies. 
Tries from Sudaraka Dikkumbura and Ashan Bandara almost put Army back in the game but the asking rate was too much. 
Two more scores from Havelock's Theekshana Dassanayake and Kavinda Heshan put the high-scoring game to an end taking the Pink Jerseys to the final. 
They will play Air Force in the final on Sunday(24th) at the Colombo Racecourse 
ThePapare Player of the Match: Rizah Mubarak (Havelock SC) 
Full time score: Havelock SC 60  (8T 7C 2P) – Army SC 29 (4T 3C 1P) 
Breakdown:
Havelock SC – Tries by Lasindu Ishan, Chamara Dabare(2), Rizah Mubarak, Dinuk Amerasinghe, Kavinda Keshan, Theekshana Dassanayake, Sandesh Jayawickrema Conversions (6) & Penalties (2) by Rizah Mubarak. Conversion (1) by Sandesh Jayawickrema

Army SC: Tries by Ashan Bandara(2), Sudaraka Dikkumbura(2) Penalty(1) and Conversion(1) from Isuru Madagedara. Conversion(2) from Gayan Salinda