Sudarshana Peiris
A contingent of 11 Sri Lankan athletes represented Sri Lanka in the 1st Leg of the Asian Grand prix held today at Jianhua,China. The race is the first of the three legged grand prix series and was worked out from 04.00pm to 07.30pm local time. Sri Lankan Athletes secured 3 Medals consisting of Gold, Silver and a bronze.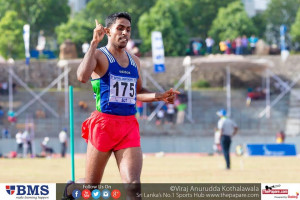 Indunil Herath was the most successful Sri Lankan athlete winning a Gold medal in the Men's 800m final. Competing in lane 04 Indunil clocked a time of 1:50.69 to secure Sri Lanka's only gold medal. Indunil turned tables on the prerace favorite Jhonson Jinsonof India who had to be satisfied with silver clocking a time of 1:50.71 finishing the race fractions behind the Sri Lankan.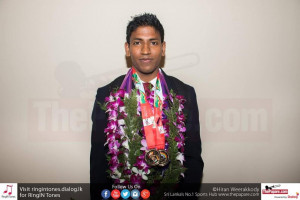 Ace Sri Lankan sprinter Himasha Eshan, who attended a training program in Jamaica prior to taking part in the grand prix, clinched Sri Lanka's  only silver medal with a time of 10.43 and finished the race behind Hong Mi of China who clocked 10.37 to take the gold in the Men's 100m finals.
In the women's 800m final much was expected from Nimali Liyanarachi and Gayanthika Abeyrathne as they had built up a rivalry exchanging the national record between them within the span of a few months but it was current National record holder Gayanthika who came on top to clinch the bronze medal with a brilliantperformance of 2:03.78. Nimali was placed 5th with a time of 2:08.47.
Rumeshika Ratnayake sprinted a time of 11.82 in lane 6 in the women's 100m finals which marked her seasonal best. She was placed 5th in the race and will be eager to do better in her timing as the competition progresses into the next legs.
400m runner Ajith Premakumara was also placed 5th clocking a time of 48.71 in the race where Kuwaiti Yousef Karam took the gold with a time of 47.19.
High jumper Tharanga Vinidhini did not have a great start to the Asian Grand Prix as she was unable to clear the starting height of 1.69m. Vinodhini a definite future prospect for Sri Lanka will be focused on getting the mental barrier of this poor showing aside before the second leg of the grand prix.
In the throwing events National Women's Shot put record holder Tharika Fernando finished 5th for her best attempt of 13.99m. Winner of the event Indian Manpreet Kaur threw a distance of 18.86m.
The two Sri Lankan Javeline throwers, Olympian Sumedha Ranasinghe and Waruna Lakshan were placed 7th and 8th respectively and would be looking to improve on their performances drastically. They are the only two Sri Lankans to have passed the 80m mark at Diyagama Mahind Rajapakse stadium.  Sumedha's best throw of 71.1m came in his 4th attempt while Waruna only managed a distance of 70.40m achieved in his second attempt of the day.
Despite having been named in the initial contingent to take part in the grand prix Olympian high jumper Manjula Kumara did not travel to China after being diagnosed with Dengue fever and is currently under medication.
The Sri Lankan contingent who only arrived in China a day prior to the competition are reported to have been suffering from travel fatigue and will be looking to shake their travel blues and put in a better performance in the second leg of the Grand prix scheduled to be held in Jiaxing, China on the 27th of April.
Asian Grand prix Medal standing at the end of the first leg
| | | | | | |
| --- | --- | --- | --- | --- | --- |
| Rank | NOC | GOLD | SILVER | BRONZE | TOTAL |
| 1 | CHN | 4 | 5 | 5 | 14 |
| 2 | KAZ | 2 | 2 | 1 | 5 |
| 3 | VIE | 2 | 2 | – | 4 |
| 4 | KUW | 2 | – | 2 | 4 |
| 5 | IND | 1 | 4 | 2 | 7 |
| 6 | SRI | 1 | 1 | 1 | 3 |
| 7 | IRI | 1 | 1 | – | 2 |
| 8 | TPE | 1 | – | 4 | 5 |
| 9 | INA | 1 | – | – | 1 |
| 10 | UZB | 1 | – | – | 1 |
| 11 | KOR | 1 | – | – | 1 |
| 12 | SYR | 1 | – | – | 1 |
| 13 | THA | – | 2 | 2 | 4 |
| 14 | HKG |   | 1 | 1 | 2 |
| Rank | NOC | GOLD | SILVER | BRONZE | TOTAL |