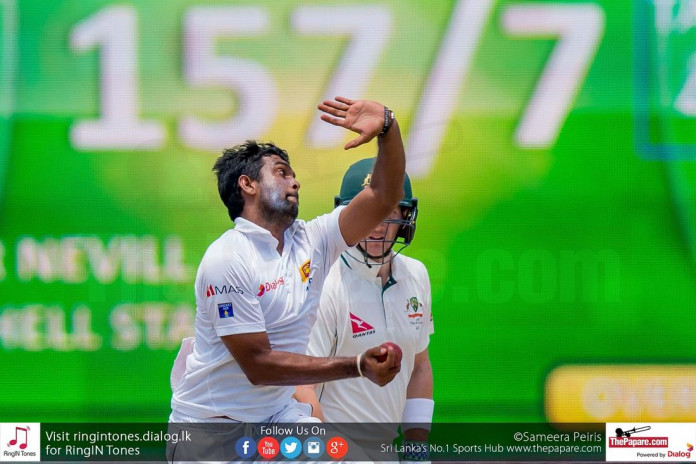 James Anderson has reclaimed the number-one ranking from India's Ravichandran Ashwin in the ICC Player Rankings for Test bowlers, following the conclusion of the Edgbaston Test which England won by 141 runs to take a 2-1 lead over Pakistan.
Anderson had entered the Edgbaston Test trailing Ashwin by one point, but he has now opened up a 12-point gap over the India spinner. This is following Anderson's four wickets against third-ranked Pakistan, which has earned him six points, as compared to Ashwin who has dropped six points despite taking six wickets against eighth-ranked West Indies in the Jamaica Test.
This is the second time in less than six weeks that Anderson has topped the bowling table. He had surged to the top of the chart for the first time in his career on 31 May after he took eight wickets in England's nine-wicket victory over Sri Lanka in the second Test at Chester-le-Street. But the competition at the top of the table is so tight that the number-one ranking has thrice changed hands from Yasir Shah to Ashwin and back to Anderson.
Sri Lankan off-spinner Dilruwan Perera has vaulted 11 places to a career-best 16th position following his 10 wickets in Galle, making him the third Sri Lanka bowler inside the top 20 after Rangana Herath (eighth, up by one place) and Dhammika Prasad (19th, down by one place).
Mitchell Starc took 11 wickets in the Galle Test against Sri Lanka for which he has been rewarded with a jump of eight places. This now puts him in a career-high seventh position, making him the highest-ranked Australia bowler after Josh Hazlewood slipped three places to 10th.
In the ICC Player Rankings for Test Batsmen, Australia's Steve Smith continues to lead the field. England's Joe Root is second, 16 points behind, while New Zealand captain Kane Williamson is third.
Batsmen to make upward movement following the Edgbaston, Galle and Jamaica Tests include Alastair Cook to seventh (up by one place), David Warner to ninth (up by one place), Angelo Mathews to 10th (up by three places), Ajinkya Rahane to 11th (up by four places), Jonny Bairstow to 15th (up by one place), Kusal Mendis to 17th (up by four places), Azhar Ali to 18th (up by eight places), BJ Watling and Tom Latham to joint-28th, Moeen Ali to 33rd (up by eight places), Gary Ballance to 36th (up by five places) and Jermaine Blackwood 44th (up by 10 places).
Meanwhile, Sri Lanka's 2-0 lead over Australia in the three-Test series has thrown up a number of permutations with Australia, India, Pakistan and England all in with a chance to finish the month as the number-one ranked Test side on the ICC Test Team rankings.=
The following are the various scenarios
Sri Lanka v Australia
If Sri Lanka beats Australia 2-1, then Australia will finish on 111
If Sri Lanka beats Australia 2-0, then Australia will finish on 110
If Sri Lanka beats Australia 3-0, then Australia will finish on 108
West Indies v India
India beats West Indies 2-0, then India will finish on 110
India beats West Indies 3-0, then India will finish on 112
India beats West Indies 2-1, then India will finish on 108
England v Pakistan
England beats Pakistan 2-1, then England will finish on 110
England beats Pakistan 3-1, then England will finish on 112
England-Pakistan series ends in 2-all, then Pakistan will finish on 111
If Sri Lanka beats Australia 2-1, England-Pakistan series ends two-all and India beats West Indies by 2-0, then Australia and Pakistan will be on 111 points each but Australia will be ranked first
If Sri Lanka beats Australia 2-0, England beats Pakistan 2-1 and India beats West Indies 2-0, then Australia, England and India will be on 110 points each but England will be ranked first, followed by India and Australia
If England beats Pakistan 3-1 and India beats West Indies 3-0, then both England and India will be on 112 points each but India will be ranked first
If England-Pakistan series ends in two-all, Sri Lanka beats Australia by 3-0 or 2-0 and India beats West Indies by 2-1or 2-0, then Pakistan will become number-one ranked side