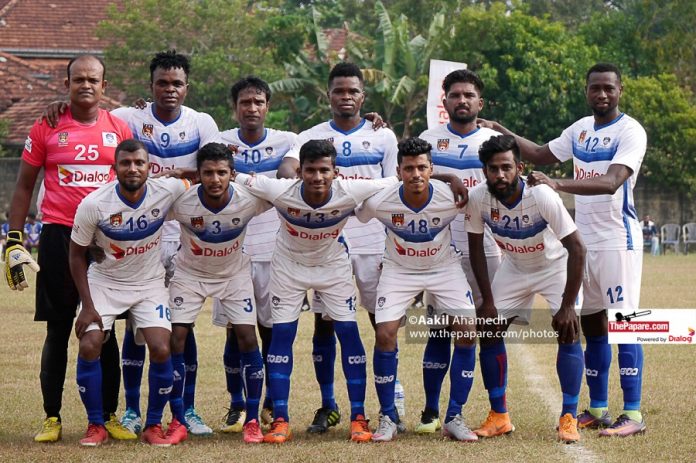 Blue Star SC is currently on an 11-game unbeaten streak, with six more games to go in the DCL. If they come through the remaining games unbeaten, would it be fair to call them 'invicibles'?
Ratnam SC held league leaders Blue Star SC to a goalless …
'The Invincibles' is a nickname that has been used to refer to the Preston North End team of the 1888–89 season, managed by William Sudell and the Arsenal team of the 2003–04 season managed by Arsène Wenger.
Preston North End earned the nickname after completing an entire season undefeated in league and cup competition with 27 games, while Arsenal were undefeated in the league winning 26 out of 38 matches and drawing 12.
In European football, Italian clubs AC Milan and Juventus received the nickname after winning the 1991–92 and 2011–12 Serie A titles respectively. Celtic earned the nickname after going unbeaten across their domestic league and cup competition during the 2016–17 season in Scotland.
In terms of other sports it's only the All Blacks who can boast of such an elusive record, a 47 match winning streak at home between 2009 and 2017.
In Sri Lankan football history no team has ever gone through a league season unbeaten. Let it be the Bristol league, Premier League or the Dialog Champions League, no club has ever won the championship unbeaten.
Renown SC almost did it last season when they went 16 matches unbeaten, 12 wins and 4 draws. Unfortunately they lost the final game of the season to Colombo FC and with it the championship.
Blue Star SC, established in 1978 in Kalutara, last won the league in 2003-04, the same year Arsenal were 'invincibles'. With 6 matches remaining and having played all but 2 teams from the top 7, it's still a possibility that Blue Star will continue their unbeaten run.
The task up ahead is not a cake walk even if it's a league with only 18 matches as the conditions, the short recovery period and travel between games takes a toll on the limited resources that the clubs possess.
Read More: Ajhmir gives Blue Star a win home away from home
Next up will be Matara City Club in Matara which is a tricky fixture, however the biggest challenge will come against the second place Defenders FC which will also will be a deciding game for the title as Blues are only one point ahead of the Defenders.
Games against Saunders, Pelicans and Solid look to be possible 3 pointers on paper, however the Blues will not underestimate their opponents.  Last on the list is Red Stars SC their neighbors who are also having a fantastic season and are sitting strong in 5th position.
The coming weeks will determine for Blue Star and their head coach Mohamed Pichche if Blue Star can boast of an 'Invincible' team along with the likes of Arsenal, AC Milan and Juventus and create history.
>>For more Dialog Champions League News Click Here<<