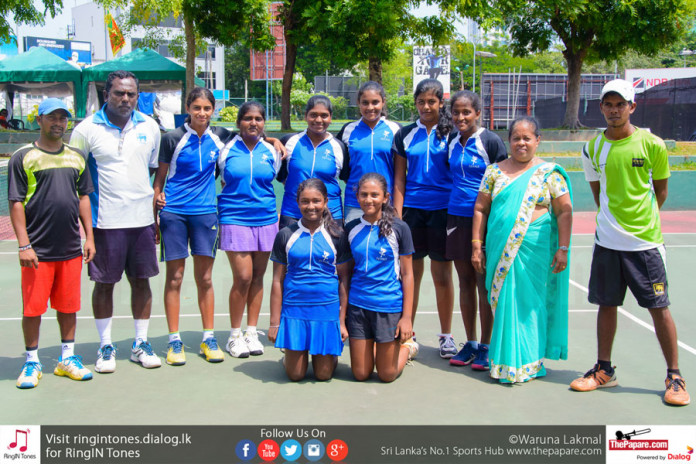 Ave Maria Convent Negombo showcased a superior all-round performance to stun Ladies College to win the under 17 Girls' tennis title.
This also marks the first occassion where a school beyond the vicinity of Colombo has ended up winning a Senior All Island Tennis title across both segments of boys' and girls. The Ave Maria Convent under 17 side will take the honour of achieving this remarkable feat and adds the first tennis silverware to their trophy cabinet.
The All Island Under 17 Girl's tennis tournament that started off at the Sri Lanka Tennis Association (SLTA) last Monday saw Ave Maria Convent and Ladies College finishing in the top two spots. The all important finals were worked off today at the playing courts with a fair spectator attendance.
Ave Maria had been considered one of the toughest teams to beat this year and they proved that to be correct as they won against the defending champions Ladies College in the finals. Read on to see how it happened.
The first singles between Anika Senviratna from Ladies College (LC) and Dileka Daniel from Ave Maria was not played therefore the first match was the doubles between Sethara Ambawatta and Arani Cooray from LC playing against Vishmi Serasinghe and Thiwangi Perera from Ave Maria Convent (AMC). Ladies' College had the fortune of only winning that match winning the first set 6-3 and the second set 6-2.
The next match was the singles between Saheli Hapudeniya from LC and Nimna Fernando from AMC. The match ended in favour of AMC with Saheli winning only one game in the entire two sets. (6-1, 6-0)
Thereafter the doubles between Priyashi Unamboowa and Aanya Perera from LC and Angalika Kurera and Thyagi Kaldera from Ave Maria was played which Ave Maria won with ease as none of the sets were lost (6-0, 6-0)
The deciding match was between Manara Madanayake from LC and Ashanthi Senevirathna from AMC. Although Manara gave a tough fight the match ended in favor of Ashanthi as she won the first set 6-1 and the second set 6-0.
The captain of the winning team Dileka Daniel speaking to ThePapare.com after their victory had this to say:
"I think we had the toughest teams in our group having Ladies' College and Visakha Vidyalaya but thanks to the support from everyone in the team we were able to win the finals. This year we had a good team with a good balance of power, energy and speed compared to our team last year. The tournament has definitely been tough and I think our match against Bishop's College was the toughest we had but thankfully we were able to beat them and get here to win the finals and win the tournament."
The boy's finals of the All Island Under 17 tennis tournament will take place tomorrow at SLTA.