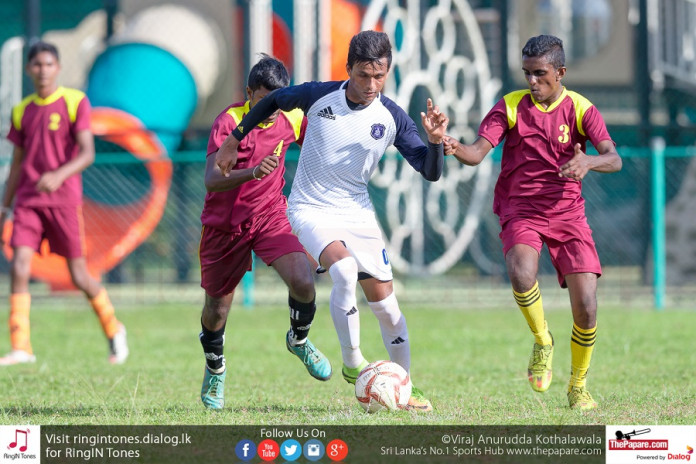 St.Joseph's College annihilated Wickramabahu College, Gampola in a record breaking 13-0 win in a lopsided affair in the U18 Division I Schools' Football Championship group A match at the Janaka Ranawaka Stadium, Moragasmulla.
Asela Madushan produced an imperious performance as his hat-trick helped St.Joseph's College, thwart a late St.Benedict's College charge,
St.Joseph's College won the opening match of the tournament 6-2 against St.Benedict's College to retain the Rev. Fr. Peter A. Pillai Trophy while for the visitors this was their first match of the campaign.
The rout saw Asela Madushan and Chamath Rashmitha score four goals each while Chalana Pramantha added a double.
Rashmitha was the first to get on the score sheet in the 11th minute after getting on the end of a wonderful ball from Pramantha, who made a bursting run into the box, to tap it in.
Individual brilliance from Madushan saw him score two composed goals while Wickramabahu College goalkeeper, Dineth Kaushan spilt a long-range effort from Nimesh Cooray into the goal to make it 4-0 by the 22nd minute.
Kaushan made amends for his error to block a Asela Madushan effort and Rashmitha dragged his shot wide of the goal on another instance. Skipper Jason Fernando missed from point blank range off another Pramantha cross.
Highlights - St.Joseph's College v St.Benedict's College (U18 Division I)
The lads from Gampola had two chances late in the first half with both of them falling to Nemesh Sandaruwan. His first shot across the goalkeeper went just wide of the far post while the other was cleared away after a desperate tackle.
Half time – St.Joseph's College 4 – 0 Wickramabahu College
Joes showed no mercy in the 2nd half as they went on a rampage. Jason Fernando scored an easy tap-in straight from the restart and Rashmitha made it 6-0 two minute later.
Highlights - Zahira College v Royal College (U18 Division I)
Pramantha bagged a much-deserved goal before Madushan capped off his day with a double strike to make it seven goals in two matches. Kaushan was called in to make vital saves but there was no denying the 15-year-old Shenal Sandesh who connected a powerful diving header to a delicious cross from Pramantha to take the score into double digits.
St.Patrick's score five; Holy Cross walk out
Pramantha scored his 2nd, intercepting a ball in defence and drilling it past the goalkeeper at his near post. Rashmitha was on the receiving end of another Kaushan spill into the goal and he turned a couple of defenders to score a brilliant 4th goal.
Full time – St.Joseph's College 13 – 0 Wickramabahu College
ThePapare.com Player of the Match – Chalana Pramantha
Goal Scorers
St.Joseph's College – Chamath Rashmitha 12', 44', 64' & 66', Asela Madushan 15', 19', 50' & 55', Nitesh Cooray 22', Jason Fernando 42', Chalana Pramantha 48' & 59', Shenal Sandesh 57'