I had the privilege of playing in the prestigious Royal Thomian Cricket Encounter for five years from 1962 -1966. In 1962 as a 15 year old I was selected to play against Royal only on the morning of the match.
The final spot was between Robin Labrooy and myself which would have been a hard decision for our Captain Keith Labrooy as Robin was his younger brother. However, it must be emphasized that this decision was made in the interest of the team over his personal sentiments and I was able to justify my selection by establishing a partnership for the 7th wicket with Paul Selvadurai when we had been reduced to 86 for 6 wickets in our 1st innings.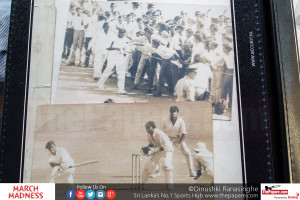 Although this encounter was one of significance to my cricketing career, I would recall the Big Match in 1964 played at the P. Sara stadium as the most memorable Big Match I have participated in, as we achieved an outright victory after 10 long years of drawn games and that too in two playing days rather than the three playing days as at present. S. Thomas' under the leadership of Premalal Gunasekera won the toss and elected to bat first and were not doing too well having lost 3 wickets for 45 runs. At this stage I was joined by Sarath Seneviratne and as we were settling down.  I  cut Anketell straight to the cover point fielder who dropped the catch. Thereafter I made full use of this chance and established a partnership of 146 runs with Sarath for the 5th wicket which enabled us to score 262 runs for the loss of 6 wickets and declare by the tea break.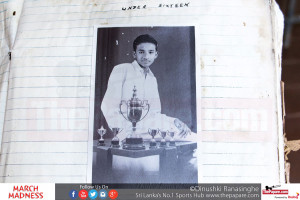 In this partnership with Sarath I was more watchful in scoring my 76 runs while Sarath at the other end was more aggressive in playing some delightful strokes and was very unfortunate to miss a well-deserved century by 4 runs. Fresher Sriyantha Rajapakse a talented left hand batsman scored a breezy 40 not out enabling us to make the declaration at the appointed time. Royal commencing their 1st innings after tea kept loosing wickets at regular intervals and were 93 for 4 wickets at stumps on the 1st day with Sugi Rajaratnam and Cedric Fernando having an unbroken  partnership of  40 runs showing great resistance and keeping Royal's hopes alive for the next day. Shaw Wilson the Royal Captain who opened the batting was scoring freely when our skipper Premalal Gunasekera introduced left arm medium pace bowler Chelliah to the attack and in his 1st over, Chelliah bowled Wilson neck and crop. Chelliah was played in the Thomian side specially to get the wicket of Wilson as Premalal had spotted a weakness in Wilson against left arm medium pace bowling.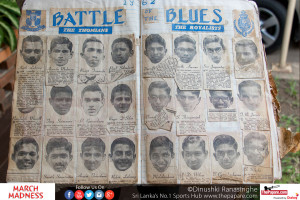 Prior to resumption of play on day two, we planned to break the partnership between Rajaratnam and Fernando early if we were to be in with a chance forcing a victory in this game. Rajaratnam was known to be a player who liked to go for big hits and we planned to bowl our off spinner Lasantha Perera at the start of play and I was placed at long on straight in line with the deepish mid-on fielder in the hope that I would not be spotted by Rajaratnam and he would try to clear the mid on fielder. Our plan worked to perfection when Rajaratnam came down the wicket to a delivery from Lasantha and lofted it over the mid on fielder only to be caught by me on the long on fence. Rajaratnam admitted after the game that he had not seen me on the long on boundary as the mid-on fielder had covered me. This wicket led to a Royal collapse and they were dismissed for 153 prior to the lunch break. S. Thomas' enforced the follow on and with some tight bowling and good fielding applied pressure on the Royal batsman most of whom got starts but were unable to convert them into anything substantial. Macan Marka was the only batsman to offer resistance towards the end of the Royal innings in scoring 41 not out. Brian Reid was the main wicket taker for S. Thomas' with 4 for 54 in 26 overs.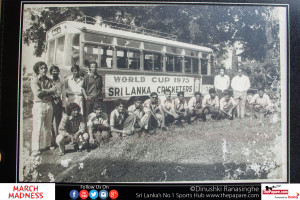 S. Thomas' was left with the task of scoring 70 runs for victory in even time. Lasantha Perera and Kumar Borelessa who opened the innings gave us a brisk start in scoring 39 runs when Lasantha was run out for 18 runs. The next wicket to fall was at 60 runs when Boralessa got out. I joined skipper Premalal Gunesekera and we scored the balance 10 runs required for victory. This saw many Thomian supporters invading the centre to celebrate this victory. The Thomian team went across to the Royal dressing room and shook hands with the Royalists who were obviously upset by having lost the Big Match. However, after the traditional get together of the two teams later on in the evening and the camaraderie that prevailed enabled players of both teams to remain life-long friends.