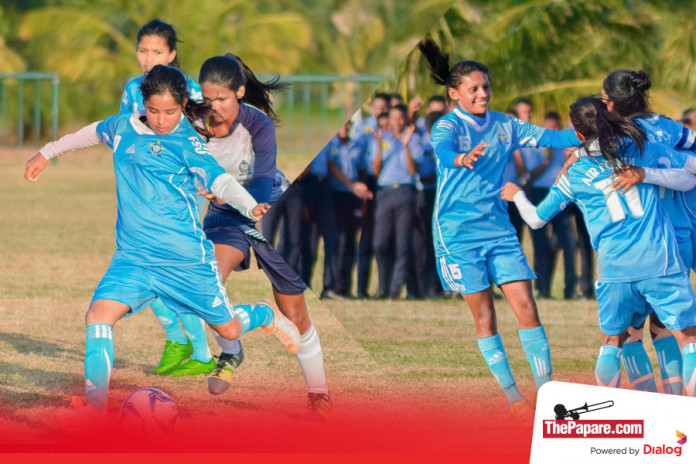 The Air Force women eased past the Police SC women by a 3-0 score-line in Women's Premier League clash worked off at the Air Force base grounds in Ekala.
The hosts Air Force dominated from the onset as their experience in the line showed quite clearly. The female cops on the flip side struggled to get a grip of the game as they were pinned to their own half with little respite.
However, the scrappy Police defence managed to frustrate the Airwomen along with a few errors in the final third, leaving the game scoreless. The Police luck soon ran out as a shot by TK Anjala was spilled by the Police custodian and was latched onto by RS Gunesekara who snuck in a poacher's goal.
Navy SC and Army SC dominated each half but both sides had to settle for a goalless draw on the opening day of the 2016/17 Premier League Women's Division I Championship..
Despite getting their noses in front in rather fortuitous circumstances Air Force once again were plagued by their own mistakes which carried the game through to the break with a slender advantage.
Half time: Air Force SC 1-0 Police SC
Although Police were required to show some intent in the second half they managed to do very little as once again the Air Force ladies managed to dominate their visitors.
It took a set piece to give Air Force some breathing space as PL Prasadi latched onto a loose clearance to slot the ball home in the 58th minute.
As the Police ladies aimlessly threw balls forward in hope of a way back to the tie, it left acres of space for the hosts to exploit at the back. One such opening led to the final nail in the Police coffin as AN Rathnayake weaved passed a couple to slot the ball past a blinded keeper.
The final whistle followed soon after to put the visiting Police ladies out of their misery and wrap up the points for the host's in this year's competition.
Full time: Air Force SC 3-0 Police SC
ThePapare.com Player of the match: TK Anjala (Air Force SC)
Goal scorers:
Air Force SC – RS Gunesekara (19th), PL Prasadi (58th), AN Rathnayake (78th)
Speaking to ThePapare.com the coach of Air Force Iroshan T Hapuarachchi said, "We played a good game and performed as well as we practiced. It's a good positive start to the campaign and we're looking forward to our next game against Army although the dates have not been finalized"
Substitutions
Police SC – P.C. Tharuka (on) Ayesha Sandamali (off)