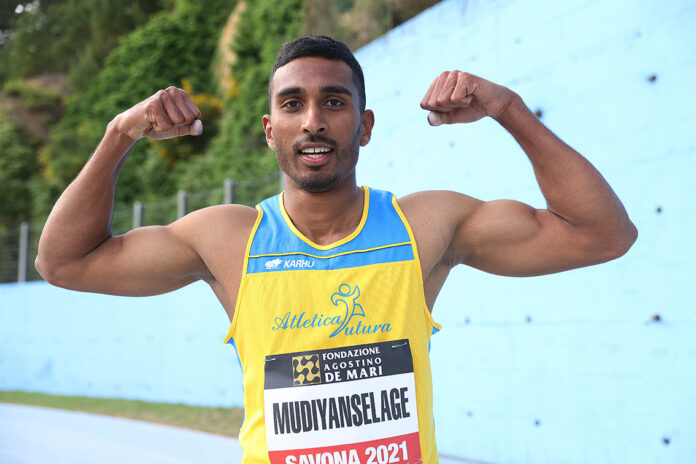 Sri Lanka's Yupun Abeykoon competed in the 100m event of the Diamond League on 30th June in Stockholm, Sweden and was placed 4th with another impressive timing of 10.21s. (-0.5m/s).
Abeykoon who is currently the fastest man in South Asia, shared the track against a tough opposition in the competition, with the likes of Reece Prescod and Akani Simbine who have all run sub-10 seconds previously.
South Africa's Simbine won the race with 10.02s timing while Britain's Prescod came second. This is Abeykoon's 4th Diamond League race and his joint-best finish yet.
Yupun Abeykoon in Diamond League events
2021 Golden Gala – Pietro Mennea, Florence -4th – 10.16s (-0.1m/s)
2021 Weltklasse Zurich, Zurich -9th – 10.25s (-0.4m/s)
2022 Brislett Games, Oslo -5th – 10.16s (0.5m/s)
2022 Bauhaus-galan, Stockholm – 4th – 10.21s (-0.5m/s)
Infact, Yupun has been in sensational form this season, as he smashed the South Asian Records for 100m (10.06s) and 200m (20.37s) in 2022. He has also renewed the Asian Record for 150m (15.16s) few months back.
Yupun Abeykoon's Best 100m timings in 2022
Date
Competition
Result
Wind
18-May
11° Meeting International Citta' Di Savona, Centro Sportivo Fontanassa, Savona
10.04
2.3
25-May
24. Internationales Leichtathletik Meeting "Anhalt 2022", Paul-Greifzu-Stadion, Dessau
10.06
-0.2
31-May
61st Golden Spike, Mestský Stadion, Ostrava
10.08
-1.2
This race will be a great experience for the Lankan Sprinter who have also qualified for the 18th World Athletic Championships 2022, scheduled to be held in Oregon, United States from July 15–24, 2022.