Nepal watched the game slip away early and couldn't recover in a 13-0 loss to Sri Lanka today, 16th July, in their second fixture in the West Asia Baseball Cup tourney.  Sri Lanka took the lead on a single in the first inning and built enough momentum to see it through to record their 2nd straight win of the tournament.
Photos: Sri Lanka vs Nepal | West Asia Baseball Cup 2019
The Nepal hitters struggled to put runs on the board and had a tough time defensively containing Sri Lanka, giving up 13 runs.
Sri Lanka got on the board in the first inning.  Sandun Madushanka singled on a 1-0 count, scoring one run. One bright spot for Nepal was a single by Amrit Nepali in the fourth inning.
Read More : Gunasekara's walk-off seals Sri Lanka's victory over India
Rumesh Lasantha led things off on the hill for Sri Lanka. He lasted one and one-third innings, allowing zero hits and zero runs while striking out two and walking zero.
Bimal Lamichhane led things off on the mound for Nepal. He surrendered nine runs on eight hits over two innings, striking out one.  Mohammed Hussain threw three innings in relief.
Nepali led Nepal with one hit in two at bats.
>>පළමු තරගයෙන්ම ශ්‍රී ලංකාවට තියුණු ජයක්<<
Sri Lanka had 14 hits in the game.  Naween Kasthuri Mudali, Sadara Abeyrathna, Madushanka, Sameera Rathnayake, and Iresh Kosala all managed multiple hits for Sri Lanka.  Sri Lanka was sure-handed and didn't commit a single error. Subas Gunasiri made the most plays with five. Sri Lanka tore up the base paths, as four players stole at least two bases. Abeyrathna led the way with three.
>>Photos: Sri Lanka Vs India | West Asia Baseball Cup 2019<<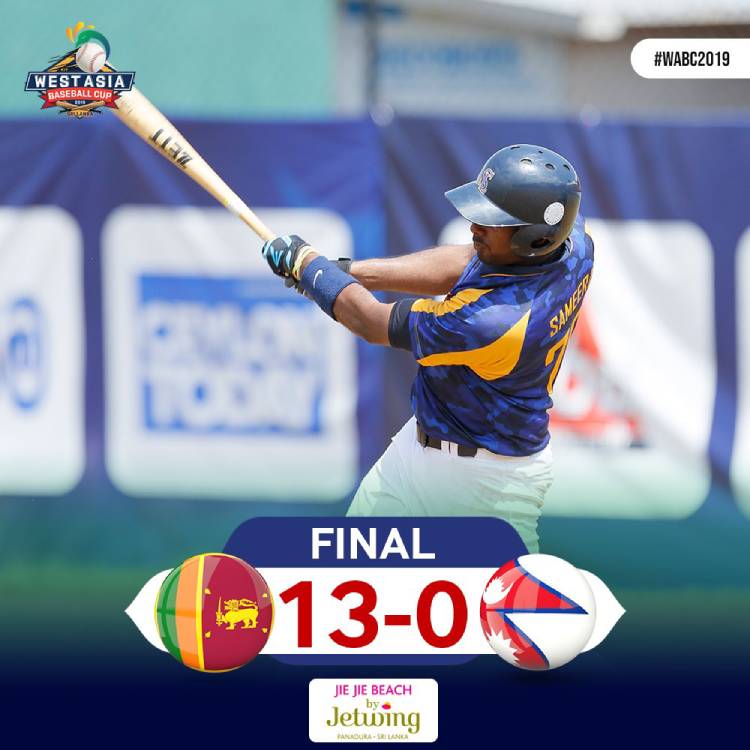 Sri Lanka will take on the winner of Iran vs Bangladesh in the semifinal encounter, scheduled to take place on the 18th July. Stay logged onto ThePapare.com for more news, results and photographs from the West Asian Baseball Cup 2019!
>>Click here for more Baseball<<