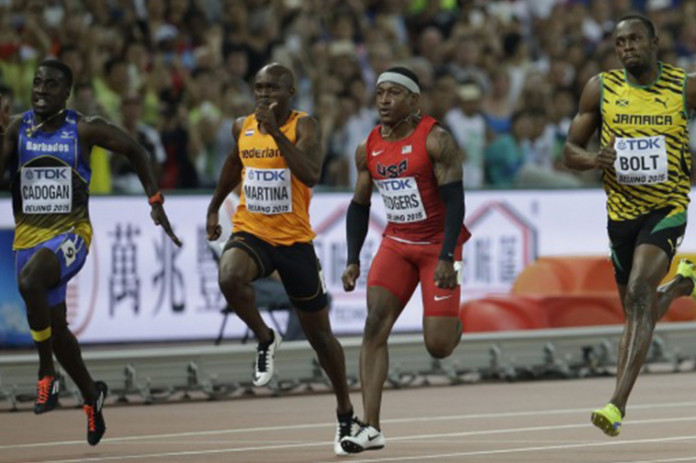 Beijing The pantomime showdown is a now just a day away after the good and the bad, the clean and the dirty of athletics both made it through their heats without a hitch.
Usain Bolt and Justin Gatlin both nervelessly advanced through their heats at the World Championships in Beijing so the clash of the fastest man ever with the fastest man of the last two years now awaits in the final on Sunday night – presuming both first also move through the semis without fault.
The American Gatlin ran quicker, of course he did, easing through his heat in 9.83s. Bolt was sluggish but won in 9.96s.
Former world champion Asafa Powell won his heat in 9.95s and the 2007 world champion Tyson Gay won his in 10.11s. Both men have failed drugs tests.
American 19-year-old Trayvon Bromell, the quickest teenager ever, ran 9.91s to win his heat.
The real contest between the man no one wants to lose with the man no one wants to win can now begin.
In 2014 Gatlin ran six of the seven fastest times over the 100m and this year he has the four quickest times run. He has not been beaten over 100m or 200m since 2013. But he also hasn't raced Bolt in that time.
This championship would be intriguing enough for the idea of Bolt's growing fallibility without the idea that the man who could displace him is a twice banned drug cheat.
Gatlin was first banned when he was at college and was given a two-year ban for testing positive to a banned amphetamine. He successfully argued he took the drug for ADHD and his ban was cut in half.
Then, in 2006 he won the 100m and 200m at the 2005 World Championships in Helsinki then tested positive again, this time for testosterone. He was banned for eight years but avoided the mandatory lifetime ban for a second failed drug test because he co-operated with authorities. He later appealed and got his ban cut further to just four years.
Gatlin has always argued he was set up by his massage therapist who rubbed a banned cream into his buttocks.
Gatlin is defiant about those who challenge his place back in the sport, or the prospect of him being world champion again.
"There are not going to be medals passed out to everybody in the world," Gatlin said ahead of the heat. "It is going to be passed out to one person, the champion."
"Just remember I am more than four years. I am more than two bans I have done a lot before and I have done a lot after that."
He is unfussed by those who pitch his race with Bolt as a battle of the worthy and the unworthy, the clean and the dirty.
"I really don't care what they think," he said.
"I am just a runner like he is a runner. There is no good runner or bad runner. We are just runners. No one is trying to take over the world. No one is trying to blow up the world."