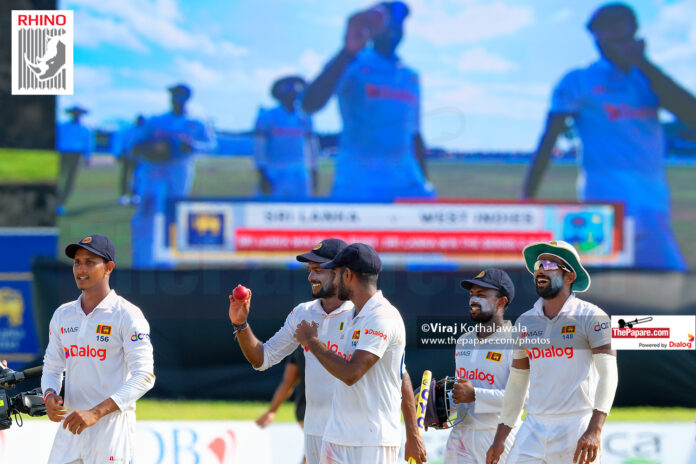 Lasith Embuldeniya and Ramesh Mendis picked up 5 wickets a piece as the visitors slumped from 90/2 to 132 all out, losing 8 wickets in the post-lunch session.
Team Sri Lanka decided to bat on despite coming into the final day with a lead of 279, taking the opportunity to use the heavy roller on the surface. They added just 18 runs to the overnight score before Lasith Embuldeniya was dismissed for 39 and Dimuth Karunaratne decided to call in the troops.
Embuldeniya and Dhananjaya de Silva (155*) went past the record for the highest 9th wicket stand for Sri Lanka in Tests (118 – Thilan Samaraweera & Ajantha Mendis vs India at the P Sara Oval), finishing with 124 and more importantly taking the hosts to a position from where it is their game to lose.
The track didn't seem to be offering much to the spinners until the umpires decided to change the ball at the end of the 42nd over. West Indies lost 8 wickets for just 46 runs from that point.
Ramesh Mendis, Sri Lanka's most successful bowler of the series, with 18 wickets to his name, was the one who started the Windies capitulation, picking up Shai Hope, Roston Chase and Kyle Mayers in the 44th over.
The off-spinner certainly seemed to have the upper hand over Hope in this series, picking him up in all 4 innings. He was on a hat trick after picking up Hope and Chase and bowled nearly the perfect delivery to Mayers first up, but couldn't get the edge. He did get his man with a similar delivery later on in the over.
Embuldeniya kept chipping away at the other end and when he dismissed Jason Holder and Nkrumah Bonner in consecutive overs, the Windies resistance was more or less done.
Having taken 6 wickets in the 1st innings, Mendis completed his 1st 10-wicket haul in Test cricket and could have had another 6-wicket haul when last man Jomel Warrican skied one, but Embuldeniya put down the catch at deep mid-wicket.
With the win, Sri Lanka stay on top of the ICC World Test Championship points table, with a 100% win percentage.
253/10 (104.2) & 132/10 (56.1)
204/10 (61.3) & 345/9 (121.4)


Batsmen
R
B
4s
6s
SR
Pathum Nissanka
lbw b Veerasammy Permaul
73
148
0
0
49.32
Dimuth Karunaratne
c & b Roston Chase
42
90
0
0
46.67
Oshada Fernando
c Joshua Da Silva b Jomel Warrican
18
27
0
0
66.67
Angelo Mathews
b Jomel Warrican
29
45
0
0
64.44
Dhananjaya de Silva
c Joshua Da Silva b Veerasammy Permaul
2
2
0
0
100.00
Charith Asalanka
c Nkrumah Bonner b Veerasammy Permaul
10
15
0
0
66.67
Dinesh Chandimal
lbw b Jomel Warrican
2
8
0
0
25.00
Ramesh Mendis
c Shai Hope b Jomel Warrican
5
9
0
0
55.56
Suranga Lakmal
c Jomel Warrican b Veerasammy Permaul
12
20
0
0
60.00
Lasith Embuldeniya
b Veerasammy Permaul
1
7
0
0
14.29
Praveen Jayawickrama
not out
0
1
0
0
0.00
| | |
| --- | --- |
| Extras | 10 (b 0 , lb 7 , nb 3, w 0, pen 0) |
| Total | 204/10 (61.3 Overs, RR: 3.32) |
| Bowling | O | M | R | W | Econ |
| --- | --- | --- | --- | --- | --- |
| Kemar Roach | 6 | 2 | 12 | 0 | 2.00 |
| Jason Holder | 8 | 2 | 23 | 0 | 2.88 |
| Kyle Mayers | 2 | 0 | 13 | 0 | 6.50 |
| Veerasammy Permaul | 13 | 3 | 35 | 5 | 2.69 |
| Roston Chase | 14 | 0 | 64 | 1 | 4.57 |
| Jomel Warrican | 18.3 | 5 | 50 | 4 | 2.73 |


Batsmen
R
B
4s
6s
SR
Kraig Brathwaite
b Lasith Embuldeniya
72
185
0
0
38.92
Jermaine Blackwood
lbw b Praveen Jayawickrama
44
99
0
0
44.44
Nkrumah Bonner
lbw b Ramesh Mendis
35
95
0
0
36.84
Shai Hope
lbw b Ramesh Mendis
22
89
0
0
24.72
Roston Chase
c Pathum Nissanka b Ramesh Mendis
10
33
0
0
30.30
Kyle Mayers
not out
36
58
0
0
62.07
Jason Holder
lbw b Ramesh Mendis
4
10
0
0
40.00
Joshua Da Silva
b Ramesh Mendis
0
1
0
0
0.00
Kemar Roach
c Dhananjaya de Silva b Praveen Jayawickrama
8
9
0
0
88.89
Veerasammy Permaul
b Lasith Embuldeniya
15
38
0
0
39.47
Jomel Warrican
c Chamika Karunaratne b Ramesh Mendis
1
7
0
0
14.29
| | |
| --- | --- |
| Extras | 6 (b 0 , lb 0 , nb 6, w 0, pen 0) |
| Total | 253/10 (104.2 Overs, RR: 2.42) |
| Bowling | O | M | R | W | Econ |
| --- | --- | --- | --- | --- | --- |
| Suranga Lakmal | 9 | 3 | 22 | 0 | 2.44 |
| Lasith Embuldeniya | 35 | 13 | 94 | 2 | 2.69 |
| Ramesh Mendis | 34.2 | 8 | 70 | 6 | 2.05 |
| Praveen Jayawickrama | 25 | 4 | 59 | 2 | 2.36 |
| Dhananjaya de Silva | 1 | 0 | 8 | 0 | 8.00 |


Batsmen
R
B
4s
6s
SR
Dimuth Karunaratne
run out ()
6
10
0
0
60.00
Pathum Nissanka
lbw b Roston Chase
66
154
0
0
42.86
Oshada Fernando
run out ()
14
41
0
0
34.15
Charith Asalanka
c Nkrumah Bonner b Veerasammy Permaul
19
55
0
0
34.55
Dhananjaya de Silva
not out
155
262
0
0
59.16
Dinesh Chandimal
c & b Roston Chase
2
12
0
0
16.67
Ramesh Mendis
c Kemar Roach b Kraig Brathwaite
25
58
0
0
43.10
Suranga Lakmal
lbw b Veerasammy Permaul
7
11
0
0
63.64
Angelo Mathews
c Jermaine Blackwood b Veerasammy Permaul
1
5
0
0
20.00
Lasith Embuldeniya
b Jason Holder
39
124
0
0
31.45
| | |
| --- | --- |
| Extras | 11 (b 4 , lb 4 , nb 2, w 1, pen 0) |
| Total | 345/9 (121.4 Overs, RR: 2.84) |
| Bowling | O | M | R | W | Econ |
| --- | --- | --- | --- | --- | --- |
| Veerasammy Permaul | 40 | 4 | 106 | 3 | 2.65 |
| Roston Chase | 27 | 2 | 82 | 2 | 3.04 |
| Jomel Warrican | 29 | 5 | 76 | 0 | 2.62 |
| Kemar Roach | 8 | 0 | 27 | 0 | 3.38 |
| Jason Holder | 9.4 | 1 | 26 | 0 | 2.77 |
| Kraig Brathwaite | 5 | 0 | 11 | 1 | 2.20 |
| Nkrumah Bonner | 3 | 1 | 9 | 0 | 3.00 |


Batsmen
R
B
4s
6s
SR
Kraig Brathwaite
lbw b Ramesh Mendis
6
21
0
0
28.57
Jermaine Blackwood
c Dhananjaya de Silva b Lasith Embuldeniya
36
92
0
0
39.13
Nkrumah Bonner
b Lasith Embuldeniya
44
143
0
0
30.77
Shai Hope
c Suranga Lakmal b Ramesh Mendis
16
24
0
0
66.67
Roston Chase
c Avishka Fernando b Ramesh Mendis
0
1
0
0
0.00
Kyle Mayers
c Dhananjaya de Silva b Ramesh Mendis
0
4
0
0
0.00
Jason Holder
c Dhananjaya de Silva b Lasith Embuldeniya
3
12
0
0
25.00
Joshua Da Silva
not out
4
15
0
0
26.67
Kemar Roach
lbw b Lasith Embuldeniya
13
17
0
0
76.47
Veerasammy Permaul
lbw b Ramesh Mendis
1
5
0
0
20.00
Jomel Warrican
c Dhananjaya de Silva b Lasith Embuldeniya
3
3
0
0
100.00
| | |
| --- | --- |
| Extras | 6 (b 4 , lb 2 , nb 0, w 0, pen 0) |
| Total | 132/10 (56.1 Overs, RR: 2.35) |
| Bowling | O | M | R | W | Econ |
| --- | --- | --- | --- | --- | --- |
| Lasith Embuldeniya | 20.1 | 6 | 35 | 5 | 1.74 |
| Ramesh Mendis | 25 | 6 | 66 | 5 | 2.64 |
| Praveen Jayawickrama | 10 | 3 | 23 | 0 | 2.30 |
| Charith Asalanka | 1 | 0 | 2 | 0 | 2.00 |