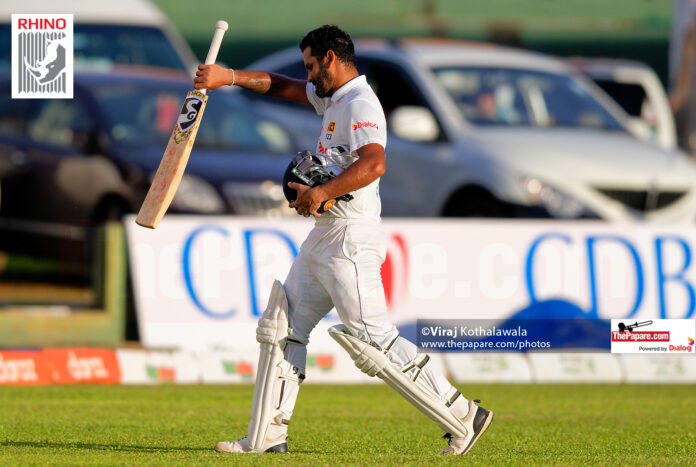 Dimuth Karunaratne fell 8 runs short of his 7th consecutive 50+ score in Test Cricket but Sri Lanka dominated a rain curtailed day 1 of the 2nd Test against West Indies in Galle.
Karunaratne would have joined Everton de Weekes, Andy Flower, Shivnarine Chanderpaul, Kumar Sangakkara, Chris Rogers and KL Rahul as the only batters to achieve the feat, but unfortunately fell to Roston Chase with the milestone within striking distance.
The performance of the day, however, came from young Pathum Nissanka, who made a classy 61* opening alongside Karunaratne. The right-hander looked the more comfortable of the pair, putting the crease to good use as he drove and cut his way to his 3rd Test half-century. He comfortably outscored Karunaratne in the early part of the innings, making full use of the regular loose deliveries served up by the visitors.
The Windies were loose early on, conceding a number of boundaries to Nissanka, before Kemar Roach and Jason Holder settled into a good spell with the new ball. Kyle Mayers' 2 over spell released the pressure built, particularly on Karunaratne, who seemed to be struggling to middle the ball, but the spinners Veerasamy Permaul, Roston Chase and Jomel Warrican came in to tighten things up once again.
Nissanka and Karunaratne handled the good deliveries impressively, while making the most of the boundary balls on offer, bringing up their 2nd 100-run partnership in the series. This was also Sri Lanka's 5th 100+ partnership in their last 7 test innings.
The visitors once again wasted a couple of reviews early, the 2nd one particularly baffling as Oshada Fernando played and missed and Kraigg Brathwaite went to the DRS on the insistence of the bowler Jomel Warrican, despite keeper Joshua Da Silva not being too keen on the review.
Earlier in the day, incessant rain in Galle saw the 1st two sessions of the day washed off before Charith Asalanka was handed his Test cap by Karunaratne, making him Sri Lanka's 157th Men's Test player. He was swapped straight in to the team, with pace bowler Dushmantha Chameera rested for this game.
The West Indies came into the 2nd Test with 3 changes to the side that played the 1st Test last week, with Jeremy Solozano (concussion), Shannon Gabriel and Rakheem Cornwall left out for Shai Hope, Kemar Roach and Veerasamy Permaul.
With the loss of over 55 overs in the day's play, the game is scheduled to start at 9.45am on day 2, weather permitting.
253/10 (104.2) & 132/10 (56.1)
204/10 (61.3) & 345/9 (121.4)


Batsmen
R
B
4s
6s
SR
Pathum Nissanka
lbw b Veerasammy Permaul
73
148
0
0
49.32
Dimuth Karunaratne
c & b Roston Chase
42
90
0
0
46.67
Oshada Fernando
c Joshua Da Silva b Jomel Warrican
18
27
0
0
66.67
Angelo Mathews
b Jomel Warrican
29
45
0
0
64.44
Dhananjaya de Silva
c Joshua Da Silva b Veerasammy Permaul
2
2
0
0
100.00
Charith Asalanka
c Nkrumah Bonner b Veerasammy Permaul
10
15
0
0
66.67
Dinesh Chandimal
lbw b Jomel Warrican
2
8
0
0
25.00
Ramesh Mendis
c Shai Hope b Jomel Warrican
5
9
0
0
55.56
Suranga Lakmal
c Jomel Warrican b Veerasammy Permaul
12
20
0
0
60.00
Lasith Embuldeniya
b Veerasammy Permaul
1
7
0
0
14.29
Praveen Jayawickrama
not out
0
1
0
0
0.00
| | |
| --- | --- |
| Extras | 10 (b 0 , lb 7 , nb 3, w 0, pen 0) |
| Total | 204/10 (61.3 Overs, RR: 3.32) |
| Bowling | O | M | R | W | Econ |
| --- | --- | --- | --- | --- | --- |
| Kemar Roach | 6 | 2 | 12 | 0 | 2.00 |
| Jason Holder | 8 | 2 | 23 | 0 | 2.88 |
| Kyle Mayers | 2 | 0 | 13 | 0 | 6.50 |
| Veerasammy Permaul | 13 | 3 | 35 | 5 | 2.69 |
| Roston Chase | 14 | 0 | 64 | 1 | 4.57 |
| Jomel Warrican | 18.3 | 5 | 50 | 4 | 2.73 |


Batsmen
R
B
4s
6s
SR
Kraig Brathwaite
b Lasith Embuldeniya
72
185
0
0
38.92
Jermaine Blackwood
lbw b Praveen Jayawickrama
44
99
0
0
44.44
Nkrumah Bonner
lbw b Ramesh Mendis
35
95
0
0
36.84
Shai Hope
lbw b Ramesh Mendis
22
89
0
0
24.72
Roston Chase
c Pathum Nissanka b Ramesh Mendis
10
33
0
0
30.30
Kyle Mayers
not out
36
58
0
0
62.07
Jason Holder
lbw b Ramesh Mendis
4
10
0
0
40.00
Joshua Da Silva
b Ramesh Mendis
0
1
0
0
0.00
Kemar Roach
c Dhananjaya de Silva b Praveen Jayawickrama
8
9
0
0
88.89
Veerasammy Permaul
b Lasith Embuldeniya
15
38
0
0
39.47
Jomel Warrican
c Chamika Karunaratne b Ramesh Mendis
1
7
0
0
14.29
| | |
| --- | --- |
| Extras | 6 (b 0 , lb 0 , nb 6, w 0, pen 0) |
| Total | 253/10 (104.2 Overs, RR: 2.42) |
| Bowling | O | M | R | W | Econ |
| --- | --- | --- | --- | --- | --- |
| Suranga Lakmal | 9 | 3 | 22 | 0 | 2.44 |
| Lasith Embuldeniya | 35 | 13 | 94 | 2 | 2.69 |
| Ramesh Mendis | 34.2 | 8 | 70 | 6 | 2.05 |
| Praveen Jayawickrama | 25 | 4 | 59 | 2 | 2.36 |
| Dhananjaya de Silva | 1 | 0 | 8 | 0 | 8.00 |


Batsmen
R
B
4s
6s
SR
Dimuth Karunaratne
run out ()
6
10
0
0
60.00
Pathum Nissanka
lbw b Roston Chase
66
154
0
0
42.86
Oshada Fernando
run out ()
14
41
0
0
34.15
Charith Asalanka
c Nkrumah Bonner b Veerasammy Permaul
19
55
0
0
34.55
Dhananjaya de Silva
not out
155
262
0
0
59.16
Dinesh Chandimal
c & b Roston Chase
2
12
0
0
16.67
Ramesh Mendis
c Kemar Roach b Kraig Brathwaite
25
58
0
0
43.10
Suranga Lakmal
lbw b Veerasammy Permaul
7
11
0
0
63.64
Angelo Mathews
c Jermaine Blackwood b Veerasammy Permaul
1
5
0
0
20.00
Lasith Embuldeniya
b Jason Holder
39
124
0
0
31.45
| | |
| --- | --- |
| Extras | 11 (b 4 , lb 4 , nb 2, w 1, pen 0) |
| Total | 345/9 (121.4 Overs, RR: 2.84) |
| Bowling | O | M | R | W | Econ |
| --- | --- | --- | --- | --- | --- |
| Veerasammy Permaul | 40 | 4 | 106 | 3 | 2.65 |
| Roston Chase | 27 | 2 | 82 | 2 | 3.04 |
| Jomel Warrican | 29 | 5 | 76 | 0 | 2.62 |
| Kemar Roach | 8 | 0 | 27 | 0 | 3.38 |
| Jason Holder | 9.4 | 1 | 26 | 0 | 2.77 |
| Kraig Brathwaite | 5 | 0 | 11 | 1 | 2.20 |
| Nkrumah Bonner | 3 | 1 | 9 | 0 | 3.00 |


Batsmen
R
B
4s
6s
SR
Kraig Brathwaite
lbw b Ramesh Mendis
6
21
0
0
28.57
Jermaine Blackwood
c Dhananjaya de Silva b Lasith Embuldeniya
36
92
0
0
39.13
Nkrumah Bonner
b Lasith Embuldeniya
44
143
0
0
30.77
Shai Hope
c Suranga Lakmal b Ramesh Mendis
16
24
0
0
66.67
Roston Chase
c Avishka Fernando b Ramesh Mendis
0
1
0
0
0.00
Kyle Mayers
c Dhananjaya de Silva b Ramesh Mendis
0
4
0
0
0.00
Jason Holder
c Dhananjaya de Silva b Lasith Embuldeniya
3
12
0
0
25.00
Joshua Da Silva
not out
4
15
0
0
26.67
Kemar Roach
lbw b Lasith Embuldeniya
13
17
0
0
76.47
Veerasammy Permaul
lbw b Ramesh Mendis
1
5
0
0
20.00
Jomel Warrican
c Dhananjaya de Silva b Lasith Embuldeniya
3
3
0
0
100.00
| | |
| --- | --- |
| Extras | 6 (b 4 , lb 2 , nb 0, w 0, pen 0) |
| Total | 132/10 (56.1 Overs, RR: 2.35) |
| Bowling | O | M | R | W | Econ |
| --- | --- | --- | --- | --- | --- |
| Lasith Embuldeniya | 20.1 | 6 | 35 | 5 | 1.74 |
| Ramesh Mendis | 25 | 6 | 66 | 5 | 2.64 |
| Praveen Jayawickrama | 10 | 3 | 23 | 0 | 2.30 |
| Charith Asalanka | 1 | 0 | 2 | 0 | 2.00 |