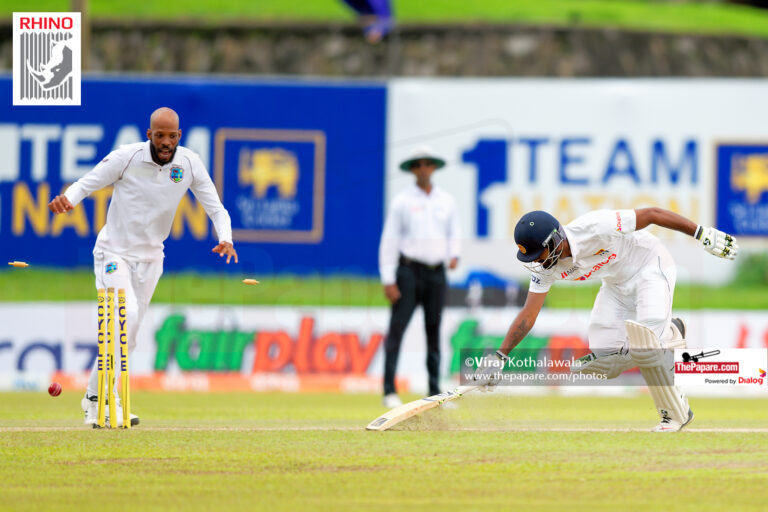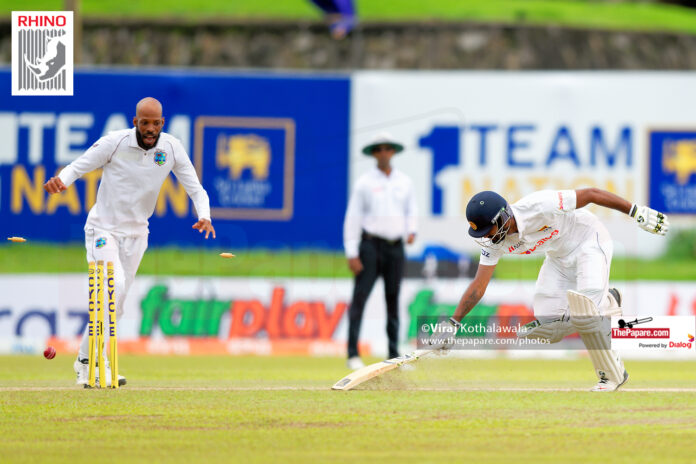 Sri Lanka skipper Dimuth Karunaratne and one drop batter Oshada Fernando were run-out in the late stages of the 3rd session as the hosts went into stumps on day 3 still trailing West Indies by 3 runs.

Dimuth Karunaratne has enjoyed a purple patch in Test cricket in 2021, turning into the backbone off the Sri Lankan batting line-up. However, Sri Lanka's batting has struggled when he hasn't made runs, making his dismissal in the 2nd innings late on day 3 worrying as he was run-out going for a run that just wasn't there.
To make matters worse, Oshada Fernando too was run-out in similar fashion, putting Sri Lanka in deep trouble at 46/2 at stumps. With Angelo Mathews expected to be hampered by his hamstring tear, Sri Lanka's middle order will have a tough task to set West Indies a defendable total.
Earlier in the day, the Sri Lankan spinners continued to struggle with their lengths in the 1st session of play, with both Brathwaite and overnight batter Nkrumah Bonner looking to play on the back foot.
Ironically, it was fast bowler Suranga Lakmal who looked the most threatening of the hosts' bowlers, managing to hit the pads and beat the bat of both batters on a number of occasions during his spell of 5 overs for 6 runs.
The breakthrough eventually came when Ramesh Mendis trapped Bonner in front for 35, and from that point Sri Lanka was able to pick up wickets at regular intervals with Mendis being the chief tormenter, picking up his maiden first class 5-wicket haul and finishing with figures of 6/70.
The visitors' fall of wickets almost mirrored Sri Lanka's first innings, but Kyle Mayers and Veerasamy Permaul made some crucial runs to help the visitors get to a lead of 49.
253/10 (104.2) & 132/10 (56.1)
204/10 (61.3) & 345/9 (121.4)


Batsmen
R
B
4s
6s
SR
Pathum Nissanka
lbw b Veerasammy Permaul
73
148
0
0
49.32
Dimuth Karunaratne
c & b Roston Chase
42
90
0
0
46.67
Oshada Fernando
c Joshua Da Silva b Jomel Warrican
18
27
0
0
66.67
Angelo Mathews
b Jomel Warrican
29
45
0
0
64.44
Dhananjaya de Silva
c Joshua Da Silva b Veerasammy Permaul
2
2
0
0
100.00
Charith Asalanka
c Nkrumah Bonner b Veerasammy Permaul
10
15
0
0
66.67
Dinesh Chandimal
lbw b Jomel Warrican
2
8
0
0
25.00
Ramesh Mendis
c Shai Hope b Jomel Warrican
5
9
0
0
55.56
Suranga Lakmal
c Jomel Warrican b Veerasammy Permaul
12
20
0
0
60.00
Lasith Embuldeniya
b Veerasammy Permaul
1
7
0
0
14.29
Praveen Jayawickrama
not out
0
1
0
0
0.00
| | |
| --- | --- |
| Extras | 10 (b 0 , lb 7 , nb 3, w 0, pen 0) |
| Total | 204/10 (61.3 Overs, RR: 3.32) |
| Bowling | O | M | R | W | Econ |
| --- | --- | --- | --- | --- | --- |
| Kemar Roach | 6 | 2 | 12 | 0 | 2.00 |
| Jason Holder | 8 | 2 | 23 | 0 | 2.88 |
| Kyle Mayers | 2 | 0 | 13 | 0 | 6.50 |
| Veerasammy Permaul | 13 | 3 | 35 | 5 | 2.69 |
| Roston Chase | 14 | 0 | 64 | 1 | 4.57 |
| Jomel Warrican | 18.3 | 5 | 50 | 4 | 2.73 |


Batsmen
R
B
4s
6s
SR
Kraig Brathwaite
b Lasith Embuldeniya
72
185
0
0
38.92
Jermaine Blackwood
lbw b Praveen Jayawickrama
44
99
0
0
44.44
Nkrumah Bonner
lbw b Ramesh Mendis
35
95
0
0
36.84
Shai Hope
lbw b Ramesh Mendis
22
89
0
0
24.72
Roston Chase
c Pathum Nissanka b Ramesh Mendis
10
33
0
0
30.30
Kyle Mayers
not out
36
58
0
0
62.07
Jason Holder
lbw b Ramesh Mendis
4
10
0
0
40.00
Joshua Da Silva
b Ramesh Mendis
0
1
0
0
0.00
Kemar Roach
c Dhananjaya de Silva b Praveen Jayawickrama
8
9
0
0
88.89
Veerasammy Permaul
b Lasith Embuldeniya
15
38
0
0
39.47
Jomel Warrican
c Chamika Karunaratne b Ramesh Mendis
1
7
0
0
14.29
| | |
| --- | --- |
| Extras | 6 (b 0 , lb 0 , nb 6, w 0, pen 0) |
| Total | 253/10 (104.2 Overs, RR: 2.42) |
| Bowling | O | M | R | W | Econ |
| --- | --- | --- | --- | --- | --- |
| Suranga Lakmal | 9 | 3 | 22 | 0 | 2.44 |
| Lasith Embuldeniya | 35 | 13 | 94 | 2 | 2.69 |
| Ramesh Mendis | 34.2 | 8 | 70 | 6 | 2.05 |
| Praveen Jayawickrama | 25 | 4 | 59 | 2 | 2.36 |
| Dhananjaya de Silva | 1 | 0 | 8 | 0 | 8.00 |


Batsmen
R
B
4s
6s
SR
Dimuth Karunaratne
run out ()
6
10
0
0
60.00
Pathum Nissanka
lbw b Roston Chase
66
154
0
0
42.86
Oshada Fernando
run out ()
14
41
0
0
34.15
Charith Asalanka
c Nkrumah Bonner b Veerasammy Permaul
19
55
0
0
34.55
Dhananjaya de Silva
not out
155
262
0
0
59.16
Dinesh Chandimal
c & b Roston Chase
2
12
0
0
16.67
Ramesh Mendis
c Kemar Roach b Kraig Brathwaite
25
58
0
0
43.10
Suranga Lakmal
lbw b Veerasammy Permaul
7
11
0
0
63.64
Angelo Mathews
c Jermaine Blackwood b Veerasammy Permaul
1
5
0
0
20.00
Lasith Embuldeniya
b Jason Holder
39
124
0
0
31.45
| | |
| --- | --- |
| Extras | 11 (b 4 , lb 4 , nb 2, w 1, pen 0) |
| Total | 345/9 (121.4 Overs, RR: 2.84) |
| Bowling | O | M | R | W | Econ |
| --- | --- | --- | --- | --- | --- |
| Veerasammy Permaul | 40 | 4 | 106 | 3 | 2.65 |
| Roston Chase | 27 | 2 | 82 | 2 | 3.04 |
| Jomel Warrican | 29 | 5 | 76 | 0 | 2.62 |
| Kemar Roach | 8 | 0 | 27 | 0 | 3.38 |
| Jason Holder | 9.4 | 1 | 26 | 0 | 2.77 |
| Kraig Brathwaite | 5 | 0 | 11 | 1 | 2.20 |
| Nkrumah Bonner | 3 | 1 | 9 | 0 | 3.00 |


Batsmen
R
B
4s
6s
SR
Kraig Brathwaite
lbw b Ramesh Mendis
6
21
0
0
28.57
Jermaine Blackwood
c Dhananjaya de Silva b Lasith Embuldeniya
36
92
0
0
39.13
Nkrumah Bonner
b Lasith Embuldeniya
44
143
0
0
30.77
Shai Hope
c Suranga Lakmal b Ramesh Mendis
16
24
0
0
66.67
Roston Chase
c Avishka Fernando b Ramesh Mendis
0
1
0
0
0.00
Kyle Mayers
c Dhananjaya de Silva b Ramesh Mendis
0
4
0
0
0.00
Jason Holder
c Dhananjaya de Silva b Lasith Embuldeniya
3
12
0
0
25.00
Joshua Da Silva
not out
4
15
0
0
26.67
Kemar Roach
lbw b Lasith Embuldeniya
13
17
0
0
76.47
Veerasammy Permaul
lbw b Ramesh Mendis
1
5
0
0
20.00
Jomel Warrican
c Dhananjaya de Silva b Lasith Embuldeniya
3
3
0
0
100.00
| | |
| --- | --- |
| Extras | 6 (b 4 , lb 2 , nb 0, w 0, pen 0) |
| Total | 132/10 (56.1 Overs, RR: 2.35) |
| Bowling | O | M | R | W | Econ |
| --- | --- | --- | --- | --- | --- |
| Lasith Embuldeniya | 20.1 | 6 | 35 | 5 | 1.74 |
| Ramesh Mendis | 25 | 6 | 66 | 5 | 2.64 |
| Praveen Jayawickrama | 10 | 3 | 23 | 0 | 2.30 |
| Charith Asalanka | 1 | 0 | 2 | 0 | 2.00 |