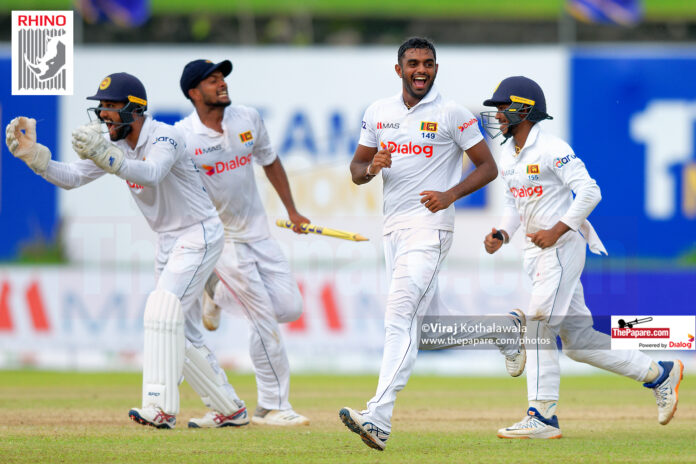 Lasith Embuldeniya picked up his 4th 5-wicket haul in Tests just in time for Sri Lanka, wiping out the West Indies resistance just before rain began to fall at the Galle International Cricket Stadium.

Embuldeniya, playing his 1st international game since March of this year, couldn't find much of a rhythm in the 1st innings, but bowled with a lot more control and consistency in the 2nd innings and was duly rewarded with another 5-wicket haul, his 4th in 12 Tests.
Despite the ball spinning prodigiously on day 5, Sri Lanka were just unable to make that early breakthrough as overnight batters Nkrumah Bonner and Joshua Da Silva resisted staunchly, with rain seeming an inevitability during the day.
Both survived a couple of close calls, with Dimuth Karunaratne missing a chance to run Da Silva out early in the day while Pathum Nissanka put the same batter down at leg-slip a couple of overs later when he was on 23; incidentally this would have been Mendis' 5th wicket, despite coming into the day with 4 wickets to his name, the youngster could not claim a 5th with 2 relatively straightforward catches going down off his bowling.
Da Silva also survived a close lbw call on 50, when the ball clipped his pad before hitting the bat. The Sri Lankans seemed uncertain whether it was bat or pad first but went for the almost in desperation – both the impact and trajectory were umpire's calls.
Bonner was given out on 41 by umpire Ruchira Palliyaguruge off Mendis, but unfortunately, the review from the batter didn't go in favor of the hosts, with the ball shown to be missing the stumps. He was then dropped by Karunaratne, again off Mendis' bowling, when he was on 54.
Lasith Embuldeniya was finally rewarded for being Sri Lanka's most consistent spinner on display, when he got Da Silva to nick to slip. Da Silva's gritty knock saw him become the first batter to score a half-century when coming into bat with the score below 20 runs and 6 wickets down in test cricket.
Rakheem Cornwall took a much more aggressive approach to things and the visitors will rue the fact that he did, as he skied one to mid-off and saw West Indies' last 3 wickets fall for just 11 runs after Cornwall and Bonner had put on 31 for the 8th wicket. With the rains beginning to fall just minutes after Sri Lanka picked up the last wicket, one can only wonder what could have been if Cornwall had decided to stick around.
With the win, Sri Lanka claimed their 1st ICC World Test Championship points, going to the top of the table with a 100% win record.
230/10 (85.5) & 160/10 (79)
386/10 (133.5) & 191/4 (40.5)


Batsmen
R
B
4s
6s
SR
Pathum Nissanka
c Rahkeem Cornwall b Shannon Gabriel
56
140
7
0
40.00
Dimuth Karunaratne
st Joshua Da Silva b Roston Chase
147
300
15
0
49.00
Oshada Fernando
c Nkrumah Bonner b Roston Chase
3
27
0
0
11.11
Angelo Mathews
c Jason Holder b Roston Chase
3
25
0
0
12.00
Dhananjaya de Silva
hit-wicket b Shannon Gabriel
61
95
5
0
64.21
Dinesh Chandimal
c Rahkeem Cornwall b Roston Chase
45
83
5
0
54.22
Ramesh Mendis
c Joshua Da Silva b Jomel Warrican
13
49
2
0
26.53
Suranga Lakmal
lbw b Jomel Warrican
11
44
2
0
25.00
Dushmantha Chameera
c Kraig Brathwaite b Jomel Warrican
3
0
0
0
0.00
Lasith Embuldeniya
c Jermaine Blackwood b Roston Chase
17
0
1
1
0.00
Praveen Jayawickrama
not out
8
0
1
0
0.00
| | |
| --- | --- |
| Extras | 19 (b 5 , lb 6 , nb 8, w 0, pen 0) |
| Total | 386/10 (133.5 Overs, RR: 2.88) |
| Fall of Wickets | 1-139 (49.1) Pathum Nissanka, 2-164 (57.3) Oshada Fernando, 3-170 (65.1) Angelo Mathews, 4-281 (94.4) Dhananjaya de Silva, 5-296 (99.5) Dimuth Karunaratne, 6-331 (112.6) Ramesh Mendis, 7-355 (124.4) Suranga Lakmal, 8-361 (127.4) Dinesh Chandimal, 9-361 (128.1) Dushmantha Chameera, 10-386 (133.5) Lasith Embuldeniya, |
| Bowling | O | M | R | W | Econ |
| --- | --- | --- | --- | --- | --- |
| Shannon Gabriel | 19 | 2 | 68 | 2 | 3.58 |
| Jason Holder | 19 | 9 | 24 | 0 | 1.26 |
| Rahkeem Cornwall | 27 | 3 | 91 | 0 | 3.37 |
| Kyle Mayers | 3 | 0 | 9 | 0 | 3.00 |
| Jomel Warrican | 32 | 5 | 87 | 3 | 2.72 |
| Roston Chase | 28.5 | 3 | 83 | 5 | 2.91 |
| Jermaine Blackwood | 1 | 0 | 6 | 0 | 6.00 |
| Kraig Brathwaite | 4 | 0 | 6 | 0 | 1.50 |


Batsmen
R
B
4s
6s
SR
Kraig Brathwaite
c Pathum Nissanka b Ramesh Mendis
41
115
7
0
35.65
Jermaine Blackwood
lbw b Lasith Embuldeniya
20
44
1
1
45.45
Nkrumah Bonner
c Dhananjaya de Silva b Praveen Jayawickrama
1
11
0
0
9.09
Shai Hope
c Oshada Fernando b Ramesh Mendis
10
31
0
0
32.26
Roston Chase
c Oshada Fernando b Ramesh Mendis
2
24
0
0
8.33
Jomel Warrican
c Dinesh Chandimal b Praveen Jayawickrama
1
8
0
0
12.50
Kyle Mayers
c Dimuth Karunaratne b Dhananjaya de Silva
45
62
8
0
72.58
Jason Holder
c Dushmantha Chameera b Praveen Jayawickrama
36
60
3
2
60.00
Joshua Da Silva
b
15
88
1
0
17.05
Rahkeem Cornwall
c Ramesh Mendis b Suranga Lakmal
39
58
5
1
67.24
Shannon Gabriel
lbw b Praveen Jayawickrama
2
11
0
0
18.18
| | |
| --- | --- |
| Extras | 18 (b 3 , lb 10 , nb 2, w 3, pen 0) |
| Total | 230/10 (85.5 Overs, RR: 2.68) |
| Fall of Wickets | 1-46 (20.1) Jermaine Blackwood, 2-51 (23.5) Nkrumah Bonner, 3-80 (31.6) Kraig Brathwaite, 4-83 (33.1) Shai Hope, 5-86 (36.6) Jomel Warrican, 6-100 (39.6) Roston Chase, 7-163 (57.1) Kyle Mayers, 8-175 (60.4) Jason Holder, 9-224 (79.6) Rahkeem Cornwall, 10-230 (85.5) Shannon Gabriel, |
| Bowling | O | M | R | W | Econ |
| --- | --- | --- | --- | --- | --- |
| Suranga Lakmal | 6 | 1 | 10 | 1 | 1.67 |
| Dushmantha Chameera | 8 | 0 | 14 | 0 | 1.75 |
| Lasith Embuldeniya | 32 | 11 | 67 | 1 | 2.09 |
| Praveen Jayawickrama | 19.5 | 6 | 40 | 4 | 2.05 |
| Ramesh Mendis | 17 | 1 | 75 | 3 | 4.41 |
| Dhananjaya de Silva | 3 | 0 | 11 | 1 | 3.67 |


Batsmen
R
B
4s
6s
SR
Pathum Nissanka
c Shai Hope b Rahkeem Cornwall
3
11
0
0
27.27
Dimuth Karunaratne
c Jermaine Blackwood b Rahkeem Cornwall
83
103
9
0
80.58
Oshada Fernando
lbw b Jomel Warrican
14
32
1
0
43.75
Angelo Mathews
b
69
83
6
0
83.13
Dhananjaya de Silva
c & b Jomel Warrican
1
7
0
0
14.29
Dinesh Chandimal
b
10
8
0
0
125.00
| | |
| --- | --- |
| Extras | 11 (b 8 , lb 2 , nb 1, w 0, pen 0) |
| Total | 191/4 (40.5 Overs, RR: 4.68) |
| Fall of Wickets | 1-4 (2.3) Pathum Nissanka, 2-39 (11.5) Oshada Fernando, 3-162 (36.3) Dimuth Karunaratne, 4-163 (38.1) Dhananjaya de Silva, |
| Bowling | O | M | R | W | Econ |
| --- | --- | --- | --- | --- | --- |
| Rahkeem Cornwall | 15.5 | 0 | 60 | 2 | 3.87 |
| Jason Holder | 5 | 0 | 19 | 0 | 3.80 |
| Roston Chase | 6 | 1 | 28 | 0 | 4.67 |
| Jomel Warrican | 9 | 0 | 42 | 2 | 4.67 |
| Shannon Gabriel | 4 | 0 | 23 | 0 | 5.75 |
| Kraig Brathwaite | 1 | 0 | 9 | 0 | 9.00 |


Batsmen
R
B
4s
6s
SR
Kraig Brathwaite
lbw b Ramesh Mendis
0
14
0
0
0.00
Jermaine Blackwood
c Angelo Mathews b Lasith Embuldeniya
9
18
0
0
50.00
Nkrumah Bonner
not out
68
220
0
0
30.91
Shai Hope
b Ramesh Mendis
3
9
0
0
33.33
Roston Chase
b Lasith Embuldeniya
1
7
0
0
14.29
Kyle Mayers
lbw b Ramesh Mendis
2
5
0
0
40.00
Jason Holder
b Ramesh Mendis
0
1
0
0
0.00
Joshua Da Silva
c Dhananjaya de Silva b Lasith Embuldeniya
54
129
0
0
41.86
Rahkeem Cornwall
c Suranga Lakmal b Praveen Jayawickrama
13
46
0
0
28.26
Jomel Warrican
c Avishka Fernando b Lasith Embuldeniya
1
21
0
0
4.76
Shannon Gabriel
c Dhananjaya de Silva b Lasith Embuldeniya
0
6
0
0
0.00
| | |
| --- | --- |
| Extras | 9 (b 0 , lb 5 , nb 2, w 2, pen 0) |
| Total | 160/10 (79 Overs, RR: 2.03) |
| Fall of Wickets | 1-3 (3.4) Kraig Brathwaite, 2-11 (6.4) Jermaine Blackwood, 3-14 (9.1) Shai Hope, 4-15 (10.2) Roston Chase, 5-18 (11.3) Kyle Mayers, 6-18 (11.4) Jason Holder, |
| Bowling | O | M | R | W | Econ |
| --- | --- | --- | --- | --- | --- |
| Lasith Embuldeniya | 29 | 12 | 46 | 5 | 1.59 |
| Ramesh Mendis | 31 | 5 | 64 | 4 | 2.06 |
| Praveen Jayawickrama | 14 | 6 | 28 | 1 | 2.00 |
| Dhananjaya de Silva | 1 | 0 | 5 | 0 | 5.00 |
| Dushmantha Chameera | 4 | 0 | 12 | 0 | 3.00 |