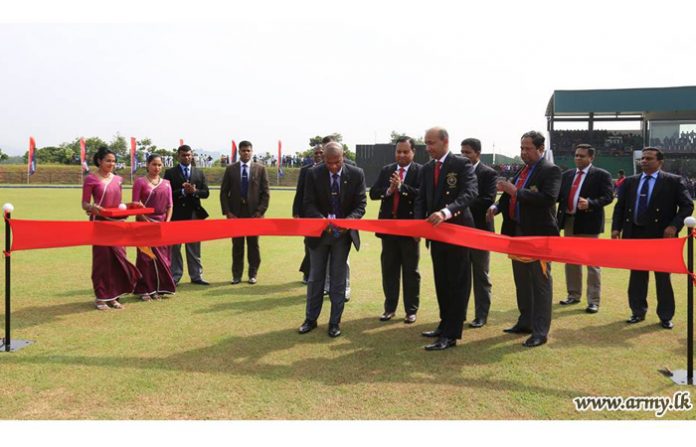 There has been a lot of negative talk surrounding Sri Lanka cricket in the recent past; the whitewash by England at home, uncertainty and changes in the administration, changes in the coaching department and most recently Akila Dananjaya's suspension, have dominated the headlines.
Despite all this, there is some good news coming from the Army camp as a cricket grounds made to international standards is being built in Horana, under the supervision of the Sri Lanka Army Ordinance Corps (SAOC).
This ground was officially opened by Lieutenant General Mahesh Senanayake yesterday (10th).
346 cricketers, including 226 Indians, have been shortlisted for the upcoming Indian Premier League auction. Nine players have…
The opening match at the venue was the final of the Inter Army T20 tournament, played between the Artillery division and SAOC division, with the Artillery division winning by 15 runs.
Still under construction is the sports complex and the pavilion which is to be built in 3 stages on part of the 10 acres of land being used for this project.
Currently, the ground and the pavilion have been built, with the capacity of hosting up to a thousand spectators.
The International Cricket Council today announced that an independent assessment has found the bowling action of Sri Lanka's…
A good drainage facility has also been constructed to reduce any stoppages of play. In the second stage, plans include building hostels and a canteen for players, as well as 4 types of training wickets.
A swimming pool will also be built to round things off at the venue.
All construction is expected to be completed in under 3 years.
Major General Pimal Vithanage, who is the Commanding Officer of the SAOC and also the FC team-Army Sports Club's Officer-in-charge, said that permission had been gained from SLC to conduct domestic and school tournaments in the Kalutara district.
"Surrey Village Cricket ground in Maggona was the one and only ground for the upcoming young players to practice for a very long time. So, we decided to build a new ground with all the facilities and equipment to guide our players. We collected money through a function organized by our division. We have spent about 50 million rupees to get up to this point. It was a big challenge for us to build the stadium on this budget. But anyhow our soldiers contributed much to constructing this stadium. I thank our  Lieutenant General Mahesh Senanayake for his extended support."
He went on to say, "Sekkuge Prasanna, who joined the Army from a poor village was also from our division. Now he represents Sri Lanka and various other domestic clubs globally. Similarly, in future we would like to produce quality players for our country"