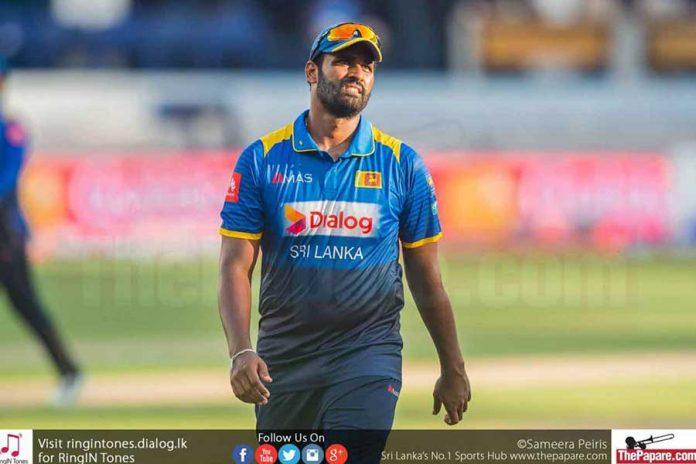 Sri Lanka's veteran all-rounder Thisara Perera has sent a letter to the Chief Executive Officer (CEO) Ashely De Silva of Sri Lanka Cricket on his disappointment with the current affairs within the national squad.
The purpose of the letter seems to be a plea for action to be taken in response to the 'series of posts on social media by Mrs Tanya Perera, the wife of Sri Lanka ODI and T20 captain Lasith Malinga'.
The first signs of such an incident were seen when Perera wrote a lengthy Facebook post requesting certain unnamed individuals to let him do his job in peace, during Sri Lanka's tour of New Zealand.
Many thought that was the end of the 'online feud' however, as Perera mentions in his letter, he has been compelled to write to the authorities after he was 'once again targeted as the joking point of one of Mrs. Perera's (Tanya's) posts.'
"I have been accused of running after high ranking officials and ministers asking them to retain me in the National Team, I have always adhered to the selection process of SLC and never once questioned a decision to drop me, nor have I 'asked for favours' in this regard. Upon my recall to the national side I believe I had done justice to my place. My statistics for 2018 would speak for itself.", Perera writes.
He goes on to explain the discomfort in the dressing room for the respective players and especially for the youngsters after the 'incident' that took place during Sri Lanka's tour of New Zealand during December 2018/January 2019 and how the national players are becoming a laughing stock in front of the whole country.
"There has been a general sense of unease in the dressing room ever since and to be honest the environment was rather unpleasant for the youngsters especially when two senior players were not on the same page. We cannot play as a team with friction….."
Thisara further states the necessity of a strong leadership and the importance of unity in the team especially, on the verge of a World Cup and requests the heads at SLC to support the team to overcome this situation.
A copy of the letter has been attached in the below