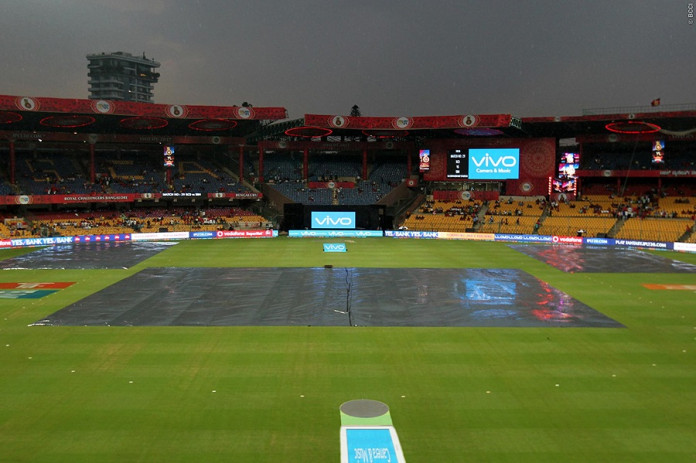 The much-anticipated return clash between Royal Challengers Bangalore and Sunrisers Hyderabad turned out to be a non-starter and became the first washed out fixture of VIVO IPL2017.
The area in and around the M Chinnaswamy Stadium in Bengaluru received showers just prior to the start of the match. However, around 1900Hrs local time, the showers stopped, giving hopes to the match starting.
After inspecting conditions, the Match Officials announced that though the toss for choice of innings would be delayed by 10 minutes, the match would commence at the scheduled time of 2000Hrs. However, even before the captains could walk out for the toss, the skies opened up and the rains set in again.
A packed crowd waited patiently hoping the rains would stop and they would get a chance to see their favourite cricketers in action. However, eventually when the rains did not stop, the Umpires – C Shamshuddin and Marais Erasmus – had no option but to abandon the match. The decision to abandon the match was taken at 2300Hrs.
The two teams shared points from the match. With the one point from this match, RCB took their tally to 5 points from 8 matches, while SRH now have 9 points from 8 matches.
Result: Match abandoned without a ball being bowled.
Points: Royal Challengers Bangalore – 1, Sunrisers Hyderabad – 1