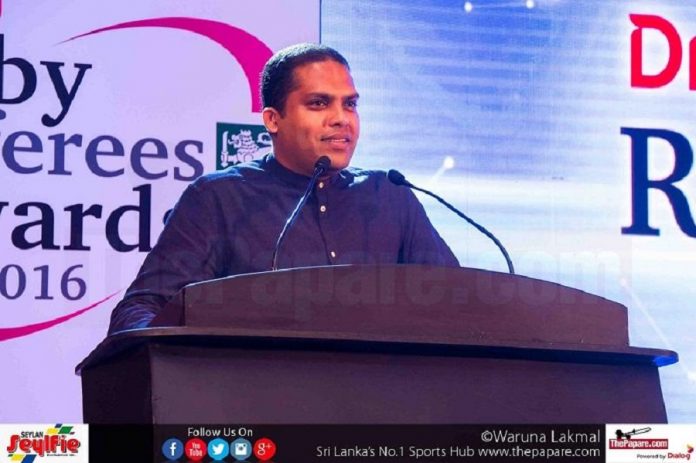 Minister Harin Fernando has been handed the responsibility of steering Sri Lankan sport, having been sworn in as the Minister of Telecommunications, Digital Infrastructure, Foreign Employment & Sports today (20th) in the presence of the Hon. President Maithreepala Sirisena at the Presidential secretariat. 
An old boy of St. Joseph's College, Maradana, Minister Fernando is an avid follower of Rugby, having represented the college 1st XV. He has been instrumental in uplifting the quality of sport at Darley road. He has a fresh challenge ahead of him in his capacity as the Minister of Sports having already served as the Minister of Telecommunications, Digital Infrastructure & Foreign Employment in his previous tenure.
Speaking to ThePapare.com, the newly appointed  Minister of Sports stated that he is looking forward to the challenge of leading Sri Lankan sport to a new era, "The Ministry of Sports is a challenging ministry where managing a vast number of associations and federations is crucial, but it's a challenge I am looking forward to undertaking. I will be immediately turning my focus on National cricket, a sport we as a country are very passionate about. We haven't been performing very well in the recent past, I am looking at getting expert knowledge of a few greats of the game to uplift the standards, especially with the world cup around the corner" 
Commenting on Sri Lanka's potential in athletics he stated that, "There are some young athletes who have shown enormous potential, we will definitely have an eye on the Olympics and I think if we nurture the talent properly we should be able to have good results in few events. It's important we take care of the second tiers of all the sports and convert them to professionals/semiprofessionals which will keep the national athletes on their toes"
Striving on the importance of keeping sport, an essential aspect of the country, free of corruption, Minister Fernando concluded adding "I want sport in Sri Lanka to be played 'hard, safe and clean'.