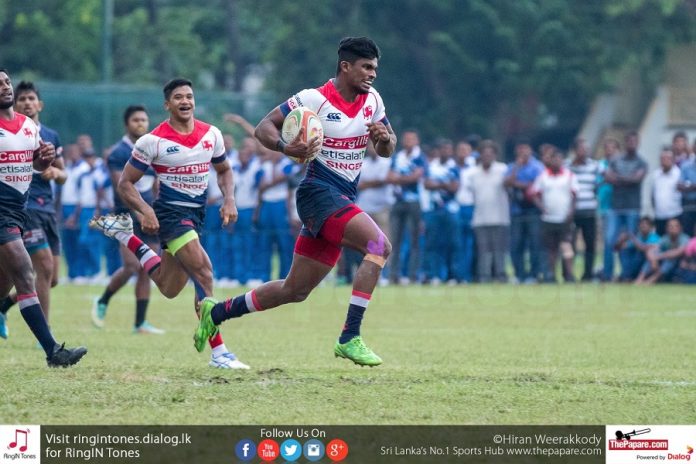 Vishvamithra Jayasinghe, the Kandy SC wing three quarter who received a 2-year ban from Sri Lanka Rugby earlier this year, has successfully appealed his sentence and gotten it reduced to five months.
Jayasinghe, who represented Access Group at the Mercantile Sevens tournament in July was slapped with the 24-month ban after a scuffle with referee Mohamed Ashraff during the game between MAS Holdings and Access.
Former Sri Lanka national rugby player and current Kandy SC…
Sri Lanka Rugby's disciplinary inquiry on the incident deemed that Jayasinghe was guilty of wrongdoing and he was banned from participating in any form of competitive rugby for a period of two years with effect from 23rd July 2017.
The Winger appealed the ban and following a review by the three-member committee of Y.C. Chang, Brig. J.P.A. Jayawardena and Neil Wijeratne, the 24-month ban has been reduced to a five-month ban. The 19-month suspended sentence will follow soon after as he is expected to be of best behaviour.
With the new ruling, the ban which came into effect on the 23rd of July, is due to end on 22nd December 2017 which means that Jayasinghe will be available to play for Kandy in the second round of the Dialog Rugby League which is scheduled to begin at the end of December.
Access and Kandy star wing three quarter Vishwamithra..
Speaking exclusively to ThePapare.com, chairman of the Jury, Y.C. Chang said "In the report he admitted the fact that he assaulted the referee and then he apologized for his act. The punishment was 24 months, however the Jury decided, based on sympathy grounds, to reduce his ban to five months"
Furthermore, Jayasinghe will need to be very disciplined as his behaviour will scrutinized over the next 24-months.