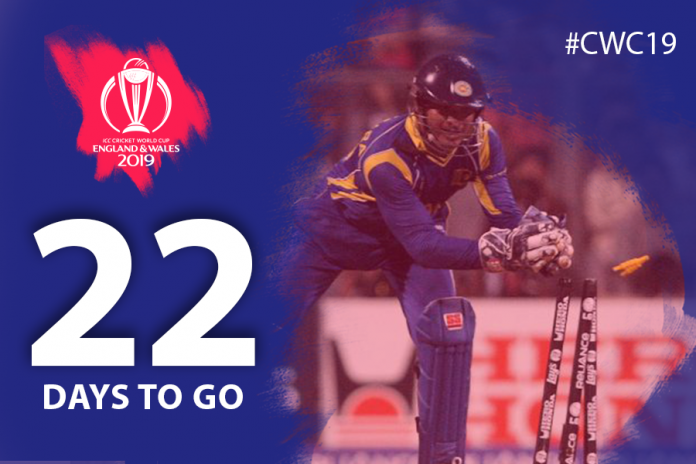 Sri Lanka's most outstanding cricketer – Kumar Sangakkara has many World Records to his name. They are truly remarkable. But one record of his hardly gets a mention. People very rarely notice that despite all his excellence with the bat and being his country's premier batsman, Sanga also had to do the job of keeping wickets for his team.
Sangakkara's 482 dismissals in ODIs are the most by a player, a World Record. Safe to say that this record will stay for a while with M.S. Dhoni, his closest rival among current cricketers, almost 50 dismissals behind him. Sangakkara's 54 dismissals in World Cups is also the most by a player. Dhoni, who has affected 32 dismissals in World Cups, is unlikely to go past that and you can assume that this will last for a while as well.
When Sangakkara first came into the scene, the choice for wicketkeeper for the 2003 World Cup was debated heavily and Romesh Kaluwitharana missed out narrowly. With Sri Lanka settling down to bat Hashan Tillakaratne at three and Sangakkara moving to the middle order, there was room for Kaluwitharana, who could play many roles. But eventually with the selectors deciding on Jehan Mubarak as the additional batsman, Kalu missed out and Sangakkara played all the games of the 2003 edition.
Read More : The most successful Sri Lankan at World Cups
From his debut in 2000 to the time the World Cup came around, Sanga had made tremendous strides as a wicketkeeper although his batting was yet to hit a purple patch. In the 2003 event, Sanga kept well and he is remembered for sledging South African skipper Shaun Pollock. His famous line being, 'the weight of 42 million South African supporters on Shaun's shoulders.'
The value Sangakkara brought to the side was immense as a wicketkeeper and the team's premier batsman. Once he became the captain or towards the tail end of his career, he could have given up wicket keeping and concentrated on his batting alone being the premier batsman of the side. But him holding onto keeping helped Sri Lanka balance the side.
Sanga's job was no easy task as he had to keep wickets for Murali with little clue which way the ball was heading. He did a splendid job across four World Cups and taking a look at Sri Lanka's current World Cup squad you get the feeling about what a vacuum he has left.
Not that Sanga's wicket keeping was flawless.  He missed a tough chance – a stumping off M.S. Dhoni in the second ball he faced in the 2011 World Cup final. Dhoni went on to win the game for India. Had Sanga completed that stumping, it could have been a different story perhaps. But it was an extremely tough chance. We never know whether Sri Lanka would have won that game or not had he completed the stumping. But what we do know is that it would have been Sanga's 100th stumping had he pulled it off. He was left stranded on 99.
Read More : Sri Lanka's startling triumph (1996) (Part 1)
In this day and age, wicketkeeping has become such a vital aspect due to the presence of the Decision Review System. Dhoni has been a cut above the rest with some smart assessments on which decisions need to be reviewed.
Sanga was good as well with his reviews. The rule that he followed was only review the obvious mistakes as having reviews at hand would come in handy late in a game. Niroshan Dickwella, the man who succeeded Sanga as the wicketkeeper, has cut a sorry figure with his reviews. Impulsive and naïve, Sri Lanka often lost reviews early as Dickwella urged the captain to go upstairs. His wicketkeeping though was top notch. Hard to remember the last time he dropped a catch or fluffed  a stumping.
>>  ICC Cricket World Cup 2019  <<