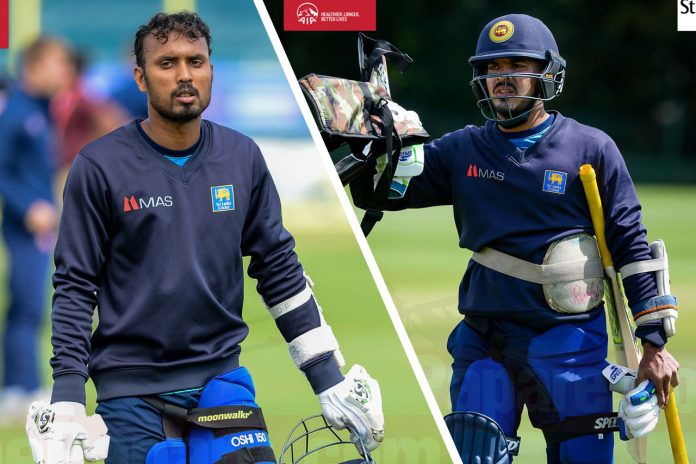 Sri Lanka Cricket (SLC) uncharacteristically named a 22-member squad for the only ODIs against Bangladesh on Friday. It is puzzling why 22 players were picked for a home series but the squad should be trimmed down for each game. However, soon after the squad was announced, the buzz in the circles was the omission of Oshada Fernando and Angelo Perera, who were both a part of the reserve players' list and travelled for the World Cup.
>>Sri Lanka v Bangladesh 2019<<
Fernando and Perera, two middle-order batsmen, had to train day in, day out throughout Sri Lanka's two-month stay in England & Wales but never got the chance to play since they were not in the original squad.
The other two reserves, Wanindu Hasaranga, and Kasun Rajitha befell the same fate until the latter was drafted into the squad for the final two games following Nuwan Pradeep's illness.
They were carried around with the original squad in order to acclimatize themselves to the conditions in case a player gets injured. It paid dividence when Pradeep was contracted with Chicken Pox and Rajitha played a World Cup game, two days after.
While Hasaranga correctly is in the 22-member lineup to face Bangladesh, the question is why Fernando and Perera were not drafted?
Read More: My plan was to attack Steyn and Rabada – Oshada Fernando
Fernando, a talented 27-year-old right-handed batsman awed the entire cricketing community with his positive and fearless batting, displaying maturity in pressure situations during the South Africa Test & ODI series' earlier this year. After a couple of stellar domestic seasons, he was picked for the very first time and the depth in Sri Lanka's talent pool was portrayed excellently in the manner in which he took on two of the world's best bowlers, Kagiso Rabada and Dale Steyn.
He possesses a simple technique and looks like he has ample time to face seam bowlers together with brilliant foot-work to spinners. He scored 131 runs in 2 Tests, including a match-winning, unbeaten 75* in the second Test in Port Elizabeth to cap off a memorable series win for Sri Lanka. During the ODIs, Fernando accumulated 127 in 5 innings, getting starts in almost all games breathing in much hope and life into the somewhat dilapidated Sri Lankan batting ranks.
Fernando was a real gasp of fresh air for Sri Lanka, heading into the World Cup after a disastrous limited-overs leg in South Africa. How Fernando didn't make the final 15 for the World Cup was mind-boggling. While some players have got copious matches despite failing, Fernando had to warm the bench and keep training until his next opportunity arose. Soon after the World Cup was over, everyone expected him to be a prominent member in both Tests and ODIs batting lineups of the future.
Perera, a 29-year-old batting prodigy since school days, has only played five games in a career spanning over six years. After making his debut in 2013, Perera never got any continuous opportunities in the national lineup.
Sri Lanka Cricket (SLC) have announced a 22-member squad for their upcoming three-match ODI series….
He failed in his first game as a 23-year-old batsman and didn't bat in the second game. Later in 2014, he played another solitary ODI but didn't get to bat either. Two years later, he once again played only one game against Australia and was dropped.
After scoring tons of runs in the domestic circuit and breaking records, he was picked again earlier this year for the South Africa ODIs. He managed only 31 in that game and later on failed in the T20Is. During the Provincial tournament in which some selections were made for the World Cup, Perera made 84 in one of the two opportunities he got to bat.
Leave aside all the past performances of these two players, having been picked for the World Cup how they can both not be named at least in the 22-member squad? Has their fate been sealed because they did not get an opportunity to play for the 'A' team or Emerging team, which had tours in India and South Africa during the same time period in which they were mere reserves?
Read More: Angelo Perera becomes second cricketer in the world to achieve unique feat
Both Fernando and Perera shouldn't be disheartened by this mystifying selection. They have been named in Sri Lanka's Board President's XI squad which will play a tour game on Tuesday (23rd July). If they perform in that game, it wouldn't be a surprise if they make the final XI for the ODIs..
In this regard, ThePapare.com made efforts to contact the Chief Selector Asantha De Mel, but he was unavailable to comment.
After ending at sixth place in the World Cup, Sri Lanka will have their first assignment – three ODIs against Bangladesh on the 26th, 28th and 31st of July at R. Premadasa International Stadium.