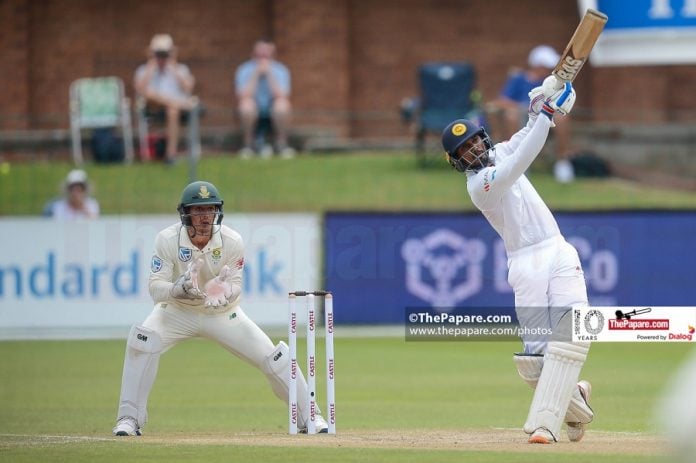 For someone who is on his first tour, Oshada Fernando speaks and, more importantly, plays with confidence. He was one of the key architects of Sri Lanka's win over South Africa on Saturday, having posted an unbeaten 75 during the chase of 197.
When Brendon Kuruppu approached him after Chilaw Marians' First Class game against CCC at Colts a fortnight ago, Oshada would have thought that the selector wanted to discuss some technical issues in his game. But to his utter surprise he was told that he will be touring South Africa.
Oshada had never travelled outside the country before. Never been in the 'A' team or Sri Lanka Under-19 team. But he achieved something that Brian Lara, Sachin Tendulkar or Kumar Sangakkara couldn't achieve, score the winning runs to clinch a series win in South Africa.
Oshada was born in Koralawela, Moratuwa. His father is an Army other-ranker. He attended Sri Sumangala Vidyalaya, Panadura before getting a scholarship to St. Sebastian's College, Moratuwa.
Walking in to bat on day three in Port Elizabeth with Sri Lanka needing 137 runs to win, Oshada had decided that he was not going to get bogged down, facing the world's best pace attack.
"My plan was to attack from the start. Not to take the foot off the peddle. The instruction was to go after the fast bowling. Against such a good attack, if you try to survive, it will be just a matter of time before they get you out.  All the batters were given the freedom to come up with their own game plan. We were given the license to trust our instincts. So I went after the bowling," Oshada told ThePapare.
 "Dale Steyn was the toughest to bat against. He swings the ball, whereas Rabada and Olivier have only got pace. With Steyn you have got to counter both pace and swing. He is a crafty bowler and very difficult to get on top of his game. But the plans that we executed worked and I am glad that everything went well."
"I have never seen pace like that before in my life. It's not just one guy but all three of them are quick.  I had a couple of training sessions against the bowling machine but the problem of playing in South Africa is that the ball bounces more than you have ever experienced. That, the bowling machine can't give you."
"The ball had got a little bit old so we knew that it won't be much of an issue. The main thing was to stay calm and not put any undue pressure on myself."
"We knew that if we put up a decent stand we had the batting to finish the run chase. KJP was to come and so were Dhananjaya and Dickwella. South Africa were going to be under pressure if they didn't pick up early wickets. Our plan was to get ten runs at a time and then to get to 150 and reassess. Once we got there, we could see the field spreading and then we stopped playing our shots. Not that we didn't put away the loose balls, but we were more than happy to pick up the singles available," Oshada explained.
"When I scored the winning runs I was over the moon. South Africa has been a place where many teams had come and failed to win and here I am on my first tour, scoring the winning runs to create history. Sensational stuff."