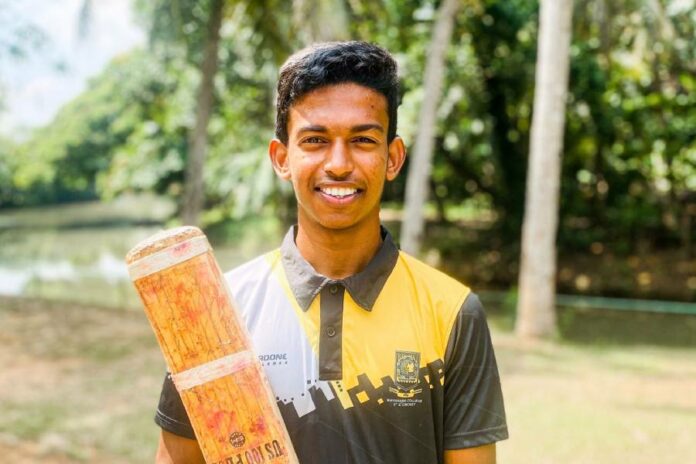 Eight games of the SLSCA U19 Schools Cricket Tournament 2021/22 were played today around the island.
Kesara Madusanka of St. Sebastian's College struck the highest score of the day, as the Bastians registered a 2-wicket victory over Thomians.
Among the other top-scorers was Wesley batter Sahil Dias, who made a valuable half-century to win the game against D.S. Senanayake College. Maleesha Silva of St. Sylvester's College scored 72 runs in a winning cause, while Dhanaja Edirisinghe scored a fighting 61 runs against Gurukula College to lift Mahanama College to victory.
Isuru Nidarshana of Moratu Maha Vidyalaya was the pick of the bowling of the day as he bagged 4 wickets for 21 runs. Sajith Rathnayaka of Dharmaraja College, Kandy also accounted for 4 scalps for 34 runs against Maris Stella College.
Brief Scores
Maris Stella College, Negombo vs Dharmaraja College, Kandy
Maris Stella College 190 (48.3) Hansaja Hiruna 38, Shane Adithya 32, Sadew Rathnayaka 28, Sajith Rathnayaka 4/34, Thisaru Wanninayaka 2/25

Dharmaraja College 163 (49.5) Eveen Kalhara 3/14

MARIS STELLA COLLEGE WON BY 27 RUNS
S. Thomas' College, Mount Lavinia vs St. Sebastian's College, Moratuwa
S. Thomas' College 237/8 (50) Mahith Perera 59*, Senadhi Bulankulama 47, Romesh Mendis 30, Gunaratnam Caniston 26, Muiz Naushan 21, Kushan Herath 3/55, Sandeesh Fernando 2/54

St. Sebastian's College 238/8 (48.3) Kesara Madusanka 73, Yashan Avishka 46, Sanesh Fernando 30*, Ryan Dissanayake 29, Charuka Peiris 3/31, Gunaratnam Caniston 2/57

ST. SEBASTIAN'S COLLEGE WON BY 2 WICKETS
Mahanama College, Colombo vs Gurukula College, Kelaniya
Mahanama College 214 (48.3) Dhanaja Edirisinghe 61, Devindu Kekirideniya 24, Anjala Bandara 23, Anuka Wijewardana 22, Janitha Shehan 3/55, Yuwaneth Madusanka 3/56, Poorna Kalhara 2/26

Gurukula College 206 (49.5) Neluka Heshan 60, Mohomed Murshid 36, Denura Demansith 32, Sithija Chamod 28, Inuka Karannagoda 3/13, Duvindu Ranathunga 3/38

MAHANAMA COLLEGE WON BY 8 RUNS
St. Joseph Vaz College, Wennappuwa vs Devapathiraja College, Rathgama
St. Joseph Vaz College 157 (49.3) Chamath Fernando 47, Avishka Prabashwara 21, Janith Fernando 21, Darshaka Sandeep 3/23, Matheesha Saranga 2/18, Irushka Thimira 2/23

Devapathiraja College 159/6 (30.2) Jeewaka Shaheen 59, Pawan Sandesh 32, Matheesha Saranga 25*, Hasitha Kushan 3/29

DEVAPATHIRAJA COLLEGE WON BY 4 WICKETS
Zahira College, Colombo vs St. Sylvester's College, Kandy
Zahira College 162 (42.3) Sameer Majeed 42, Mohamed Yasir 30, Raaed Rizwan 23, Akila Wickramasinghe 3/19, Shashika Basnayake 3/39, Kavishka Imesh 3/44

St. Sylvester's College 163/6 (32.3) Maleesha Silva 72, Kavishka Dilshan 43*, Malith Lakshan 21, Mmm Humaid 2/30

ST. SYLVESTER'S COLLEGE WON BY 4 WICKETS
D.S. Senanayake College, Colombo vs Wesley College, Colombo
D.S. Senanayake College 149 (39.3) Manura Pieris 58, Linal Subasinghe 2/24, Semila Liyanage 2/32, Chamath Gomaz 2/33

Wesley College 150/4 (28) Sahil Dias 73, Ashan Isira 30, Senura Silva 2/25

WESLEY COLLEGE WON BY 6 WICKETS
Lumbini College, Colombo vs Moratu Maha Vidyalaya, Moratuwa
Lumbini College 148 (30.5) Nabeel Rajudeen 50, Sakuna Nidarshana 27, Isuru Nidarshana 4/21, Vishwa Didulana 2/14, Vihanga Nimsara 2/22

Moratu Maha Vidyalaya 149/7 (36.3) Isuru Nidarshana 40, Vihanga Nimsara 27*, Thushan Nimantha 25, Nabeel Rajudeen 3/30, Malith Kavindu 2/21

MORATU VIDYALAYA WON BY 3 WICKETS
St. Anthony's College, Kandy vs St. Joseph's College, Colombo
St. Anthony's College 118 (42.1) Lahiru Abeysinghe 40, Chamindu Wickramasinghe 28, Trevin Mathew 23, Mithira Thenura 3/12, Deshan Senaviratne 3/24, Dunith Wellalage 2/11

St. Joseph's College 123/1 (19.2) Sadeesh Jayawardena 55*, Shevon Daniel 52*

ST. JOSEPH'S COLLEGE WON BY 9 WICKETS