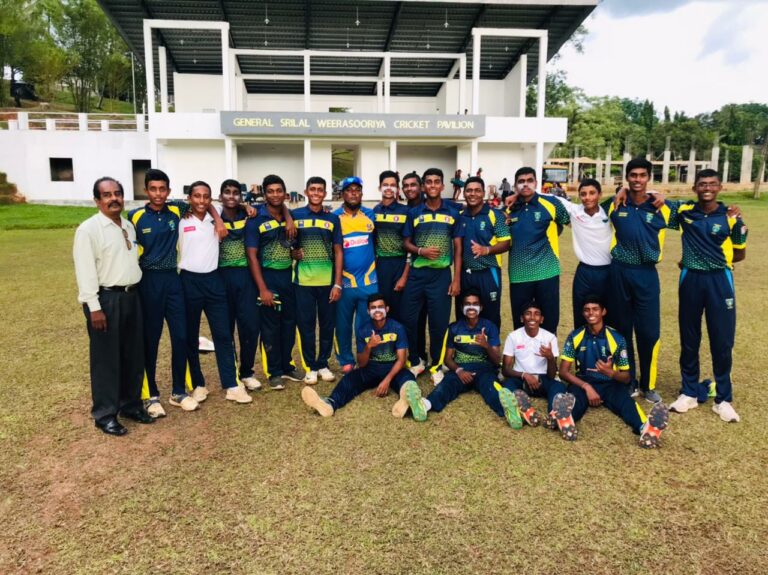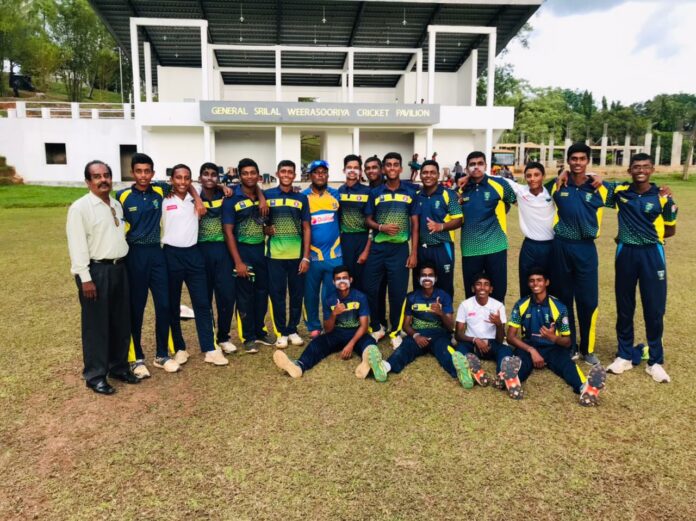 Sri Sumangala College, Panadura were crowned champions of the SLSCA U19 Division 2 – Tier 'A' Limited Over Cricket Tournament, as they beat St. Sebastian's College, Katuneriya by 7 wickets in the final worked off today (09th April) at BRC Grounds, Colombo. 
After been put into bat first, St. Sebastian's College displayed a poor show with the bat as they were bundled out for just 66 runs in 29.3 overs.
A collective bowling effort led by Vishva Lahiru (3/19), Rasika Dilshan (2/12) and Heshan Kavinda (2/14) helped Sri Sumangala College restrict the opposition to a low score.
It was a walk in the park victory for the boys from Panadura as they crossed the line quite easily with 7 wickets in hand.
The victorious Sri Sumangala College secured their place in the final after beating Tissa Central College, Kalutara by 3 wickets in the Semi-Final.
The runner-up St. Sebastian's College's Semi-Final fixture against Sri Devananda College was washed out due to rain. As a result, the average points gained by the two schools in the Group stage were considered to declare a winner, but both schools had taken an equal number of points. Therefore, the organizers decided to take net run-rate into consideration, which is how St. Sebastian's College found themselves in the final due to a better net run-rate.
Brief Scores
St. Sebastian's College, Katuneriya – 66 (29.3) Vishva Lahiru 3/19, Rasika Dilshan 2/12, Heshan Kavinda 2/14

Sri Sumangala College, Panadura – 67/3 (14.5) Duranka Silva 26, Gayan Harshana 3/09

Result – Sri Sumangala College won by 7 wickets
St. Sebastian's College – Katuneriya
66/10 (29.3)


Batsmen
R
B
4s
6s
SR
Vishwa Tharuka
run out (Heshan Kavinda)
6
18
0
0
33.33
Thisara Madushan
c Vishwa Lahiru b Rasika Dilshan
7
23
0
0
30.43
Hasitha Kavinda
run out ()
0
0
0
0
0.00
Viraj Menura
c Kavindu Gayathra b Manmitha Dulran
2
23
0
0
8.70
Chathumal Nimesh
lbw b Rasika Dilshan
2
13
0
0
15.38
Nimesh Madusanka
lbw b Vishwa Lahiru
16
25
0
0
64.00
Senura Dimal
c Duranka Silva b Vishwa Lahiru
13
30
0
0
43.33
Gayan Harshana
c Kavindu Gayathra b Heshan Kavinda
1
12
0
0
8.33
Malisha Deshan
c Duranka Silva b Heshan Kavinda
3
13
0
0
23.08
Navindu Rumesh
b Vishwa Lahiru
8
13
0
0
61.54
Chamal Hirushan
not out
0
7
0
0
0.00
| | |
| --- | --- |
| Extras | 8 (b 0 , lb 0 , nb 0, w 8, pen 0) |
| Total | 66/10 (29.3 Overs, RR: 2.24) |
| Bowling | O | M | R | W | Econ |
| --- | --- | --- | --- | --- | --- |
| Manmitha Dulran | 7 | 0 | 21 | 1 | 3.00 |
| Rasika Dilshan | 7 | 2 | 12 | 2 | 1.71 |
| Heshan Kavinda | 8 | 2 | 14 | 2 | 1.75 |
| Vishwa Lahiru | 7.3 | 2 | 19 | 3 | 2.60 |


Batsmen
R
B
4s
6s
SR
Namina Danidu
lbw b Gayan Harshana
11
19
0
0
57.89
Duranka Silva
c Thisara Madushan b Gayan Harshana
26
30
0
0
86.67
Heshan Kavinda
c Hasitha Kavinda b Gayan Harshana
0
3
0
0
0.00
Vishwa Lahiru
not out
14
27
0
0
51.85
Prabash Jayasekera
not out
7
11
0
0
63.64
| | |
| --- | --- |
| Extras | 9 (b 0 , lb 1 , nb 1, w 7, pen 0) |
| Total | 67/3 (14.5 Overs, RR: 4.52) |
| Bowling | O | M | R | W | Econ |
| --- | --- | --- | --- | --- | --- |
| Malisha Deshan | 3 | 0 | 17 | 0 | 5.67 |
| Nimesh Madusanka | 3 | 1 | 23 | 0 | 7.67 |
| Gayan Harshana | 3 | 1 | 9 | 3 | 3.00 |
| Chamal Hirushan | 3.5 | 0 | 11 | 0 | 3.14 |
| Chathumal Nimesh | 2 | 0 | 6 | 0 | 3.00 |