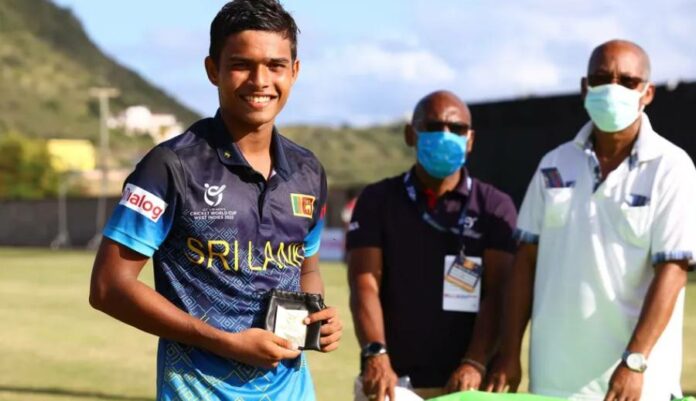 Sri Lanka U19s beat Australia U19s by 4 wickets to register their second consecutive win at the ICC U19 World Cup today (17th January).
Having won the toss, Sri Lanka skipper Dunith Wellalage chose to bowl first at Basseterre. Sri Lanka had made two changes to their playing XI bringing in Trevin Mathew and Anjala Bandara replacing Pawan Pathiraja and Wanuja Sahan.
Teague Wyllie and Campbell Kellaway opened the innings for Australia, but they couldn't get a good start as the former was dismissed by off spinner Mathew for just 6 runs. Mathew struck once again, taking the second Australian wicket in the 14th over.
The Australian middle order batters tried to rescue the innings in the middle overs but Sri Lankan skipper Wellalage who took a 5-wicket haul in the last game, once again came to the party, taking three quick wickets inside 4 overs, putting the Aussies on the back foot at 6 for 112.
Wellalage continued to pile misery on the Australian batters as he took his second 5-wicket haul in this year's world cup to restrict the opposition to 175. Wellalage ended up with match figures of 5 for 28 while Mathew and Matheesha Pathirana chipped in with 2 wickets each.
Chasing 176 to win, Sri Lanka got off to a shaky start losing the top three batters inside the first 8 overs for 41 runs. When Sri Lanka were reeling at 4 for 49, Wellalage and wicket-keeper batter Anjala Bandara built a match-winning partnership for the fifth wicket adding 70 runs off 86 balls, helping the islanders to get over the line without any further hiccups.
With this win, Sri Lanka march closer to securing a quarter final berth in the tournament as they have registered 2 wins out of 2 games played so far and managed to top the Group D standings. This win against the Aussies is even more significant for Sri Lanka U19s as it is the first time they have beaten the side in Youth World Cups since 2008.
The door is still open for all top 3 teams in Group D, Sri Lanka, West Indies and Australia to finish in the top two and secure a place in the Quarter Finals. Sri Lanka's next game will be against West Indies on 21st January at the same venue.
Group D – Points Table 
Team

 

Matches

 

Won

 

Lost

 

NRR

 

Points

 

Sri Lanka

 

2

 

2

 

0

 

+1.010

 

4

 

West Indies

 

2

 

1

 

1

 

+1.009

 

2

 

Australia

 

2

 

1

 

1

 

-0.339

 

2

 

Scotland

 

2

 

0

 

2

 

-1.777

 

0

 


Batsmen
R
B
4s
6s
SR
Campbell Kellaway
lbw b Dunith Wellalage
54
77
5
1
70.13
Teague Wyllie
c Ranuda Somarathne b Treveen Mathew
6
10
1
0
60.00
Isaac Higgins
c Ranuda Somarathne b Treveen Mathew
15
38
1
0
39.47
Cooper Connolly
b Sadisha Rajapaksa
3
14
0
0
21.43
Nivethan Radhakrishnan
b Dunith Wellalage
21
36
2
0
58.33
Tobias Snell
b Matheesha Pathirana
19
51
0
0
37.25
Aidan Cahill
b Dulith Wellalage
0
2
0
0
0.00
William Salzmann
b Dulith Wellalage
22
50
1
0
44.00
Joshua Garner
c Yasiru Rodrigo b Matheesha Pathirana
12
19
1
0
63.16
Tom Whitney
c Chamindu Wickramasinghe b Dulith Wellalage
1
2
0
0
50.00
Harkirat Bajwa
not out
1
2
0
0
50.00
| | |
| --- | --- |
| Extras | 21 (b 1 , lb 6 , nb 2, w 12, pen 0) |
| Total | 175/10 (50 Overs, RR: 3.5) |
| Fall of Wickets | 1-12 (3.1) Teague Wyllie, 2-46 (13.2) Isaac Higgins, 3-61 (18.1) Cooper Connolly, 4-107 (28.2) Campbell Kellaway, 5-112 (30.1) Nivethan Radhakrishnan, 6-112 (30.3) Aidan Cahill, 7-143 (43.5) Tobias Snell, 8-167 (48.2) William Salzmann, 9-169 (48.6) Tom Whitney, 10-175 (49.6) Joshua Garner, |
| Bowling | O | M | R | W | Econ |
| --- | --- | --- | --- | --- | --- |
| Yasiru Rodrigo | 5 | 0 | 18 | 0 | 3.60 |
| Treveen Mathews | 10 | 1 | 32 | 2 | 3.20 |
| Matheesha Pathirana | 8 | 0 | 34 | 2 | 4.25 |
| Chamindu Wickramasinghe | 3 | 1 | 11 | 0 | 3.67 |
| Sadisha Rajapaksa | 6 | 1 | 30 | 1 | 5.00 |
| Dunith Wellalage | 10 | 1 | 28 | 5 | 2.80 |
| Shevon Daniel | 6 | 1 | 10 | 0 | 1.67 |
| Raveen De Silva | 2 | 0 | 5 | 0 | 2.50 |


Batsmen
R
B
4s
6s
SR
Chamindu Wickramasinghe
c Cooper Connolly b Joshua Garner
19
24
3
0
79.17
Shevon Daniel
c Aidan Cahill b William Salzmann
9
10
1
0
90.00
Sadisha Rajapaksa
b Tom Whitney
8
11
0
0
72.73
Sakuna Nidarshana Liyanage
hit-wicket b Nivethan Radhakrishnan
7
23
0
0
30.43
Dunith Wellalage
c & b Tom Whitney
52
71
4
1
73.24
Anjala Bandara
c Tobias Snell b Joshua Garner
33
47
2
0
70.21
Ranuda Somarathne
not out
32
35
4
0
91.43
Raveen De Silva
not out
6
4
1
0
150.00
| | |
| --- | --- |
| Extras | 11 (b 0 , lb 1 , nb 3, w 7, pen 0) |
| Total | 177/6 (37 Overs, RR: 4.78) |
| Fall of Wickets | 1-15 (3.3) Shevon Daniel, 2-40 (6.5) Chamindu Wickramasinghe, 3-41 (7.1) Sadisha Rajapaksa, 4-49 (12.5) Sakuna Nidarshana Liyanage, 5-119 (27.1) Anjala Bandara, 6-171 (36.2) Dunith Wellalage, |
| Bowling | O | M | R | W | Econ |
| --- | --- | --- | --- | --- | --- |
| Tom Whitney | 10 | 1 | 39 | 2 | 3.90 |
| William Salzmann | 7 | 0 | 39 | 1 | 5.57 |
| Joshua Garner | 4 | 0 | 21 | 2 | 5.25 |
| Nivethan Radhakrishnan | 7 | 1 | 40 | 1 | 5.71 |
| Harkirat Bajwa | 4 | 0 | 15 | 0 | 3.75 |
| Cooper Connolly | 5 | 0 | 22 | 0 | 4.40 |