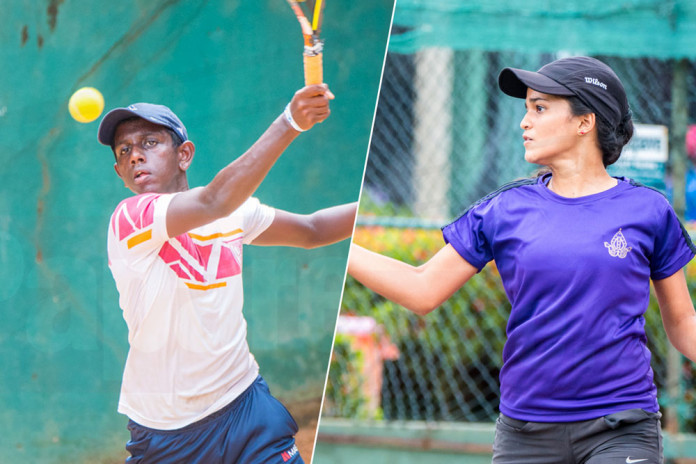 The All Island Under 17 tennis tournament kicked off yesterday (5th) with Ananda College and Bishop's College getting the best of the day's proceedings.
The tournament will go on until the 9th of June at the Sri Lanka Tennis Association courts. Both the best boys' and girls' tennis teams will face off against each other to decide who will finally take home the trophy.
On the boys' side of the tournament, Ananda College played against Lyceum International School Nugegoda and triumphed 5-0. Afterwards S. Thomas' College Mount Lavinia faced off against St. Sebastian's College and S. Thomas' came off as the victor with an easy win of 5 games to 0. Another easy win was for Royal College, facing off against Trinity College Kandy winning 5 games to 0. Trinity College Kandy received an easy victory thanks to a walk over from De Mazenod College. Finally the only other outright win for the day on the boys' side was for St. Benedict's College as they beat Ananda College 5 games to 0.
It wasn't all easy wins during the day as St. Peter's College and S. Thomas' Preparatory School had a tight game which could have gone either way. The match concluded with St. Peter's gaining the upper hand winning 3 games to 2.
On the girls' side of the tournament Ave Maria Convent Negombo, which is considered one of the toughest teams of the category, faced off against St. Bridget's Convent and Ave Maria came out triumphant winning 5-0. It was a good day for Visakha Vidyalaya as they won both their matches against Mowbray College Kandy and Colombo International School won outright 5 games to 0.
Newstead College Negombo and Holy Family Convent didn't have it so easy failing to get an outright win, playing against Colombo International School and Mowbray College Kandy respectively. Both CIS and Mowbray gave a decent fight, winning one match each as the final scores came to 4 games to 1 for both schools.
The match between Bishop's College and Ladies College was the most thrilling in the girls' side of the tournament as Bishop's turned the tables on Ladies' College half way into the game winning the game 3 games to 2.
During the day the postponed under 13 deciding match between S. Thomas' College and Ananda College were also played. S. Thomas' had the game in the bag as they were up 2 games to 0 but Ananda turned the tables on STC in the last few games catching the Thomians by surprise and winning the match.