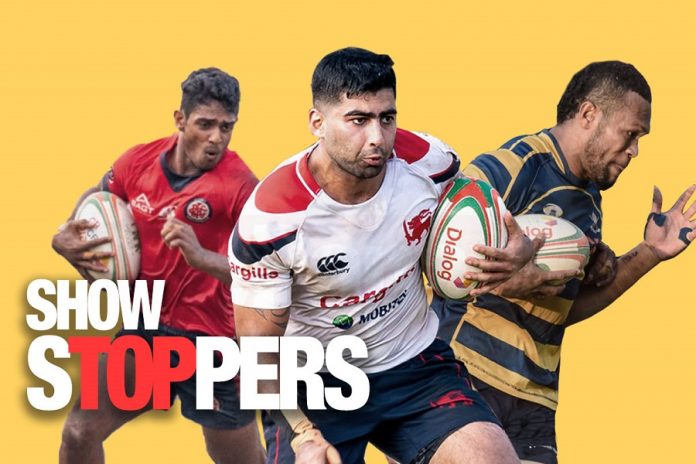 As the Dialog Club Rugby League comes to an end (after a one-horse race) with Kandy SC clinching their 6th consecutive title since 2015, it's time to take a look at the top point and try scorers of the season and see who has been consistent, fortunate and gone MIA since last year. 
Introducing the ShowStoppers of the DRL 2019/20!! 
THE TOP 5 – Points Scorers 
#5 Tomasi Ravouvou
The explosive Fijian was an unstoppable ball carrier in the mid-field with tremendous power, amazing skill and a tendency to make every local player look tiny, powerless and weak (with an exception of a few).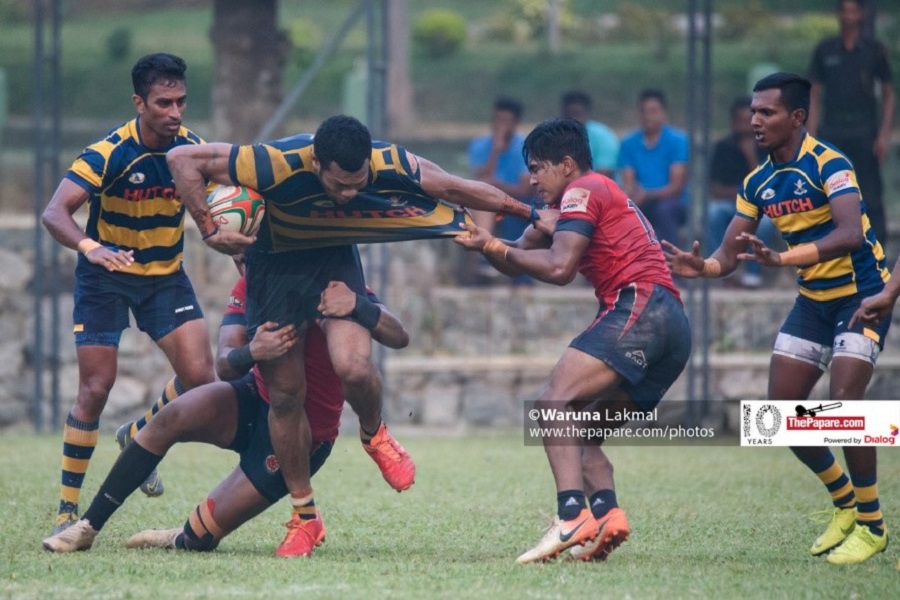 In a rather low scoring league where no player crossed the 150 points mark or even 130, Tomasi finishes his first-ever run in the Dialog Rugby League bagging a total of 60 points courtesy of 12 bulldozing tries which also makes him the second-highest try-scorer in the league. 
Starting from his first appearance in the opening week of the DRL 19/20 against CH & FC at Racecourse, Tomasi made his point clear with a brilliant tackle on local superstar Gayan Weerarathne which initiated Army's opening try for the year – continuing with the same momentum for 14 long weeks, Tomasi's work rate was unmatched. And if there was an award for the 'Work Horse of the DRL' without doubt, Tomasi Caqusau Ravouvou would be the name carved on it. 
#4 Janidu Dilshan
A power-house in the 2018 Schools league, and now a scoring-machine in the Dialog Club Rugby League 2029/20, youngster Janidu Dilshan has come a long way and stamped a very good first impression in his early days as a pro rugby player.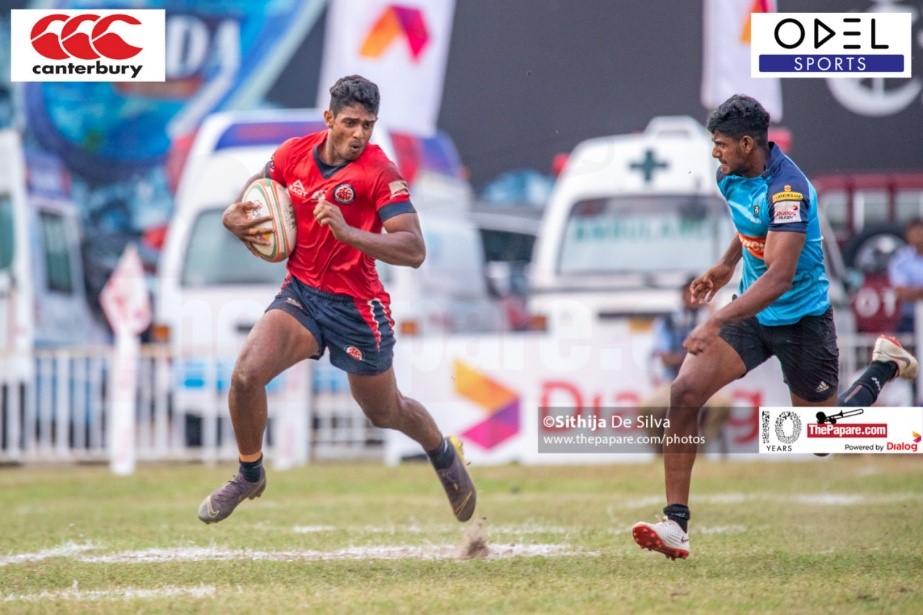 Courtesy of his awareness, speed, strength, and power, Janidu ends his second-ever club rugby league as the 4th Highest points scorer and the Top Try scorer with 13 tries under his belt and 65 points to his name in the span of 12 games.
Joining the Reds right after school, Janidu couldn't make the cut as a Centre, but fortunately for him, he worked his way into the team as a wing and is now an integral part of CR's backline. Since the switch from 13 to 14, Janidu has been able to get his name on the score sheet more often than any other player in the league. 
#3 Rizah Mubarak 
Playing his swansong year, the veteran fullback and the most reliable kicker in the country, Rizah Mubarak, managed to end his year and career on a high note as he secured the 3rd position in the Top points scorers of the league. An accolade that Mubarak has consistently won throughout many leagues in his career.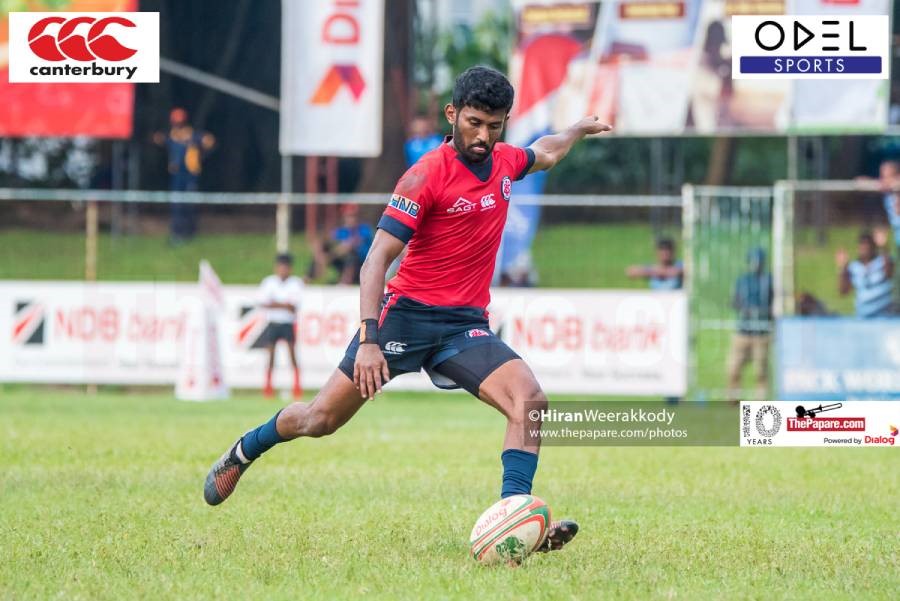 He might not be as big as Tomasi or as fast as Janidu, but he could nutmeg them both with his eyes closed. He is third after all isn't he? That too coming off the bench in a few games and still slotting in the important conversions and three-pointers. 
Courtesy of his ever-reliable boot, with 19 conversions and 16 penalties, Rizah Mubarak signs off with 86 points to his name. 
#2 Isuru Kongahawattha
Replacing the boots of star quarterback Mohommed Abzal, Isuru Kongahawattha made maximum use of the opportunity given to him as he seals his position as the pivotal fly-half of the Navy Sports Club with an impressive end to his first Division 1 Club Rugby entry.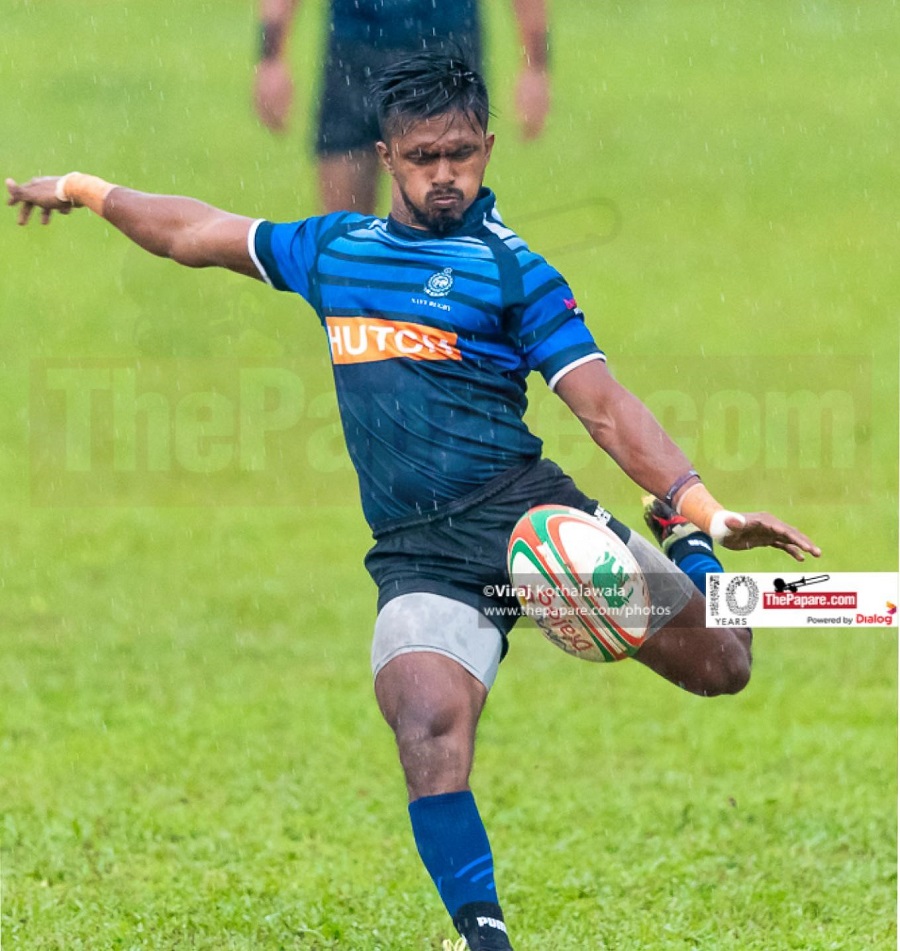 Kongahawattha who has a solid left boot, can not only kick but also step his way over defence lines and even score tries. His performance against Kandy in their 2nd Round encounter was one of the best performances of Kongahawattha as it was only his points that Navy carried going into half time. 
However, with one try, 28 conversions, and 10 penalties, Kongahawattha closes his account with 9 points short of the three-figure mark, 91 points. 
#1 Tarinda Ratwatte 
Arguably the best player of the league, Tarinda Ratwatte, orchestrated, finished, created and kicked Kandy to yet another memorable year in the Dialog Rugby League. He was the difference between other teams and Kandy. And although he doesn't play at his usual #10 position anymore, Tari has dominated the #12 jersey and made it his own.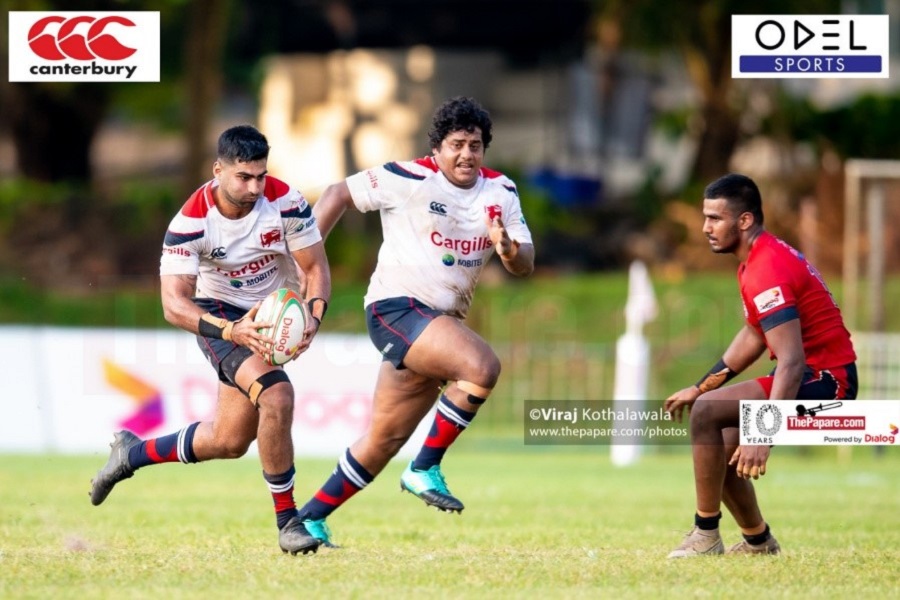 Though he had to give up a little pace and get a little bigger to fit the criteria of being a perfect #12, Ratwatte never lost his habit of scoring, he only picked up the habit of being a wall in defence. Remember I mentioned a few players who Tomasi can't outplay? That's exactly who Tari is. 
Coming back to his home town, representing the club every Kandyan schoolboy players dreams of playing for, and then making it his own is exactly Ratwatte did. He is also among the players who have the most number of 'Player of the Match' awards. 
With the 3 tries, 42 conversions and 8 penalties, the Top Points Scorer award goes to Tarinda Ratwatte with 123 points.
THE TOP 5 – Try Scorers
Since we spoke about #1 and #2 in this list (Janidu Dilshan 13 Tries & Tomasi Ravouvou 12 Tries) let's talk about the three other players that follow. 
#3 Shawket Lahir
It's not often that you see a forward who ends up being among the top 3 try scorers of any league. (let's not talk about Hookers) because the backs are the ones that mainly score. However, Shawket Lahir happens to be one of the best Flankers in the country at the moment secures his spot as the third-highest try scorer of the league.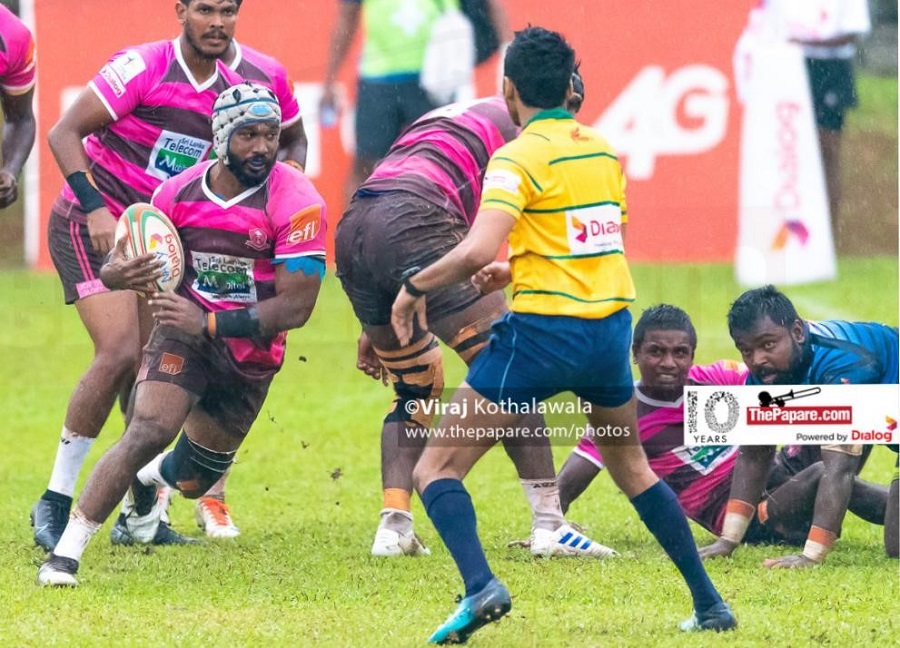 Although he was a silent killer in his early days, his switch to Havelock SC has seen the young loose forward make his presence, voice and aggression heard throughout Havelock Park. Lahir has that hunger to go over the whitewash, which makes him unstoppable anywhere within 10 meters of the line – and he also has the power and strength to back him up. 
Hence, the gutsy loose forward scored 11 brilliant tries, most of which he barged and bulldozed over oncoming defenders to score, ends his run in the DRL 2019/20 on a high note. 
#4 Buddhima Piyarathna 
Making his way up to the Hill Capital and working his way into becoming one of the finest wing three-quarters Sri Lanka has seen in a long time is what runs in the mind of Buddhima Piyarathna. That's exactly why he gets so electric with the ball in hand and has the urge to score multiple tries in a single game.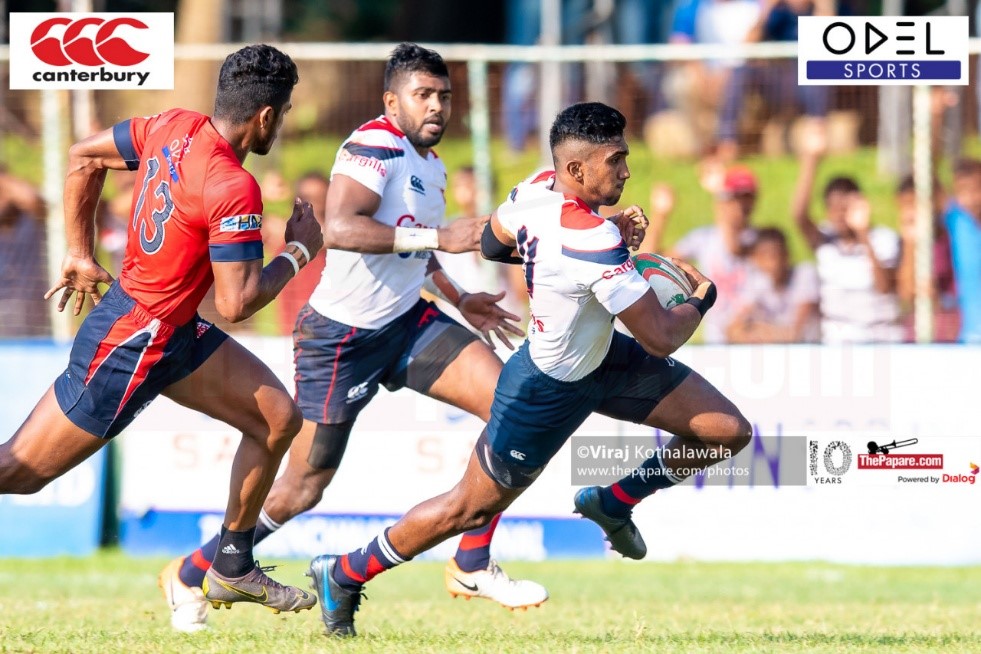 Piyarathna who torched the touchlines at Welisara as a Sailor now flies high with the Championship winning Kandy team, where as usual he continues to do the same. But if you thought that speed was his only arsenal, that's where you're wrong. Piyarathna has a solid step both in and out, which allows him to fix any oncoming defender with ease, he also has a natural hip sway that allows him to get away from tackles and make inroads towards the whitewash. 
Hence, finishing his run in the league with 10 tries in 11 games, Buddhima still has a lot of offer. 
#5 Jason Dissanayake
Oh, how I'm glad it's two loose forwards and not hookers in the top try scorer list representing the forwards. Jason Dissanayake, another elusive second-row who is always there in support, no matter who the ball carrier is. Be it the fastest man or the slowest in the park, Dissanayake positions himself in the best angle as a supporting runner. Which is why he is also a key 7'ns player for Sri Lanka.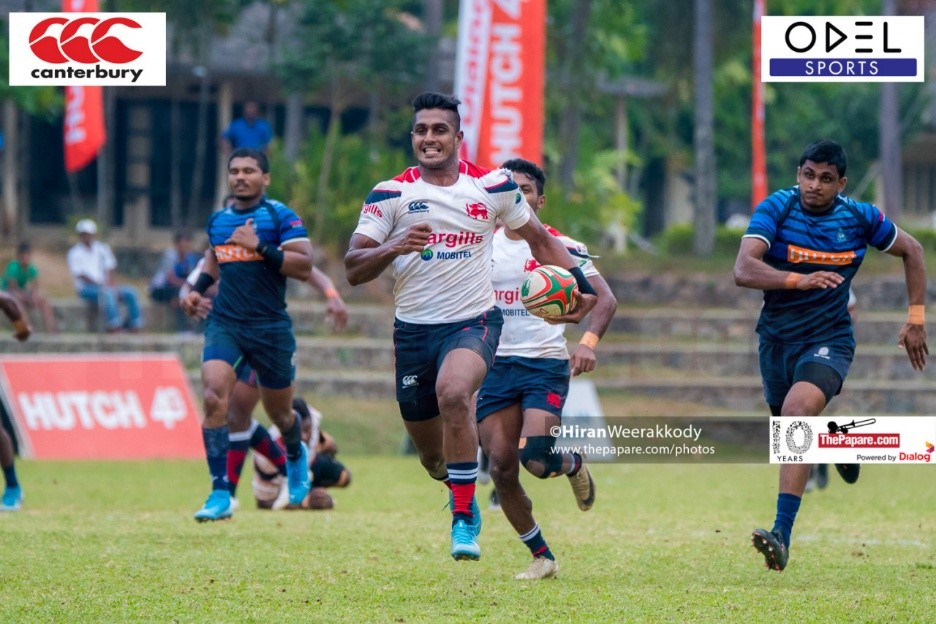 However, Dissanayake who played as a Centre in his schooling days seems to have not given up the habit of scoring tries. But his tries were all hard-earned ones. He never gave up on his ball carrier, especially in that 2nd round match between Kandy SC and Navy SC where Dissanayake scored a Hat-trick of tries, it was very clear that he knew where to be and what to do. 
Hence, he makes it into the top 5 of the try scorers with 9 tries to his name. 
Who's MIA?
MIA, Missing in Action, not what you thought was it? 
However, let's compare this year's top performers to last year, a few players failed to raise their hand and continue their dominating performance like they did last year. 
Especially, Samuel Maduwantha who scored 200 points in the DRL 2018/19 season failed it even to the top 15 this year, however, it's mainly due to his injury and the lackluster performance of his team CH & FC.