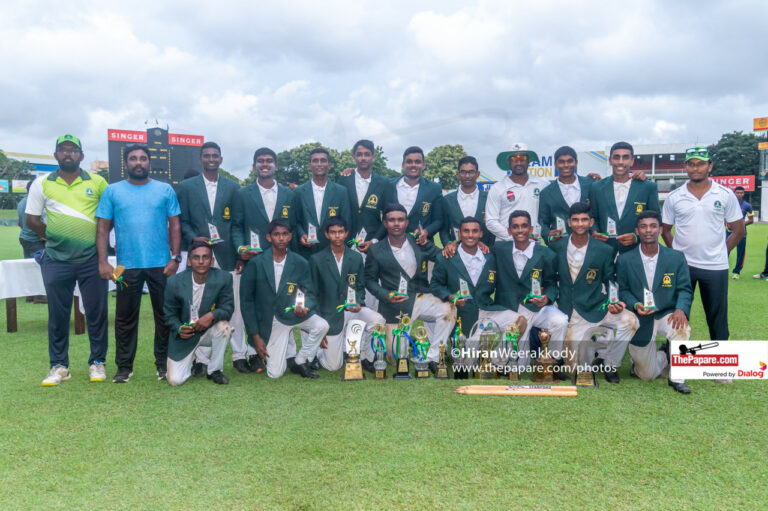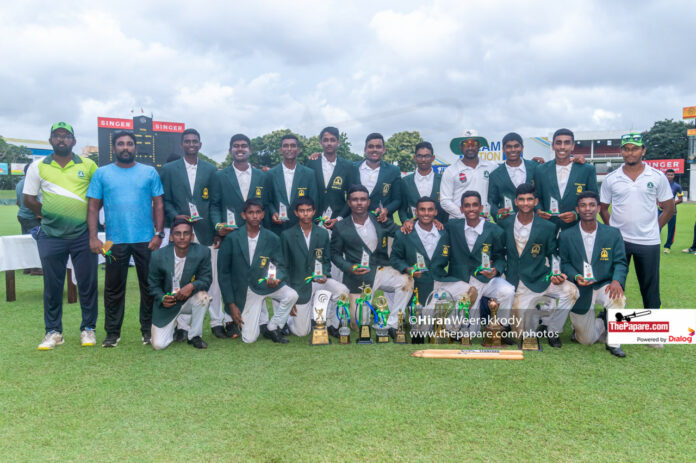 The 58th Battle of the Brothers between Isipathana College and Thurstan College ended in a draw after 2 gritty days of Cricket by both the schools. Isipathana, who dominated the encounter for a majority of the time, were just 5 wickets away from clinching a victory after 23 years, but the Thurstan batters finally found their bearings just in time and managed to survive till stumps of Day  2.
After winning the toss and bowling first on Day 1, Thurstan College managed to taste early success on the back of left-arm pacer Nipun Premaratne. However, the experienced Skipper of Isipathana College Thevindu Dickwella (106) scored a magnificent century to settle the ship, as well as with the help of Kavindu Amantha (87) and Thinula Liyanage (30), who all contributed to take the boys from Havelock Road to a record breaking total of 332 for the loss of 7 wickets in their 1st innings.
After declaring overnight, the opening fast bowlers for Isipathana, Randunu Ganganath and Nikil Sasmika, wreaked havoc to remove the top 5 of Thurstan inside the first 10 overs. Kavindu Amantha, the spinner from Isipathana, did the rest as Thurstan were bundled out for just 108 in the morning session of Day 2. Thenuka Devapriya was the only batsman to show some fight for Thurstan, as he scored a well-compiled unbeaten knock of 60.
With 2 sessions still to go, Isipathana were the clear favorites to walk out victorious  after they decided to enforce the follow on. However the Thurstan batters made sure they did not make the same mistake twice, batting out the next 69 overs to save the big match. The Isipathana pacers looked threatening once again in the 2nd innings, but an injury to Nikil Sahasmika prevented him from bowling more than just 4.2 overs, which was a clear hit to the chances of winning the match for them. Thenuka Devapriya, who continued from where he left off in the 1st innings, scored back-to-back half centuries to score an unbeaten 54 and guide Thurstan towards safety. When the encounter was declared a draw, Thurstan were on 199 for the loss of 5 wickets.
With this result, Thurstan College retain the Battle of the Brothers Trophy as they won the last encounter back in 2019. The performance of the pace bowlers from both the sides was the clear highlight of this encounter, but for the spinners it was a completely different story as they had to toil hard to take wickets. As this was the big match scheduled for 2021, the 2022 edition will also take place this year between the two teams.
Summary
Isipathana College 1st Inn  – 332/7d

Thevindu Dickwella 106, Kavindu Amantha 87

Azeem Mohammed 2/30, Nipun Premartne 1/59

Thurstan College 1st Inn – 108

Thenuka Devapriya 60*, Pasindu Rathnayake 20

Randunu Ganganath 3/19, Kavindu Amantha 3/25

Thurstan College 2nd Inn – 199/5

Thenuka Devapriya 54*, Tharindu Harshana
Awards and Accolades
Best Batsman :- Thenuka Devapriya (Thurstan)

Best Bowler :- Randunu Ganganath (Isipathana)

Best All Rounder :- Kavindu Amantha (Isipathana)

Best Fielder :- Thinula Liyanage (Isipathana)

Best Striker :- Thevindu Dickwella (Isipathana)

Man of the Match :- Thevindu Dickwella (Isipathana)