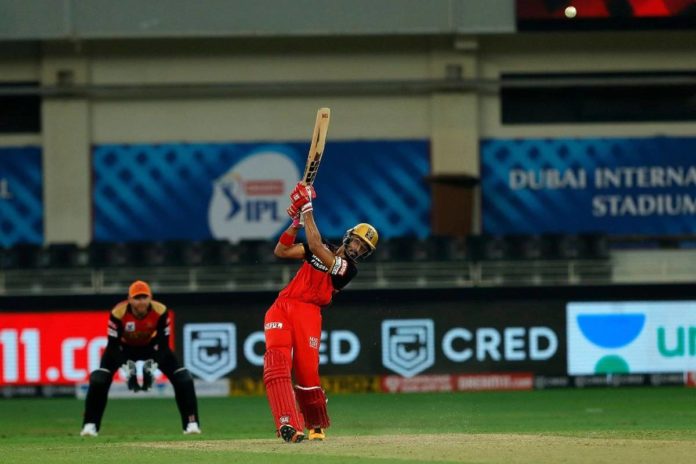 When Royal Challengers Bangalore decide who to retain and release at the end of every contract cycle in the IPL, most people expect to see Virat Kohli, AB de Villiers and Yuzvendra Chahal as some of the names.
Free hit contributor – Prad Navaratnam
Very rarely do you see an uncapped under 19 player in the retained list of franchises. And those that have been, usually have already established a reputation at under 19 level — think Virat Kohli, Prithvi Shaw.
Last year, RCB bought and then retained a youngster by the name of Devdutt Padikkal. This was a player that had played for India U19, but didn't make the cut for the World Cup winning squad in 2018 which was led by Prithvi Shaw.
Read – Warne vs Murali | Who is the King of Spin?
That disappointment didn't slow him down. In fact, it made him hungrier as he went on to play state level cricket for Karnataka in all 3 formats.
Then 2019 happened.
The Big '19
In 2019, Padikkal not only went on to cement his spot in all 3 Karnataka teams as an opening batsman alongside the likes of KL Rahul, Manish Pandey, Mayank Agarwal and Karun Nair, but also topped the run-scorers list in the Vijay Hazare Trophy (50 over competition) and the recently concluded Syed Mushtaq Ali Trophy (domestic T20 competition).
Karnataka, unsurprisingly, went on to win both those competitions.
I wanted to specifically focus on his T20 performances. Here's his T20 profile for the last 12 months:

Padikkal not only managed to not get out for a duck but also hit the most number of 6s in the competition.
The size of the grounds becomes irrelevant when you realize the 2nd highest number of 6s hit was 22. Padikkal managed to hit 50% more sixes than the next best.
Padikkal is best analyzed when compared against other batters with more significant experience — Dinesh Karthik (KKR), Suryakumar Yadav (MI), Nitish Rana (KKR) & Kedhar Jadhav (CSK) — and looking at their performance data from the same competition. These are players that are regular fixtures in their IPL teams.
In order to complete a fuller analysis, I ran my Impakt Score algorithm over the top.
Impakt Analysis
In a nutshell — the Impakt Score algorithm is built to help rank every player according to their performance data and is made up of multiple performance metrics and calculations that look at a variety of measures including batting position, quality of bowlers faced, etc and then provide a single rating that I use to rank every batsman.
This helps quickly rank all batsman and identify which players rank higher and why.

Padikkal had well and truly outperformed all the other batsmen we measured him against. His Impakt Score rating of 64.11 was well in front of the next best, Suryakumar Yadav on 52.66. According to Impakt Score, Padikkal was the competitions best batsman.
In addition, his Impakt per Ball Faced (IpBF) was also well and truly sensational at 2.33. This rating measures the impact the batsman has per ball. On average, batsmen with a high S/R tend to have a higher IpBF, and on the very rare occasions do you find a batsman with a high Impakt Score and high IpBF — Padikkal is one of those rarities.
To give you an idea of how rarely this occurs, have a look at the graph below which measures Impakt Score and IpBF for the Top 200 batsmen in all T20s (domestic & international) over the last 12 months.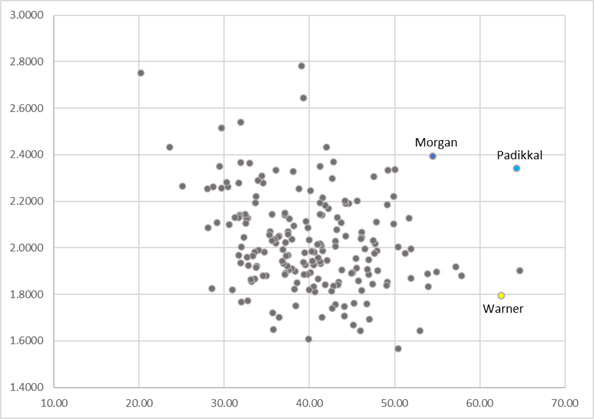 As visible in the above graph, Padikkal has managed a feat not many batters are able to achieve. In cricket, usually there are players that are able to score fast or players that score consistently well. In Padikkal, Karnataka & RCB have a player that has shown the ability to do both.
Power Hitter or Padikkal Hitter
How many of you noticed how easily Padikkal can clear the boundary? If you take a look at the Impakt Score Analysis table above, you will notice Padikkal is able to hit a 6 every 10 balls. That is unheard of, even in this day and age!
To give you an understanding, Padikkal on average faces just over 27 balls every innings. If he hits a 6 every 10 balls, he is almost guaranteed to give you 2–3 sixes every innings!
The average number of 6s per innings for the Top 200 batsmen in the last 12 months was 1.13.
Padikkal averaged 2.75.
The average rate of boundaries (4s/6s) for the Top 200 was every 5.8 balls.
Padikkal hit a boundary every 3.59 balls.
If you put all those numbers together and statistically constructed what a Padikkal innings would look like — he would have scored 36 runs off boundaries alone in the 27 balls he was at the crease. And I haven't included any runs less than a boundary.
Destined for Greatness
Now it becomes clear what Mike Hesson, Simon Katich, Virat Kohli & co. saw in Devdutt Padikkal that made them retain him.
Like the rest of the world, Hesson himself was impressed when he saw him play in the Syed Mushtaq Ali Tournament.
And like the rest of the world, I can't wait to watch him take on the big leagues in the not too distant future.
*Disclaimer: The views and opinions expressed in this article are those of the author's and do not necessarily reflect the official policy or position of ThePapare.com.
If you have an opinion on Cricket – you get a Free Hit here. Write to  [email protected] to be featured!