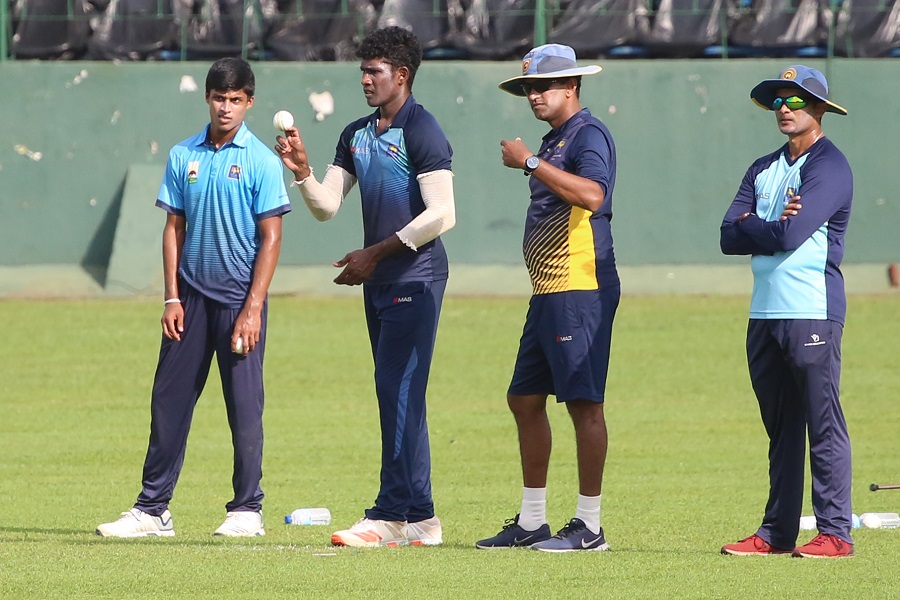 In a continued effort to support the most talented young cricketers in Sri Lanka, the Sri Lanka Cricket Coach Education Unit brought together the National Under 19 Squad, involving some 26 players and five coaches to conduct a special Team Building, Tactical Awareness & Mental Skill Sessions focused on the upcoming U19 bilateral tours & the Youth World Cup in West Indies.
Whilst the whole country is in lockdown due to Government restrictions, the under 19 training camp is underway at SSC, under bio secure bubble protocols regulated by MOH.
Supported by a special direction from Sri Lanka Cricket Management, the Coach Education Unit have implemented an extensive Player Development and Support Program for Sri Lanka Under 19 players, all aimed at building a successful pipeline of future cricketers that comes through Sri Lanka Cricket's high performance player pathway and go on to represent the country on the world stage in the near future.
Read More: Mahela Jayawardena appointed Consultant to the Sri Lanka National & U19 Teams
The squad kicked off their preparation with several Online Team Bonding Sessions & Game Awareness Sessions conducted while the players were in room quarantine. And once small groups were allowed to train outdoors, the next phase kicked off with Group Discussions around 'Establishing Goals' of the program. This was further strengthened by the Reflection Sessions held on International Cricket Documentaries, which helped the players on identifying & building their understanding of "Modern-Day International Cricketer Demands".
Once the whole group was allowed to mix with each other, a full squad "Team Bonding Session" was held by creating an opportunity to share & learn about each other & playing careers of their senior coaches. That was followed up with a "Tactical Panel Discussion" on understanding 'Game Planning & Preparation' before & during games.
Read More: Sri Lanka U-19 national training squad announced
Further a lot of information were gathered from players from time to time and CEU have already shared detailed analysis on "Learning Preferences & Skill Evaluations" on each player, enabling the coaching team to build Individual Player Development Plans going forward.
This Under 19 Camp was the final training phase of the Youth World Cup Squad before they embark on facing International opponents over the next few months prior to Youth World Cup.